Power over Ethernet, or PoE for short, has become an integral part of many applications. With PoE, the Ethernet cable is used not only for data transmission but also for the transmission of power and voltage. This simplifies the cabling, because for many applications only one cable is used for data transmission and power supply.
Industrial PoE Switch using industrial-grade design (IP40), support up to twenty-four ethernet ports (10/100M), four Base-T ethernet ports (10/100/1000M), and four SFP slot. It can be used for connecting multiple servers, hubs, repeaters, and devices provide long-distance data and power (PoE version) transmission.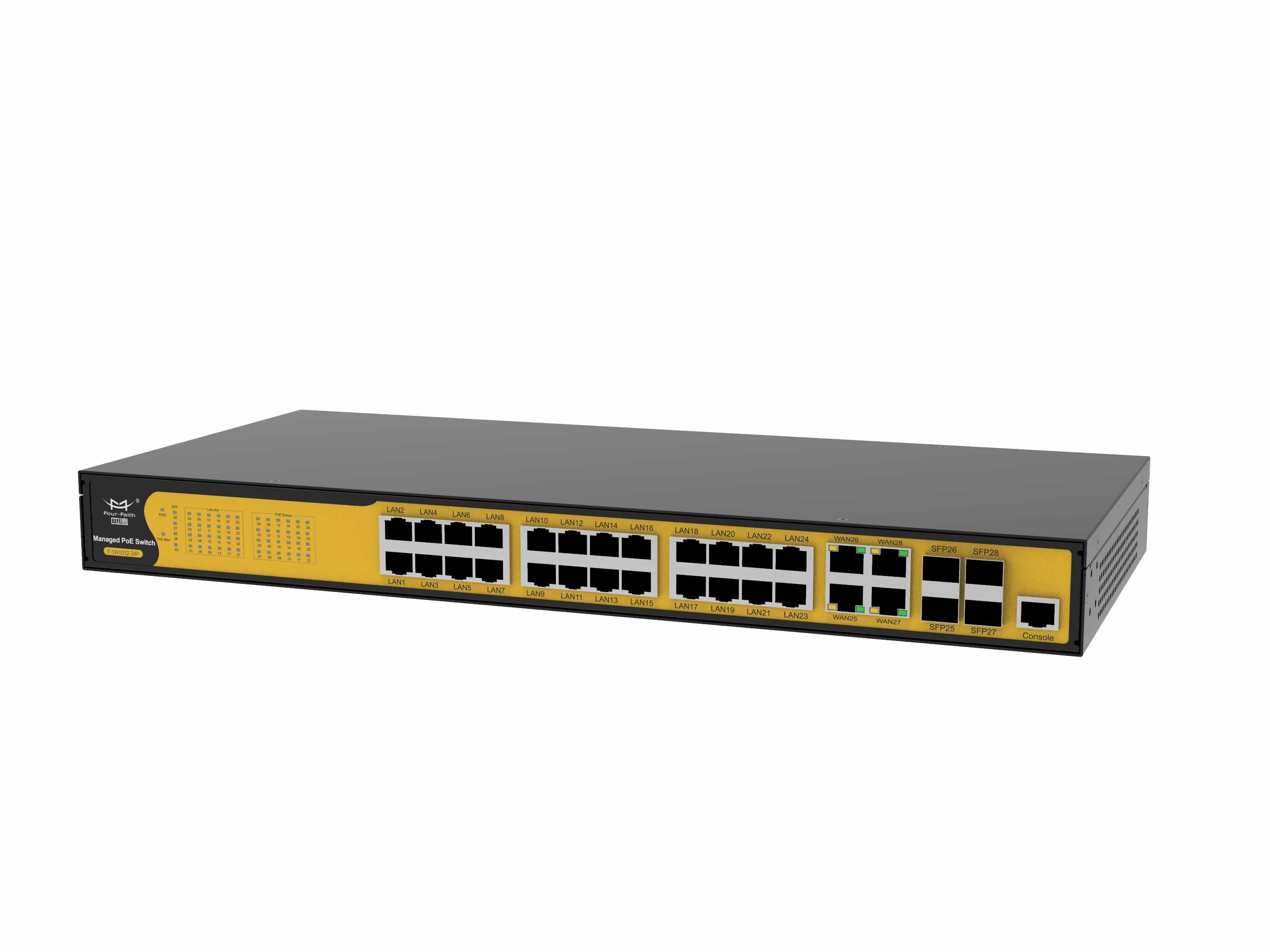 In order to use PoE, the devices must comply with various standards. Here is a short list of the devices.
1. Powered Device (PD) is an end device that can be operated via PoE
These include, for example, IP cameras, WLAN access points, VoIP telephones, network routers, industrial systems such as sensors, controllers, meters and more, POS terminals and also PoE splitters. In addition, many other devices can be operated with PoE.
2. Power Sourcing Equipment (PSE) is a PoE switch which is able to supply the data line with additional voltage
A PoE switch adds power and voltage to an Ethernet port, whereas a PoE switch always has several ports. It also replaces a normal switch.
3. PoE splitters can separate the power and voltage from the data
This means that you can use a PoE splitter supplied by a PoE switch or switch to supply power to a device that cannot normally be operated via PoE.
4. PoE power supply is not standardised, but is very often required
It should be noted that the voltage on the data lines is between 44 V DC and 57 V DC, depending on the PoE standard. This is very untypical as an input voltage in many applications. For this reason, a power supply unit must convert the voltage e.g. from 12 V DC or 24 V DC to a higher voltage such as 48 V DC.
5. Power over Ethernet (PoE) standards
PoE is defined in different standards. The main difference is the available power, which ranges from 15.4 V to 100 V depending on the standard. It is also important whether only 100 Mbit or also Gigabit PoE is supported. We often only speak of PoE, PoE+ and PoE++.
Passive PoE is not standardised and there is no communication between the end device and the switch. In most cases, passive PoE uses 24 V DC. In many simple devices, passive PoE is used and is not compatible with standardised PoE. Often a simple passive PoE switch is supplied with the end device such as a WLAN access point.
7. Power over Ethernet for industrial applications
PoE and PoE+ are also used for industrial applications. A very big advantage is the simple cabling and connection of devices and sensors. A PoE switch is often mounted in a control cabinet on the top-hat rail. Classically, there is a 24 V DC power supply in control cabinets and occasionally also 12 V DC. For this reason, an additional power supply unit is always required which either converts the voltage from AC to 48 V DC to 50 V DC or a DC/DC converter which boosts the voltage from the existing 24 V DC to 48 V DC.
8. PoE+ Switch for DIN-Rail mounting with power booster
PoE+ switches with integrated DC / DC converters can also be used for DIN-Rail mounting. These switches can regulate the voltage from 12 V DC or 24 V DC up to 48 to 57 V DC and therefore no external power supply is required. In addition, the series has an integrated power booster and can be operated directly with 12 to 57 V DC. The robust design, the top-hat rail mounting and the extended temperature range from -40°C to +75°C allow the switch to be used even under extreme conditions.