F2X14 IP Modem for rain gauge project- Wireless transmission application case
Date:2017-05-18 15:38:54
Location : Malaysia
Product Solutions:
High-powered F2114 GPRS Intelligent Serial Modem

Project Introduction

Customer is looking for a transmitting logger device that will fit into a tipping bucket rain gauge which will run by batteries all integrated into the rain gauge housing. The tipping bucket rain gauge is a pulse output, so FourFaith GPRS Intelligent Serial 4G Modem F2114 provide a IO port for pulse input.

System Requirements

·Combine with sensors to transfer state parameters in real-time.
·RS232/RS485 port for connection.
·Support pulse input, and can get pulse input automatically.
·Small size that can be put into other box.

Four-Faith Solution

Four-Faith's GPRS Intelligent Serial Modem F2114 provides data transfer function by public GPRS network, it supports RS232 and RS485(or RS422, optional). F2114 GPRS Intelligent Serial 4G LTE Modem supplies 5 I/O channels, 3 digital inputs/outputs and 2 analog inputs. .

Customer need F2114 GPRS Intelligent Serial Modem to collect the pulse counting automatically, the pulse counting need to be transformed into rainfall and report to data center in format of daily rainfall, month rainfall, even yearly rainfall. We customize a special firmware for customer.

Customers had tested our sample and prepare to install our device in their sites. The Four-Faith F2114 GPRS Intelligent Serial Modem, as well as the entire Four-Faith cellular terminal devices, can supply the wireless data transmission solution in a easy way.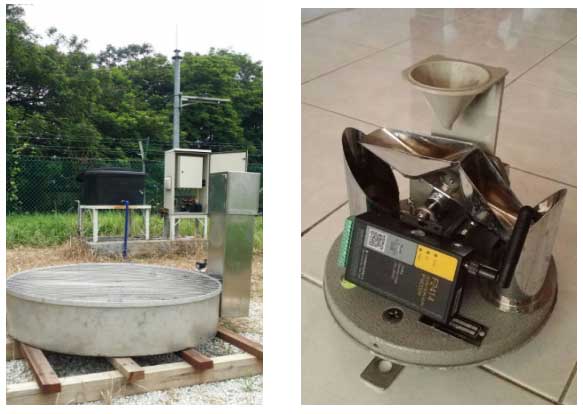 The topology is as below:

Why Four-Faith

High-Availability Wireless Control

·Provides data transfer function by public cellular network,
·Maximum security transmission in real-time.
·Monitoring and Remote Access.

Four-Faith Benefits

·Wide Operating Temperature: -35~+75ºC, applicable to most of industrial site.
·Low consumption: 50~90mA@12VDC while working, 25mA@12VDC when standby.
·Support online trigger in a variety of ways, including SMS,ring and data.

More wireless connections for remote transmission, please visit m2m solutions
TAGS: Intelligent Serial Modem rain gauge project rain gauge application [Previous Page]
Previous Page:Four-Faith F2103 GPRS IP modem for industrial printer monitoring application
next page:Four-Faith GPS Cellular Modem for Refrigerated Container