4G DIN rail industrial router adopts high-performance industrial-grade 32-bit communication processor and industrial-grade wireless module, takes embedded real-time operating system as a software support platform, and provides 1 RS232(or RS485/RS422) and 4 Ethernet LAN ports. One Ethernet WAN port and one WIFI interface can be connected to serial port devices, Ethernet devices, and WIFI devices at the same time to realize transparent data transmission and routing. Din rail or wall-mounted installation is supported.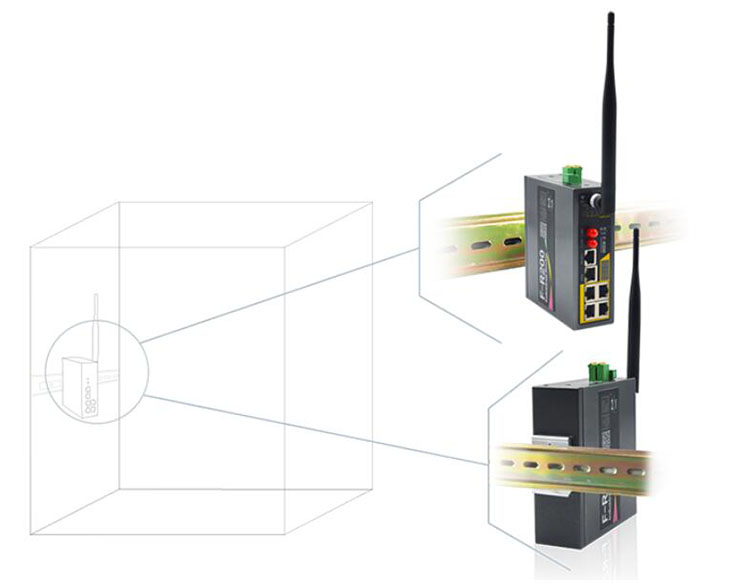 The brand is a symbol of quality and workmanship. The Industrial Internet of Things is a relatively young industry, unlike other industries that have a hundred years of history, brand communication has reached the level of a household name. The formation of the industrial Internet of Things brand is nothing more than word of mouth, through the purchase evaluation of friends around or third-party evaluation such as search engine, purchase platform evaluation, you can clearly understand the brand.
Industrial DIN rail buckle: The shaking of transmission equipment will affect the stability of data transmission, and if fixed in the transmission equipment there is no such hidden danger. The 4G industrial router with rail buckle is easy to install at will, simple, and stable.
Large memory: The function of memory is to receive data packets while alleviating the data sent by users. It is necessary to ensure stable transmission and prevent data packets from being lost. Large memory is the biggest helper.
Metal casing: shielding electromagnetic interference, radiation protection while improving safety isolation coefficient, lightning protection design is especially suitable for the harsh environment of industrial projects
Circuit protection: EMC industrial design protection, ESD (interface) anti-static design, EFT anti-pulse. PCB adopts high-quality material production, from the hardware to ensure the stability of the plate, coupled with circuit protection industrial design, the circuit transmission system is stable and reliable.
APV/VPN: Most 4G industrial routers are equipped with APV/VPN security tunnels, so data transmission through dedicated tunnels is safer. The data transmission of the dedicated industrial router has a VPN function, and there are many VPN transmission protocols, among which PPTP and L2TP protocols are very commonly used, while other transmission protocols are relatively unpopular, only in the project with special requirements. Therefore, there is no need to prepare multiple agreements when there are no special requirements VPN.
Firewall: Firewall is a security barrier between LAN and WAN. Through the basic Settings of the firewall, you can shield some Intranet IP addresses, freely set IP addresses and filter communication ports, etc. The most important thing is to prevent hacker attacks and virus intrusion, which is an important guarantee for data security transmission. If a 4G industrial router does not have a firewall, you can give up the choice.
Watchdog Protection: The watchdog protection function is to use a timer to monitor the operation of the main program. When the MCU works properly, it outputs a signal occasionally, a process called feeding the dog. Watchdog protection is mainly used to provide safety protection for projects that need to operate continuously for a long time to avoid the crash. When a fault occurs, the system can quickly recover to a normal state.