Ethernet offers faster speeds than traditional Fieldbus, can better handle large volumes of data, and at the end of the day can save more money with better energy efficiency ratios and more efficient equipment. This paper mainly introduces the industrial Ethernet interface and the performance of industrial Ethernet.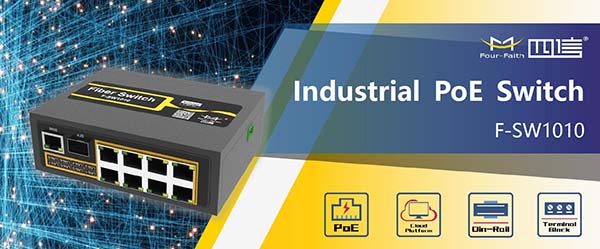 Four Interface's Types for Industrial Switches
1. Rj-45 optical fiber interface. This type of interface is called the "crystal head" and belongs to the type of twisted-pair Ethernet interface. The RJ-45 plug can only be inserted in a fixed direction. Four interface's types for industrial switches.
2. SC optical fiber interface. The SC interface has been in use since the time of 100Base-TX Ethernet, so it was called 100Base-FX(F is short for fiber). Now, the SC fiber interface is receiving renewed attention. The SC optical fiber interface is mainly used in the LAN switching environment and is provided on some high-performance GIGABit switches and routers.
3. Console port. A switch that can be used for network management generally has a Console port, which is used to configure and manage the switch and is the procedure for configuring and managing the switch. The IP address, domain name, or device name is required for other configurations. However, these parameters cannot be built into a newly purchased switch. Therefore, the Console port is a common and basic management and configuration port.
4. FDDI interface. FDDI is one of the mature LAN technologies with a high transmission rate. It has the characteristics of timing token protocol and supports multiple topologies. The transmission media is an optical fiber. Fiber Distributed Data Interface (FDDI) is a set of protocols developed by the American National Organization for Standardization (ANSI) for transmitting digital signals over optical cables. FDDI uses a double ring token, and its transmission rate can reach 100Mbps.
General Performance of Industrial Ethernet
To avoid conflict, most industrial Ethernet uses full-duplex mode. Although conflicts can occur in half-duplex mode, they probably won't be a problem if the ratio of conflicting frames doesn't exceed a certain threshold. Full duplex completely avoids conflict.
As with other common industrial Ethernet environments (wind farms, oil and gas smelters), the plant environment and operating conditions are often harsh. Operators need to consider vibration, particulate matter, and top temperature, which can be achieved by deploying industrial Ethernet cables and connectors in automation and control systems.
Industrial Ethernet offers a variety of options in terms of topology and protocols. Factories can break the limitations of star topologies that host commercial Ethernets, such as ring topologies for redundancy and fast recovery, and EtherNet/IP®, EtherCAT® Such protocols can support a variety of application scenarios and system designs.
About the problem of industrial Ethernet, this paper introduces four interface types of industrial switches and the general performance of industrial Ethernet. Overall, Ethernet technology has fostered a strong community of manufacturers and spawned a rapidly growing product ecosystem. As Ethernet performance improves, the combination of speed and maturity makes it increasingly likely that Ethernet will replace protocols developed for serial interfaces.