4G industrial routers have been on the rise for several years, and their applications in the IoT industry are increasing day by day, and they have even begun to replace other related similar products. However, for the 4G industrial router is an upgrade of the 3G industrial router, this statement is obviously too crude. After all, what we want, explosive products that can cause a sensation on the market, is actually a great change in our lives and the construction of facilities.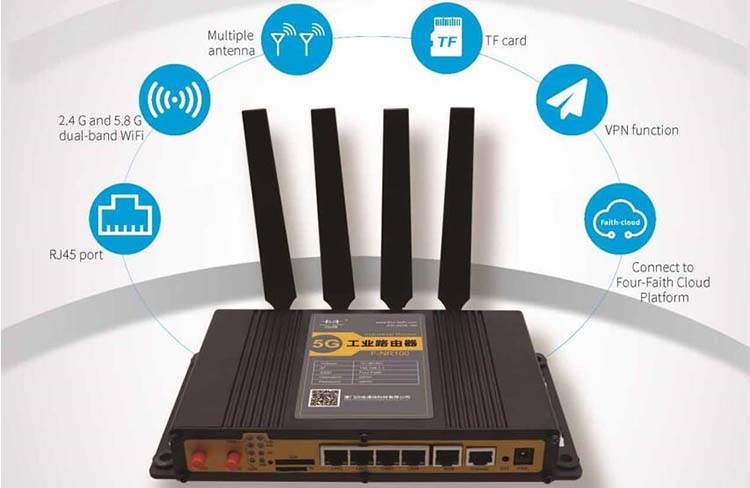 4G industrial routers are not widely used for civilian purposes, only wifi hotspots and bus wifi, and they are widely used in industrialization, such as industrial monitoring, intelligent transportation, financial industry, power industry, environmental protection industry, water conservancy industry, etc. Application space. Industrial-grade 4G industrial routers can be used for smart industrial control solutions such as gas detection sensors, oil well equipment, wireless networking solutions for terminals such as lottery tickets and ticket printers, wireless communication solutions for smart express cabinets, remote management solutions for public bicycles, and smart charging pile solutions , City bus wifi solutions, etc.
4G industrial routers are flexible and fast to deploy, support SMS network management, U disk online, minimal operation and maintenance, support mobile APP operation and maintenance, remote monitoring of equipment status, quick configuration, restart, remote assistance, etc. In short, compared to the past 3G industrial routers, it is a hugely improved and explosive product, and it must also arouse widespread concern in the industry. At the same time, the creative thinking inside can also be thought deeply in accordance with the law.
The core of what we call explosives is that our creative environment and business model have undergone major changes. In the past period of time, how did Xiaomi's mobile phone knock out Samsung's number one position in Android phones? It only did one thing, that is, to meet user needs. With the same quality, low price, and at the same time, Xiaomi has become the most valuable company in the world. Therefore, 4G industrial routers themselves have huge market opportunities, and what companies related to 4G industrial routers need to KO is the past 3G industrial routers. In addition to fighting for quality, fighting for functions, playing with creativity. It is also necessary to tell customers: Why use 4G industrial routers?
Because the use of 4G industrial routers will greatly improve the efficiency of enterprises, and also enable enterprises to improve their market competitiveness in a short period of time. This is what we want to tell the market, and it is also a problem that must be overcome on the road to the promotion of 4G industrial routers. After all, most industries are traditional enterprises, and even some state-owned enterprises do not care about the impact of defects in 3G industrial routers or earlier products on them.
1. We must firmly believe that the product must be an explosive product;
2. Product is king, marketing is the way. Seize the opportunity to update and iterate 4G industrial router products. Don't let good ideas be buried in bad production capacity. At the same time, do a good job in marketing, if the marketing is not good, you can only blossom inside the wall and outside the wall;
3. Every company must take the explosive product strategy as the number one strategy of the company's Internet transformation.