Transparent transmission refers to a data transmission mode that has independent with the transmission network medium, modulation & demodulation mode, transmission mode, and transmission protocol.
Why Choose Transparent Transmission?
Transparent transmission is generally used to read remote serial port data. In the Internet of things era, to realize intelligent device passthrough data will need to rely on wireless passthrough the power of the module, which can achieve the length of the sender, receiver data and content completely consistent, do not need to do any processing with the data, the equivalent of a cable or a serial port line, widely used in the industries of the Internet of things such as vending machine, coffee shops, hotels, restaurants, Smart grid, intelligent transportation, industrial automation, intelligent building, environmental protection, meteorology, intelligent medical, agriculture, water utilities, smart home, mobile POS terminal, finance, petroleum and petrochemical, PLC remote control, PLC remote debugging, PLC remote download.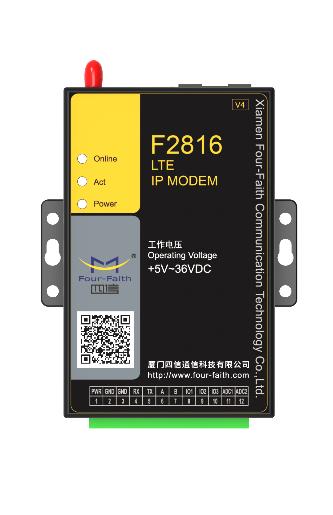 1. Four-Faith 4G DTU Data Transparent Transmission Module
2.5G/3G (GPRS CDMA WCDMA EVDO) Transparent Transmission
Transparent transmission, compatible with all kinds of equipment
2. Low-power Consumption Design
Supports multi-stage sleep and wake up modes, minimizes power consumption, saves energy and is environmentally friendly, adapts to different power supply modes in different environments, and reduces additional costs caused by the power supply for customers.
3. Multi-channel Interface
Provides standard RS-232, RS-485, providing 5 Channels I/O, can achieve 5 channels of digital input and output. Compatible with 2 pulse output, 2 analog input, 2 pulse count function.
4. Multiple Up and Down Trigger Modes
Supports multiple up and down trigger modes, including SMS, phones ringing, and serial port data trigger up and down mode, effectively reducing power consumption and avoiding network traffic waste.
In the case of online wireless network signal or central network breakdown, it can automatically switch to GSM SMS mode for data receiving and receiving (data and SMS communication are mutually backup, free switching).
6. Support Standard TCP/IP Protocol and UDP Protocol, MODBUS Protocol
Embedded standard TCP/IP protocol stack and UDP protocol, can integrate a variety of networks, provide stable and reliable services, support MODBUS protocol.
7. Time Switch ON/OFF Machine
Built-in real-time clock (RTC), support time switch ON/OFF machine function.
8. Support APN/VPDN Network
Improve the security of data transmission, reliability.
9. Support Remote Configuration Upgrade
Support remote configuration, support online upgrade.