GPS DTU for agricultural machinery positioning and monitoring system in Mexico
Date:2014-02-25 13:41:00
It has become general trend of the development of 4G LTE modem agriculture to to integrate wireless communication technology and agricultural mechanization technology. By using wireless communications technology to agricultural production, it can greatly improve the modernization, information level, and operating efficiency of agricultural production, and allow agricultural producers to take advantage of wireless communication technologies while avoiding disadvantages, increase revenue agriculture.
With the development of science and technology, agriculture has now entered the era of large-scale mechanized operations. Large tractors and large combines, trucks and other farm machinery agricultural irrigation has been widely used and plays a huge role in agricultural production. Thus the role of GPS positioning monitoring and management of agricultural locomotives will stand out. Through real-time GPS monitoring system can understand the network of vehicle location, speed and other information, and can be monitored by the monitoring center to the various instructions issued by the vehicle, improving the efficiency of agricultural production while also reducing management costs.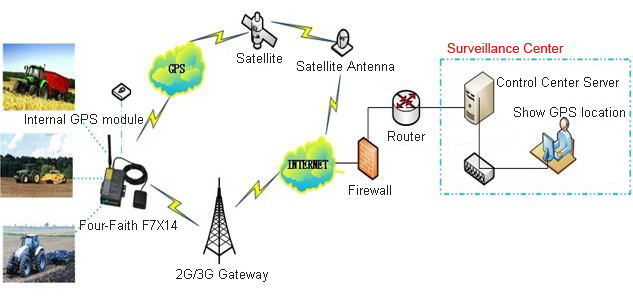 Mexico's largest agricultural machinery operators with user-centric, expanding, innovation, import GPS technology into agricultural production recently. By configuring the DTU (GPS + GPRS) device on agricultural irrigation and other agricultural vehicles car group, DTU device will send the vehicle's current location to data center after the vehicle left data center. Xiamen Four-Faith With its strong brand image and reputation in the field of intelligent agriculture to become Mexican customer wireless communications service provider, current Four-Faith communication has provided more than 400 wireless communication devices boost their agricultural intelligent project areas in Mexico.
On-site application images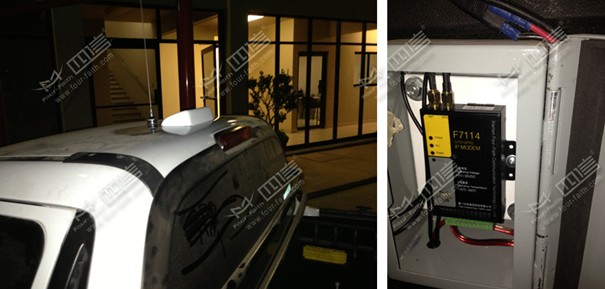 GPS positioning and monitoring management system of irrigation project contains GPS positioning monitoring and management software, Four-Faith F7X14 GPS 4G MODEM ( DTU ) and wireless communication network. F7X14 (DTU unit) installing on the vehicle send current latitude and longitude, speed, altitude, satellite to data center, data center then returns the GPS data and electronic Map function to establish the correspondence between the movement of transport vehicles intended as a point on the map, you can point to the route, traffic speed, driving conditions and unmistakably transparently monitored to achieve intelligent control and management. Agricultural products by loading the box to produce sensors can monitor temperature and humidity in transport and other information. Data center has GSM, GPRS real-time voice communications platform to contact with the vehicle on moving by a central computer software. It is benefit for excluding emergencies and practical challenges.
TAGS: GPS positioning monitoring voice communications platform agricultural machinery positioning GPS monitoring system [Previous Page]
Previous Page:Tower Crane Monitoring Application based on Four-Faith wireless modem
next page:TCP ip modem terminal applied on distribution automation and management systems