TCP ip modem terminal applied on distribution automation and management systems
Date:2014-02-26 13:54:00
Power distribution is an important part of the power system, the development of the power distribution grid automation can expand the scope of monitoring to ensure the effective management and shorten the time of operation due to an accident and caused power outages, improve power supply reliability rate, optimizing the distribution network operation mode, improved with grid operation of the economy, thereby improving power quality, improve power supply enterprise labor productivity.
Distribution automation is to improve the reliability and power quality, enhance supply capacity, an important means to achieve efficient and economic operation of the distribution network is an important part of smart grid implementation, building a national smart grid, power quality requirements of the whole society as well as the context of the increasing power enterprise management system in-depth reform of the electricity distribution services in the field of automation engineering and technology will be a new round of China's power industry investment focus.

Power distribution automation and management systems is the use of modern electronic technology , communications technology, computer and network technology, real-time information and offline distribution network information, user information , the grid structure parameters , GIS integration , a complete automated management system, distribution system under normal operating and accident monitoring , protection, control and distribution management . It is the real-time distribution automation and distribution management systems into one integrated system.
Power Distribution automation system generally consists of the following levels: the main power distribution stations, electronic station ( Usually installed in the substation , optional ) remote power distribution terminal ( FTU, DTU, TTU , etc. ) , communications networks.
Four-Faith communication wireless communication terminal F2514 IP 4G MODEM be used in this system, Four-Faith communication partner - a power equipment integrators use Four-Faith F2514, build a stable wireless communications carriers based network , reliable wireless communication network. Column switch monitoring terminal (FTU) via RS232/485 serial port and Four-Faith F2514 Tcp IP 4G LTE Modem connection , the F2514 terminal receives information monitoring , data transmission over the wireless network to a central master station , enabling remote monitoring function.
Using the TD-SCDMA network in power monitoring system for data transmission , can greatly reduce the time investment in communications systems , and reduce the project implementation time debugging communication system , a communication system to reduce maintenance costs . Especially for a broad area, point dilute distribution network system , this means of communication has a good economy.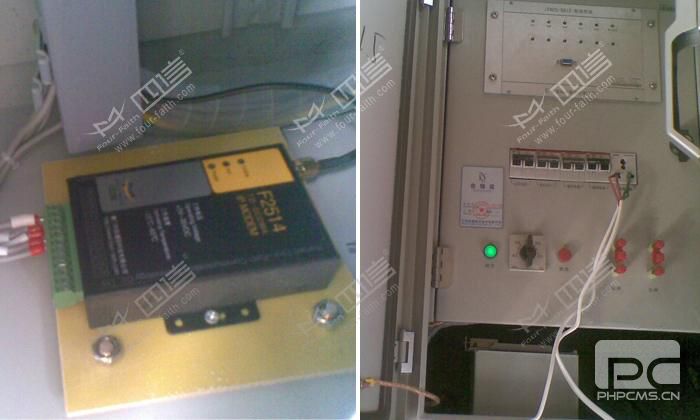 TAGS: distribution automation distribution network distribution system Distribution automation system remote power distribution terminal [Previous Page]
Previous Page:GPS DTU for agricultural machinery positioning and monitoring system in Mexico
next page:4G/3G Wireless Industrial Router Based on UK large Device Monitoring System