Smart Tourism IPC Smart Scenic Spot Video Surveillance Solution
Date:2022-05-07 09:51:42
Background:
With the rising of tourism, cities across the country have set up the green tourism method to attract tourists to travel, promote the rapid development of local economy, but in the past two years, because of incomplete tourist attractions hardware facilities prevented many tourists enjoy, because tourists accounted for most of the proportion of foreign personnel. Therefore, its own security issues gradually become one of the tourist attractions. Secondary, owing to large increase during the holiday, increase the staff management pressure. But we have no long-term maintenance as a tourist attraction of safety management and increase the safety management not only requires a large increase in the capital, also need to add on device equipped at the same time, such as wireless communications equipment and command center. However, the dissatisfaction of tourists will eventually lead to these cities that play tourism cards becoming forbidden areas for tourism. How to consider safety and personnel guidance with the least investment has become the core problem to be solved by our system.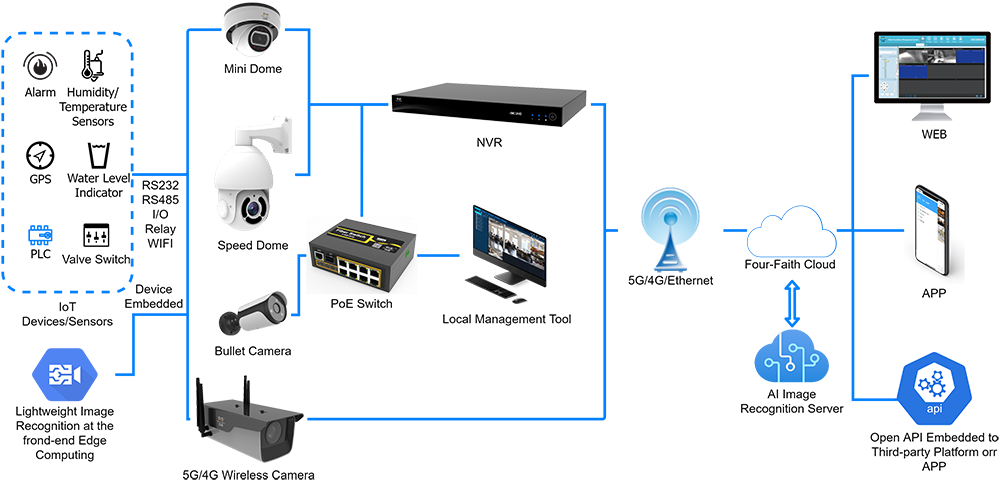 Smart City Tourism IPC Smart Scenic Spot Video Surveillance
Solution Introduction:
Video monitoring system using Four-Faith full network security monitoring product HD architectural design, the scenic spot of the light pole, entrance, gate to install Four-Faith high-definition IP cameras. IP camera using cable network or cellular network to connect the monitoring center so that the monitoring center can achieve real-time monitoring, the locations of the scenic spot also can query the history of video information. The HD and networking of front-end video collection, transmission, storage, and decoding display is fully realized, which is convenient for system management & maintenance, also conducive to system expansion and application expansion. Four-Faith video surveillance system can be used to view the front-end video anytime, anywhere and can support remote access of mobile phone clients, which greatly facilitates user management operations.
The construction of the video surveillance system of the scenic spot is supported by the new generation of the transmission network, cloud computing, cloud storage, Internet +, and other emerging information technologies. Realizing the cross-platform, cross-network, and cross-terminal of video surveillance, passenger flow statistics, parking lot management system, and other systems. Also, to support many users access concurrently, integrated application of massive data, between the multiple systems of integrated management, based on the existing scenic area information, achieve the sharing of the information resources of the scenic spot, to provide comprehensive information resources utilization, and the ability of application support services, while increasing the scenic area management and service level.
1.1 Supports one SFP single mode/multi-mode optical port and one 10/100/1000M adaptive RJ45 port
1.2 All ports provide full-line speed forwarding to ensure smooth packet forwarding
1.3 8 POE Ethernet ports, providing a maximum of 120W power supply
1.4 High strength metal casing, IP40 protection rating, support clip mounting
2.1 Integrated RTU function to connect with different sensors
2.2 High strength metal shell, suitable for using in harsh environment
2.3 High-definition IP Cameras support 4G/5G high-speed wireless module, integrated routing function
2.4 High-definition IP Cameras can install an electric cradle for multi-angle rotation
3.1 Large caliber 30x zoom lens
3.2 High-definition IP Cameras support 360° rotation, no monitoring blind area
3.3 The Internet of Things interface is customized to accommodate the most common interface sensors
3.4 High-definition IP Cameras support IP67, industrial-grade protection, provide strong protection and stability
4.1 4G/5G high-speed wireless module, integrated routing, WIFI functions
4.2 View the remote video monitoring at anytime, anywhere
4.3 IoT interface integration, highly customizable
4.4 Strong compatibility, support national standard and Onvif protocol
Smart City Tourism IPC Smart Scenic Spot Video Surveillance Solution Advantages:
1. Omni-directional, all-weather, high definition, intelligent video surveillance system
2. All monitoring systems are managed in a unified manner
3. Statistical analysis of passenger flow, over the set flow can be notified to the staff for diversion
4. In case of danger, tourists can view real-time images of danger points on the map, which is convenient for staff to conduct emergency response
5. Patrol system, fixed patrol to each area of the scenic spot, in case of tourists stay, accidents
TAGS: High-definition IP Cameras Smart City Tourism [Previous Page]
Previous Page:Provide "Eyes" for the Machine, Four-Faith Image Recognition Technology Decoding Visual Data Potential
next page:Four-Faith NB-IoT-based Intelligent Garbage Bin Networking Solution