4G/3G Wireless Industrial Router Based on UK large Device Monitoring System
Date:2014-04-13 14:28:00
Most of the large medical device manufacturer can not monitor and manage the device continuously. For the devices are sold to other places all around the word. The manufacturer can not go to the where the customers are for long. Besides, by camera or phone to communicate the problems, the information received by the technician can not be totally correct,
The remote monitoring system based on the wireless network will connect the devices that customers purchased with the manufacturer to slove this problem. Four-Faith the leading enterprise in IOT cooperate with UK medical manufacturer for years and has installed hundreds of wireless industrial routers in their medical device.
On the earlier stage, Four-Faith communicate with the UK customer about the request analysis in details. UK customers' technical team need us to respond to the technical service for 24 hours.
Four-Faith Large medical device monitoring based on wireless 3g/4g solution as below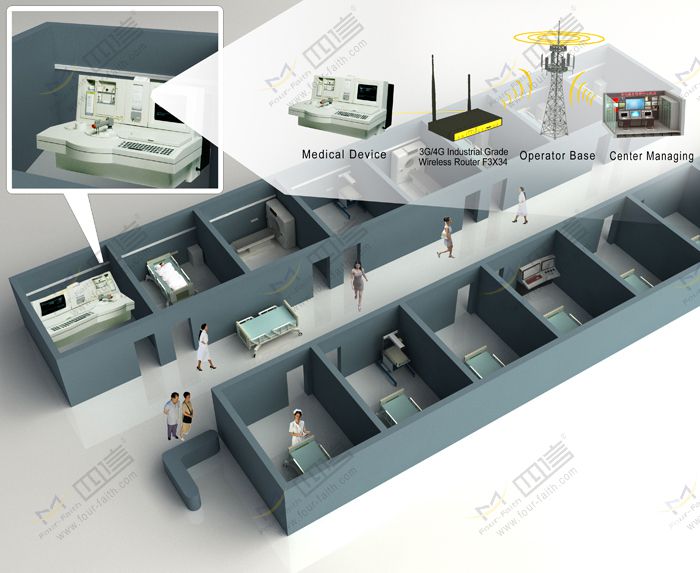 Four-Faith F3X34 serial Industrial router is used in the system to realize the server of the manufacturer connecting with the medical device. The data from the device can be sent via Four-Faith router to the server, the server will save, analysis and track.In this way, the technician of the manufacturer will quickly respond to the problems.The device managing personnel can also know about the device running statues by wireless network.
Application Images:

TAGS: large Device Monitoring System medical device monitoring medical device manufacturer [Previous Page]
Previous Page:TCP ip modem terminal applied on distribution automation and management systems
next page:Four-Faith 4G Router for Brazil World Cup Security System