Epidemic Situation | Four-Faith Infrared Thermal Imaging Human Temperature Measurement System Goes Live!
Date:2020-02-12 10:00:22
Application background
A smoke-free war broke out on the eve of the Spring Festival in 2020. The sudden corona virus affects the heartstrings of Chinese. As of 15:27 on February 10, the cumulative number of confirmed cases of pneumonia patients with new type of coronavirus infection in China has accumulated 40237, 23589 suspected cases, how to effectively prevent epidemics has become a crucial issue.
For the existence of suspected patients, in public places, such as shopping malls, railway stations, subway stations, office buildings, etc., which are more likely to cause larger-scale infections, preliminary screening can be performed through the infrared thermography human body temperature measurement system, which can identify abnormal temperature Fever groups and people who do not wear masks screen the crowd for potential hazards at the source to prevent the epidemic from spreading.
Application inquiry
▲ Replace manual measurement, save labor cost
▲ Non-contact screening to ensure the safety of inspectors
▲ Scientific temperature measurement to prevent epidemic spread and disease deterioration caused by missed inspections and uncertain factors
System Structure
Four-Faith remote transmission solution infrared thermal imaging human body temperature measurement system uses the existing mature 4G network technology and Four-Faith industrial 4G router to realize the rapid deployment of the entire monitoring system and centralized monitoring across regions.
The monitoring center has fixed public network IP address dedicated lines and enterprise-level VPN hardware equipment. Each system is equipped with a Four-Faith industrial-grade 4G router F-R100, which is connected to the Internet through a 4G network. The gateway establishes a VPN tunnel. Through the VPN tunnel, the intranet server of the monitoring center communicates with the intelligent control terminal, human body temperature camera, human body temperature measurement black body and other equipment at the epidemic prevention site, so as to realize the return of audio and video images and the monitoring center to the scene. Real-time monitoring and control.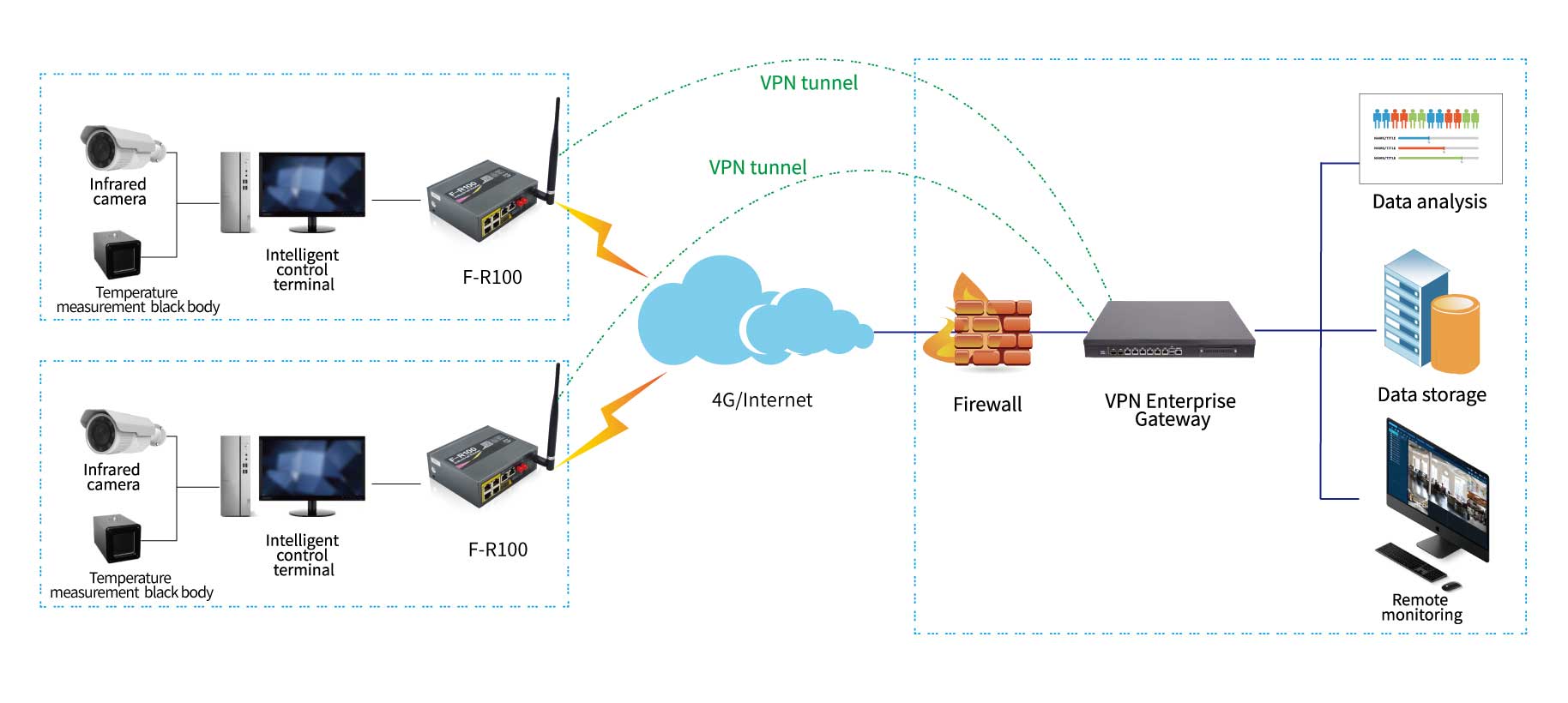 Where the monitoring center does not have the network environment and VPN hardware equipment, a four-faith 4G industrial router can be placed in the monitoring center in combination with the four-faith cloud service function to provide the network to the server and computer in the monitoring center; The central routing only needs to be easily configured to connect to four-faith Cloud, and realize the connection of field equipment and monitoring center and mutual data access through cloud services.
Solution advantage
①High temperature measurement accuracy
± 0.3 ℃, accurate temperature measurement, stable
②Improve efficiency
Achieve rapid body temperature screening, long-distance, large-area detection
③Traceability
Combined with four-faith Cloud platform, it can realize historical data traceback, data analysis, etc.
④lower the cost
Automatic warning mechanism and multi-person detection mechanism, saving a lot of manpower and material resources and reducing the risk of cross infection
⑤Strong applicability
It can meet the rapid body temperature screening of traffic centers such as airports, ports, terminals, stations, etc.
No winter can't be crossed
No spring will not come!
We firmly believe
Will definitely win this battle soon
Come on Wuhan!
Come on China!
Previous Page:Internet of Things in Unmanned Retail Application
next page:最后一页