Create a Nice Shopping Experience for the Customer! Four-Faith 5G CPE Achieves Full WiFi Coverage at the Supermarkets & Shopping Mall
Date:2022-03-01 16:56:58
Background
Driven by technology, the new retail concept has become more popular, and the competition between supermarket chain enterprises is becoming more and more fierce. While providing customers with more and more comprehensive high-quality goods, the supporting service facilities of the supermarket environment should be improved. To improve the soft power of enterprises especially in e-shopping, the group buying business and other consumer behavior trends are spreading. In addition, a high-quality network environment has become one of the most critical factors for consumers to choose stores for shopping. Therefore, it is an important link for supermarket enterprises to achieve full-scene Wi-Fi coverage to win customers' reputations.
1. The Network Structure is Unitary, Network Security Problem May be Hidden
Traditional stores have the cashier system, video management system, and visitor network are using a unified network. The internal system is easily attacked by viruses and hackers, so the user network has security risks. The use of visitor mode, access restriction, and other functions can effectively ensure network security and priority to ensure the network stability of the cashier system.
2. Traditional Shopping Mode has Poor Consumption Service Experience
Supermarket stores adopt traditional manual consultation. When the customer flow increases, they cannot find the staff to ask related questions in time and cannot obtain the product information at the first time, which reduces the customer service experience.
3. Less Intelligent Terminals, Loss of Customers
The number of intelligent terminals built in the existing supermarket environment is few, and most of the information such as commodity consultation needs to be answered manually. When the personnel of supermarket stores changes, it is easy to cause a shortage of staff, which will affect the loss of customers in stores and the user shopping experience.
4. Lack of Intelligent Management, Unable to Achieve Data Analysis
Traditional supermarket enterprises lack precise marketing tools and customer flow analysis platform, which cannot realize the consumption behavior analysis and user data analysis of visiting customers. It is impossible to use convenient management tools to push mainstream commodity information and store information to customers online, to realize the freedom of time and shopping location for customers.

To realize the digitalization of retail stores, the enhancement of experience, and the digitalization of business, the company can integrate the latest technology products -- Four-Faith 5G CPE, with "high-performance WiFi, high security, easy operation" and other advantages, which can bring the new retail model of "technology + product + scene integration" to the supermarket enterprises.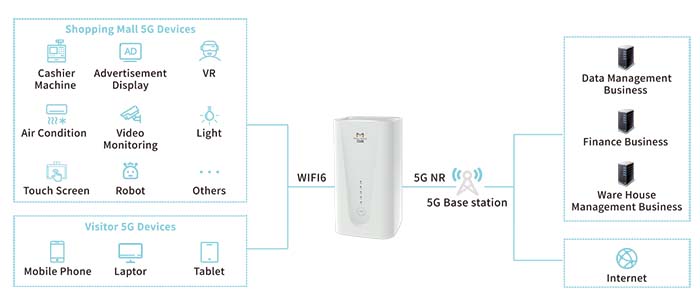 Four-Faith 5G CPE shopping mall & supermarket WiFi coverage solution provides network access through Four-Faith 5G CPE, and other terminals connect to CPE through WiFi. Meanwhile, a separate SSID can be set for visitors to achieve data isolation and ensure data security. Achieve multi-terminal connection with 5G CPE.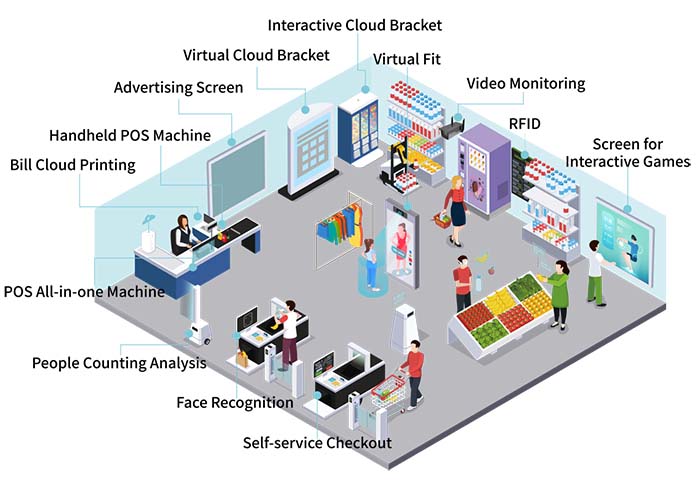 1. High-speed WiFi Performance, Improve Customer Shopping Experience
Four-Faith 5G CPE ultra-high network stability and low delay can ensure smooth interaction of intelligent equipment high-speed WiFi 6 Internet experience, AR/VR game experience, intelligent robot (shopping guide, inventory, distribution, etc.), intelligent shopping guide, visual recognition unmanned checkout platform and other immersive experience applications and improve the consumer shopping experience.
2. Intelligent Management System Improves Store Conversion Rate
The massive connection, high bandwidth and fast transmission capability provided by 5G CPE ensure that the massive equipment can be accessed and connected online in real-time. The overall intelligent management system is utilized to realize customer flow analysis, increase customer stickiness, and effectively improve the customer conversion rate of stores.
3. The Network Architecture is Secure and Reliable to Prevent Data Leakage
The solution has a separate SSID and access restriction for visitors to ensure the data security of 5G network wireless access. Core network to ensure user authentication, user privacy, store data is not leaked.
TAGS: 5G CPE Wi-Fi Coverage Intelligent Terminals Customer Shopping Experience Intelligent Management System [Previous Page]
Previous Page:Live Video Network Often Unstable? Four-Faith 5G CPE Provide the Full Wi-Fi Coverage for the Live Broadcast!
next page:Let Perception be the Escort of Safety: Four-Faith 5G Intelligent Urban Traffic Monitoring Solution