Penetrate All the Walls in the House Above your Imagination! Four-Faith 5G CPE Helps Home WiFi Cover Any Corner
Date:2022-03-14 14:24:57
Background
In the 5G era, traditional urban life is gradually becoming intelligent and connected, and people's home life has higher requirements for network support with both speed and efficiency. In particular, the rise of the home office, online education, entertainment, and leisure services has made WiFi coverage a topic of eternal concern for millions of families.
With the continuous improvement of residents' living standards, smart devices in home life need to be quickly connected to the cloud through WiFi, and then realize smart device status monitoring and remote control through mobile phones or convenient terminals. Therefore, how to solve the whole house of family WiFi coverage has become the ultimate goal of WiFi networking.
Few of WIFI Connections Number
With the development of science and technology, there are more and more smart homes in families, which need to connect to the network through WiFi to achieve remote control. The number of WiFi connections provided by traditional routers is small, which cannot guarantee a smooth network and no disconnection when multiple terminal devices are using the network at the same time.
The residential area of the family is relatively wide, and the distance between household appliances and each room is far away, which leads to the inability of WiFi signal to cover all areas, resulting in poor network stability.
Home network broadband is limited by bandwidth, coupled with network congestion in prime time, resulting in home users' video chat, leisure, and entertainment network congestion, the need to reduce the TV resolution to play smoothly, unable to enjoy the ultimate network experience.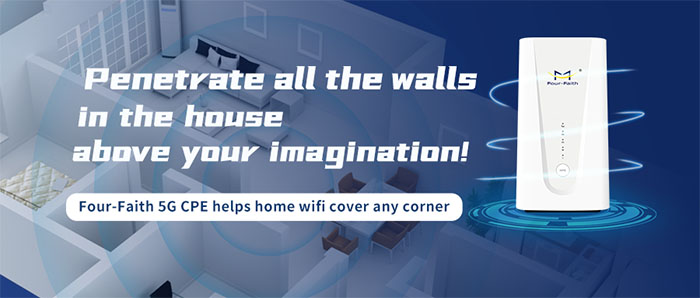 Based on the insight into the existing network pain points of home users, Four-Faith launched expert-level high-performance 5G CPE, providing product solutions of "hardware + service", supporting NR(SA&NSA), TDD-LTE, FDD-LTE, and converting cellular network data into WiFi and wired network port data. It supports one 1G LAN port, one 2.5G WAN/LAN, and 2.4G+5G dual-band WiFi, which is suitable for home or business scenarios requiring the rapid deployment of a wired broadband network and WiFi hotspot. Provide WiFi 100% coverage, Internet stability, and a fast network environment.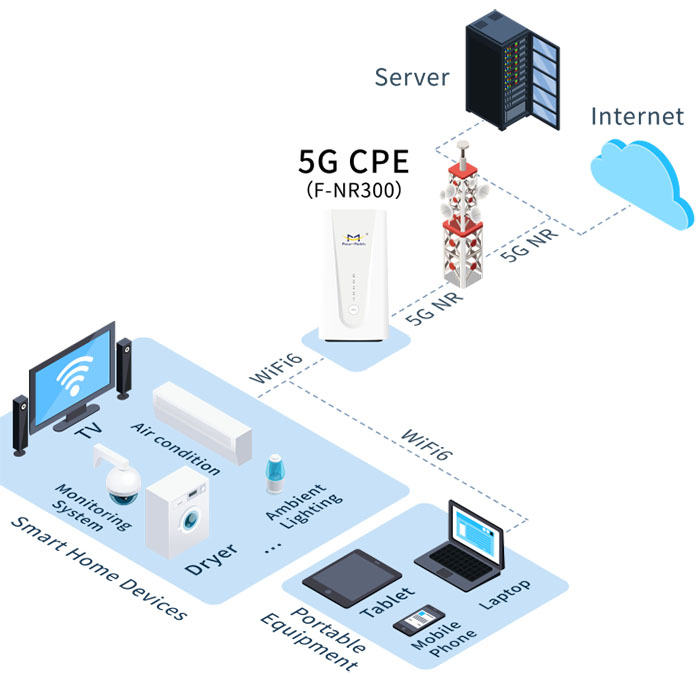 Four-Faith 5G CPE family WiFi whole-house coverage solution connects smart devices such as home monitoring, air conditioning, refrigerator and sweeping robot to the Internet and realizes remote "calling" through APP or voice function. The solution provides high-speed WiFi 6 technology with the help of 5G CPE to connect to the 5G network of operators, to ensure that the smart home equipment can be continuously connected for 7*24 hours, to ensure that users can check the equipment status in real-time and complete remote operation even when they are not around.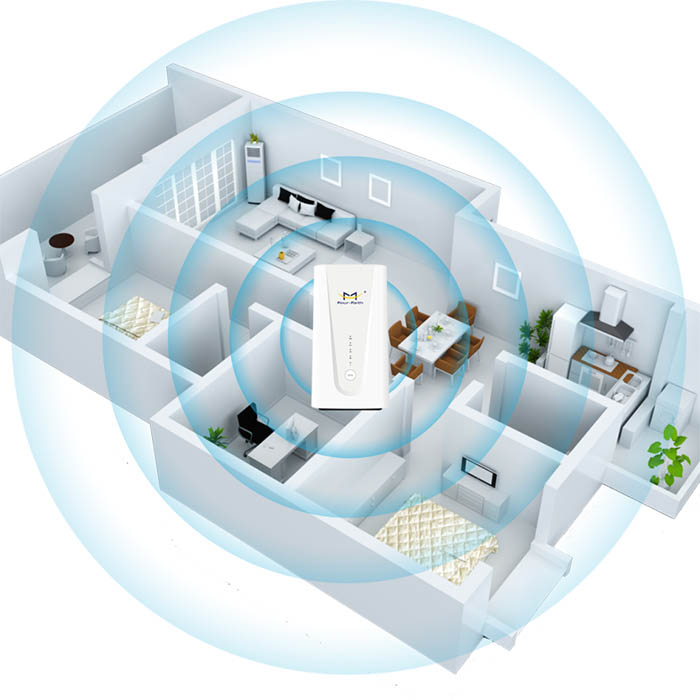 The cellular antenna adopts the circular no-shielding layout to ensure that the signal is captured 360 degrees without dead Angle. The built-in dual-polarization 4*4 wifi antenna reduces the antenna volume by 20% and has high isolation degree to improve the transceiver performance. The personalized solution of "wired and wireless" is customized for the home interior to realize the signal everywhere.
2. Mesh Automatically Feature
The adoption of 2.4G and 5G dual-frequency signal coverage and the new generation of WiFi protocol, through the Mesh networking of multiple CPES, can achieve seamless coverage, WiFi automatic roaming function, smooth Internet access, so that home intelligence to achieve convenient and stable network services.
3. Mass Connection to Ensure Multiple Terminals Online at the Same Time
WiFi6 can provide massive connections, high bandwidth, and fast transmission capabilities, while maintaining real-time online interconnection, realizing the simultaneous online connection of multiple terminals for home users, saving a lot of material costs for users.
4. Plug and Play, Easy to Connect to Internet by using Cable and SIM Card
With the background real-time detection and automatic repair of network problems, realize the intelligent switch between SIM Internet access and broadband Internet access, no need to manually restart or reconfigure the network, so that home users can access the Internet more simply, easily enjoy the convenience brought by smart home.
5. Perfect Safety Protection
Can configure independent visitor SSID, child protection, smart equipment control through black and whitelist can effectively prevent network security such as rubbing network
6. Outstanding Appearance, Lightweight, Plug and Play
Light size, outstanding appearance level, easy to carry, desktop placement, plug and play, to achieve rapid deployment. By pressing the WPS button, the smart device can access the Wi-Fi network without a password, with ease and convenience.
TAGS: 5G CPE Home WiFi WiFi Coverage [Previous Page]
Previous Page:Let Perception be the Escort of Safety: Four-Faith 5G Intelligent Urban Traffic Monitoring Solution
next page:Four-Faith 5G High-performance CPE, Farewell the Office Network Coverage Dead Zone