Four-Faith 5G High-performance CPE, Farewell the Office Network Coverage Dead Zone
Date:2022-03-18 14:15:41
Background
With the rapid development of enterprise office informatization and the trend of gradually mobile office scenes, mobile office has become an important way of office. More and more enterprises gradually improve their internal office networks and establish more convenient, advanced, and mobile wireless access networks for employees to meet the needs of enterprise development.
With this trend of evolution, the wireless network in the workplace has become the focus of enterprise attention. How to choose more professional technology, more perfect functions, more powerful performance to carry the full coverage of enterprise office WiFi has become an urgent problem for enterprise mobile offices.
1. Network Structure is Unitary, Access is insecure
The traditional office area has a single network structure, lacks a secure and reliable authentication mechanism, and does not have a strict isolation mechanism between the visitor network and the office network, resulting in internal network security risks.
2. Wiring Construction is Difficult, Process is Complicated
Traditional network connection requires complex wiring procedures, which cannot realize convenient deployment and plug and play functions and will affect the aesthetics of the office environment.
3. Poor Roaming Effect, Affects Office Efficiency
For employees, a smooth network environment is essential to achieve work efficiency. Mobile working interrupts services and seriously affects work efficiency.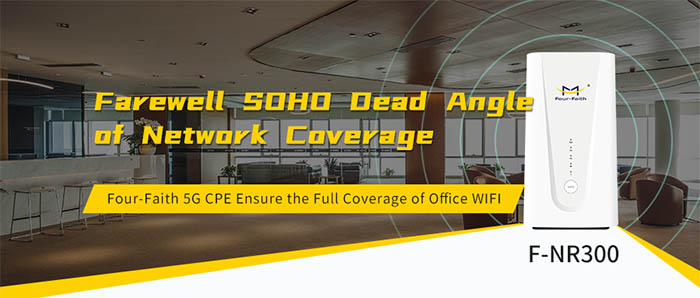 To solve the problem of SOHO office WiFi coverage, enterprises need more professional technology and more perfect functions. Because of this, Four-Faith finds the right time to launch high-performance 5G CPE, using 5G CPE to quickly realize the deployment of enterprise office WiFi solution, and create an efficient "wireless office" for enterprises!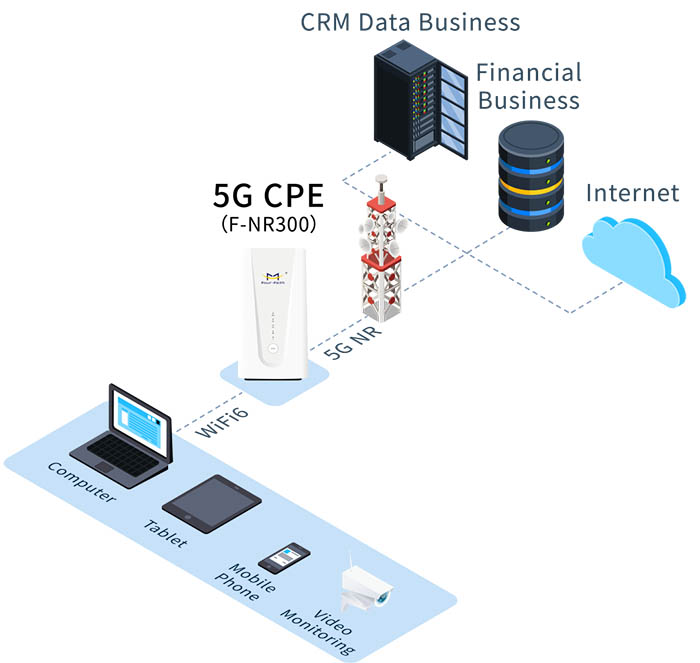 Four-Faith 5G CPE office WiFi coverage scheme uses the 5G base station deployed by the operator to obtain the base station signal through Four-Faith 5G CPE and convert the base station signal into network accessible WiFi signal. Other terminals are connected to the CPE through WiFi or wired mode to provide convenient network access for laptops or other intelligent terminals. Moreover, Four-Faith 5G CPE can be connected to multiple terminals, plug and play, to achieve a convenient office for enterprises.
The cellular antenna adopts the circular no-shielding layout to ensure that the signal is captured 360 degrees without dead Angle. The built-in dual-polarization 4*4 Wi-Fi antenna reduces the antenna volume by 20% and has high isolation degree to improve the transceiver performance. The personalized solution of "wired and wireless" is customized for the enterprise office to realize the signal everywhere.
2. Automatic Mesh Function
Using 2.4G and 5G dual-frequency signal coverage and the new generation WiFi protocol, through the mesh networking of multiple CPEs, it can achieve seamless coverage, WiFi automatic roaming function, and smooth Internet access, so that employees can feel convenient and stable network services.
3. Mass Connection to Ensure Multiple Terminals Online at the Same Time
WiFi6 can provide massive connections, high bandwidth, fast transmission, and maintain real-time online interconnection, enabling employees to connect multiple terminals online at the same time, saving material costs.
4. Easy to Operate, Plug and Play
With background real-time detection and automatic repair of network problems, the intelligent switch between SIM Internet access and broadband Internet access is realized, without manual restart or reconfiguration of the network, making the Internet access easier for employees.
5. Perfect Safety Protection
Can configure independent visitor SSID, child protection, smart equipment control through the black and whitelist can effectively prevent network security such as rubbing network.
6. Outstanding Appearance, Lightweight, Plug and Play
Light size, outstanding appearance level, easy to carry, desktop placement, plug and play, to achieve rapid deployment. By pressing the WPS button, the smart device can access the WiFi network without a password, with ease and convenience.
TAGS: 5G High-performance CPE Office Network [Previous Page]
Previous Page:Penetrate All the Walls in the House Above your Imagination! Four-Faith 5G CPE Helps Home WiFi Cover Any Corner
next page:From Horsepower to Computing Power, the 5G+ Driverless Scheme Accelerates the Era of Intelligent Cars