20th Sep, co-hosted by international well-known industry media CONTROL ENGINEERING China and PLANT ENGINEERING China (short name CEC and PEC) , 2018(7th) international automation and manufacturing Theme Summit meeting will be hold in Shanghai Jinguyuan Haosheng hotel. This time summit meeting will invite the industry leader manufacturer, experts and scholars and typical user to attend and speech surrounding the theme "meet to the M2M industry, smart to the international challenge", to offer the grand meeting to direct the industry and widen the mind for every industry manufacturer. Four Faith marketing manager Mr. Lin is inviting to join it.
The host of the summit meeting release the final result of "CEC product of the year 2018 " and award the enterprise, it is, as the industrial authority yearly product electing activity, aimed to recommend the best product to the industry, to show the standard to the industry. This awarding the latest products of industrial automation control and instrument and meter in Chinese market, one of which is Four Faith high end industrial router F-R200 to be awarded to "Editor Recommendation Award of the year 2018".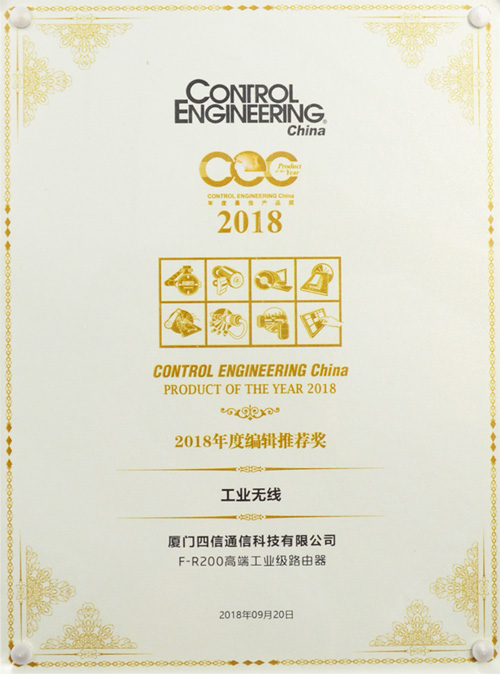 Application project: F-R200 used in AGV robot
Application background
AGV robot have became the new strength in the robot area in recent years, under the background of smart logistic, smart factory, smart AGV robot function will be more and more important, AGV will be the foundation in unmanned factory and market in the future. In addition, AGV robot has been applied in people's livelihood project, it has been seen in laboratory, shopping mall etc.
The system is mainly built by terminal robot, network communication layer, server and hand-hold controller
1. Terminal robot is embedded Xiamen Four Faith F-R200 industrial router, F-R200 use as the client end in WIFI LAN network to receive and upload the command from server or hand-hold device.
2. Network communication device is built by Xiamen Four Faith F-R200 industrial router, the main function is to be the server end in WIFI LAN network to build the saft, real-time, stable data communication channel to terminal robot, server and hand-hold device.
3. Server mainly work to receive, send and process the sensor data and radar scanning data uploaded by terminal robot and analyze the data. Hand-hold terminal is to send the robot routine and cargo processing via radar scanning data.
High End Industrial router: F-R200
F-R200 is the wireless communication router used in M2M area, it use the public 3G/4G network to offer the wireless long distance big data communication function. It adopt the high function industrial 32 bits communication CPU and industrial wireless module, embedded the real time operating system to be software supporting platform, meanwhile offer 1*RS232(or RS485/RS422), 4*LAN, 1*WAN, 1*WIFI connector, to connect to Serial device, Ethernet device and WIFI device at the same time, to achieve the function of data transparent communication and router.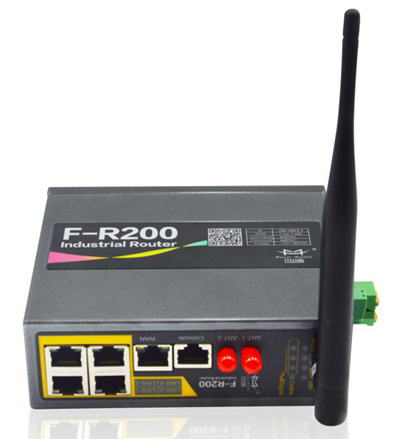 Product function
1.Adopt high function industrial module to ensure the stability of network
2.WDT design to ensure the stability of system
3.support data output of relay, Optical couple
4.support TF extension, serial, network data storage
5.support multiple VPN to ensure the safety of data communication