After got the "Fujian Specializated & Innovative small medium-sized enterprises" honor, Four-Faith communication technology co., LTD, a subsidiary of Fujian Xiamen Four-Faith digital technology group co., LTD., (referred as the Four-Faith) to be chosen in the Ministry of Industry and Information Technology of China with the first batch on the list of "little giant" enterprises, fully shows the Four-Faith's innovation, science, and technology in the various digital industry application and solutions.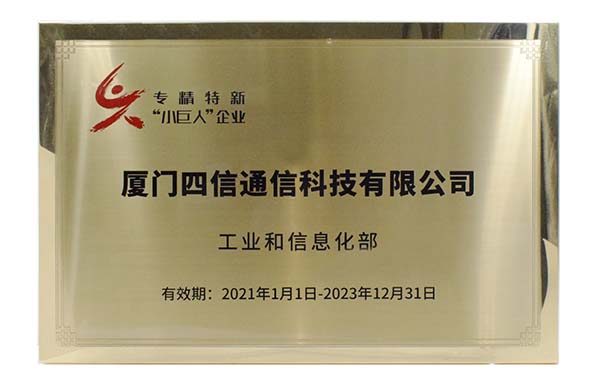 At present, Xiamen Torch High-tech Park has won a total of 29 national specialization & innovative enterprises, Four-Faith won this award at this time, once again verified that the company's technological innovation, products & services have been recognized also affirmed by government departments and industry users. Besides, it is also an effective proof of the Four-Faith's strong strength.
"Specialization & Innovative " Little Giant
"Specialized & Innovative " refers to small and medium-sized enterprises with specialization, refinement, characteristic, and novelty.
The national specialized & innovative "Little Giant" enterprise is the leader of the "Specialized & Innovative " enterprise, which focuses on market segmentation, strong innovation ability, high market share, with key core technology, and has excellent quality and benefit.
Since 2019, the Ministry of Industry and Information Technology of China has published the list of "little giant" enterprises, total 4762 enterprises in three batches, aiming to give full play to the demonstration role. In addition, lead the various of small and medium-sized enterprise "Specialized & Innovative " development path, to promote high-level industrial foundation and modernization level, provide strong support of building a modern industrial system.
Build the Demonstration Example, for Enterprises Collaborative Development
By the call of the national government, science and technology innovation has become for upgrading the substantial economy, leading the driving force core of the high-quality development. As adhere to independent research & development, innovation, and development of the Internet of things technology platform enterprises, Four-Faith insists on upgradation of innovative technologies, integrated with solutions for build the demonstration model of industry users, and promoting the coordinated development of the enterprise.
Deeply engaged on the Internet of Things for more than ten years, with rich product lines, professional and reliable practical experience, Four-Faith provides customers from all industries with high-performance & highly reliable Internet of things products and provides one-stop solutions for the digital transformation for enterprises. At present, Four-Faith's products have been widely used in government finance, urban street lighting, education & medical care, energy & electric power, transportation, and many other industries.
In the future, Four-Faith will push continuedly of strengthening scientific, technological research & development, and talent innovation training. Based on the Four-Faith series products to empower more industrial chains. Four-Faith will accelerate the enterprise's intelligent transformation and upgrading to build a good example of a "Specialized and Innovative" little giant.