In December 2021, (ITU-T Y.4480 Low Power Protocol for Wide Area Wireless Network), developed by the Telecommunication Standardization Division of the International Telecommunication Union (ITU-T), LoRaWAN was officially approved by the International Telecommunication Union (ITU) as the global communication standard for Low Power Wide Area Networks (LPWAN).
LoRaWAN
has been recognized by the most authoritative international organization in the global ICT industry, further enhancing the international influence of
LoRaWAN
. To meet LoRa's favorable globalization policy, Four-Faith accelerates the strategic layout of the industrial chain and launches a new series of
LoRa modules
with "ultra-low power consumption and ultra-small size" to expand the territory of the ecosystem circle.
F-LM100
LoRa module
is an embedded wireless data transfer module based on
LoRa technology
. It uses the
LoRa
network to provide users with wireless data transfer functions.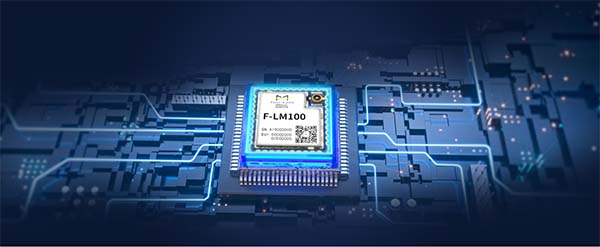 New Upgradation, Excellent Quality
The Four-Faith F-LM100 is equipped with advanced
LoRa
SOC chips for low power consumption, high sensitivity, and strong anti-interference.
Multi – protocols Communication, High Compatibility
F-LM100 series products support all ISM frequency bands from 150MHz to 960MHz, meet the Four-Faith proprietary protocols, LoRaWAN1.0.2, LinkWAN*, and CLAA*, with high compatibility.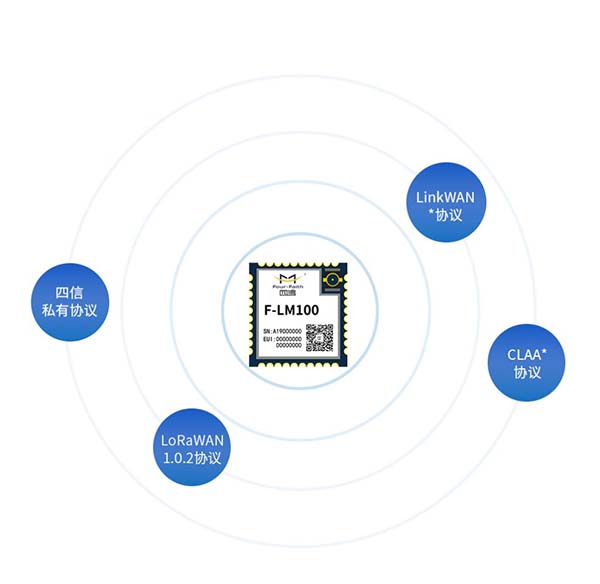 Perfect RF Design, Better Experience
F-LM100 series supports two RF signal output modes: Ipex connector and pin, which is convenient for customers to choose the hardware design.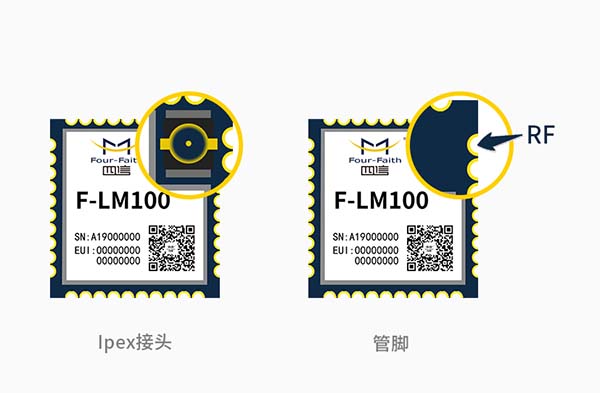 Ultra-low Power Consumption, Lower Cost
Low power consumption design, support deep sleep and air wake-up mode, less than 2μA to provide the longer battery life, reduce customer hardware, operation, and maintenance costs.
Power Consumption less than 2μA
Long Distance Transmission, Industry Leading
Maximum transmitting power 22dBm, multistage power-adjustable (5~22dBm). Reception sensitivity up to -139dBm@125KHz, SF12, CR1 so that the communication transmission distance is greatly increased.

Small Size, Easy to Install
The dimension of the product is only 15*16*2.5mm, which saves more space for users and is convenient for embedded system application development.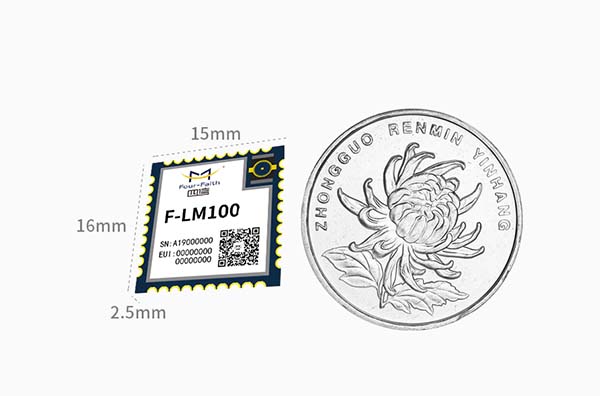 Various Applications, IOT Connections are Everywhere
Four-Faith F-LM100
LoRa module
can meet the demands of various Internet of Things products and can be widely used in intelligent fire protection, smart city, smart agriculture, smart home, smart logistics, smart wear, smart livestock, smart meter, and other Internet of things industries applications so that the connection is everywhere.