At present, smart city construction is being actively distributed around the world. Driven by the policies of relevant state departments, smart city construction in China is steadily advancing. Represented by the intelligent lighting industry, the intelligent transformation of traditional manufacturers and the cross-border layout of science & technology manufacturers promote the rapid development of the intelligent lighting industry, and the intelligent lighting equipment market has a broad prospect in the future.
With the dual opportunities brought by the energy-saving and environmental protection policies and the 5G mainstream market, large-scale construction of smart streetlight poles equipped with 5G base stations will soon be carried out across the country. It is estimated that 5G technology will bring a market scale of 18.45 billion USD, and the demand for smart streetlight poles equipped with 5G wireless communication base stations will be explosive.
Four-Faith is dedicated to developing a new generation of 5G smart street light gateway for urban 5G smart street light pole, using in power Internet of Things, and other scenarios, lighting the "last kilometer" to the home.
Four-Faith Smart Street Light Pole Gateway
Four-Faith 5G Smart Street Light Pole Gateway F-G310 has strong equipment access ability, communication protocol conversion, operation processing ability. Access with the devices of intelligent lighting, video surveillance, traffic instructions, traffic monitoring, environment, weather monitoring, information release, public broadcasting, public WLAN, emergency help, information interaction, charging service and other functions can communicate through cable, optical fiber, 4G, and 5G.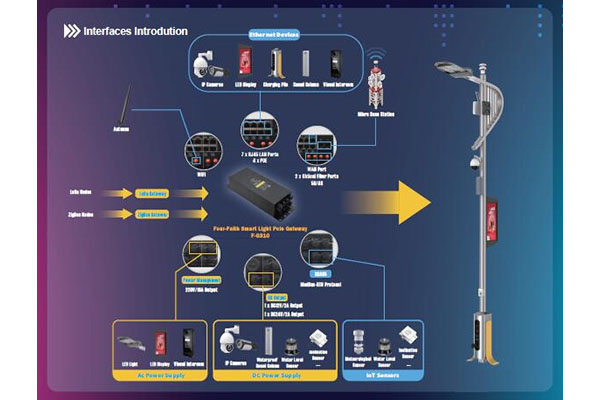 Remote Management, Improve Management Efficiency
Connect to
Four-Faith
cloud platform and access the cloud platform through Web to achieve remote management. Convenient and easy to use PC Client software, remote configuration, remote maintenance, remote data monitoring, enabling enterprises to intelligent management, reduce operation and maintenance costs.
Integrates Multiple Communication Modes to Meet Various Networking Port Requirements
Integrated multiple communication modes, ZigBee, LoRa, etc. The uplink supports 5G, 4G, WiFi, NET, and optical fiber, also supports both wired and wireless backup. With software watchdog and hardware watchdog technology, when the gateway device is abnormal, intelligent software wakes up or restart, reset the gateway, ensure the real-time normal operation of the gateway.
Support Secondary Development, to Achieve Customized Function Applications
With Python and C secondary development environment, customized function applications can be realized according to customer's business requirement. At the same time, the secondary development kit (SDK) is provided to easily apply with various interfaces and resources of the system, reflecting the core value of customer solutions.
Strong Protocol Compatibility, Achieve Mainstream Industrial Communication Protocols
Support mainstream industrial communication protocols, support customized private communication protocols. Downstream supports transparent transmission and Modbus RTU and upstream supports transparent transmission, TCP/IP, MQTT, and Modbus TCP. At the same time, Alibaba Cloud, Baidu Cloud, and other third-party platforms can be seamlessly connected with the private cloud platform developed by enterprises.
Multiple Networking Modes, Flexibly adapt to Various Networking Port Requirements
The optical fiber port has the layer 2 networking capability of optical fibers and is flexibly applicable to ring management and chain networking scenarios. At the same time, the network ports can be flexibly configured to meet different service port requirements by adding or deleting embedded switch communication modules.
Rich Communication Interfaces, Plug and Play
It is equipped with rich industry-standard communication ports, including seven gigabit LAN ports, one gigabit WAN port (Four POE ports, supporting POE+ single power up to 30W), two gigabit optical ports, and two RS485 ports.
High Temperature Alarm, Reduces the Accident Probability
It can perform data analysis on the information collected by the front-end sensor according to the requirements of various management departments and release abnormal alarms and multi-center information to meet the intelligent management requirements of the smart light pole system and reduce the probability of accidents.
Industrial-grade Design, Strong Environmental Tolerance
Industrial design, special metal shell, aerospace interface design, high temperature and humidity resistance, no fear of any harsh operating environment, to ensure stable and efficient operation of the equipment.