1. Industrial Wireless Transmission Saves Most of the Human and Material Costs
In the field of sewage treatment monitoring and oilfield data acquisition, wireless data transmission plays a role in data transmission. The wireless transmission mode of wireless data transmission is used to replace the traditional wired way, without digging cable trench or erecting long-distance cable. Thus saving labor cost and material cost. At the same time, a wireless transmission module is used in remote centralized meter reading, which also gets rid of the traditional manual meter reading.
2. Industrial Wireless Transmission Makes Engineering Equipment Maintenance is more Convenient
When the problem of wired transmission occurs, it is very inconvenient to repair a little bit along the line, and wireless transmission if the inspection and debugging of industrial data transmission connection of wireless data transmission can be.
3. The Expansion of Industrial Wireless Transmission is Good
The wireless data transmission method established by wireless data transmission, when the system needs to increase the new equipment does not need to be rewired, only the new equipment and wireless data transmission can be connected to achieve the system expansion, so the industrial wireless transmission has better expansion.
4. Better Adaptability of Industrial Wireless Transmission
Wired transmission mode has great requirements on the environment, and it is difficult to wire in lakes, forest areas, and mountainous areas. Wireless transmission does not have too big a requirement for the environment, and the impact on the environment is not as big as wired transmission.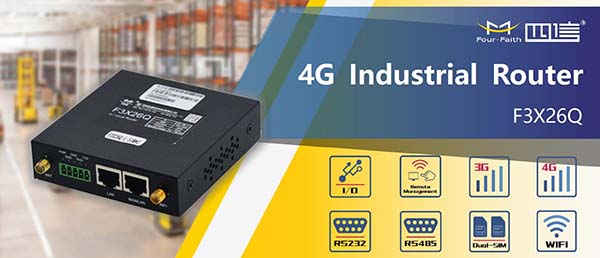 F3X26Q Industrial Router is an IoT wireless communication router with the compact design and cost-effectiveness. It is using public cellular network GPRS/CDMA/WCDMA/EVDO/LTE to provide long distance, wireless and large data transmission function for users. The product has been widely used in the M2M industry of the IoT industrial chain, such as smart grid, intelligent transportation, smart home, finance, etc.