River Monitoring Application
Date:2014-04-15 16:43:00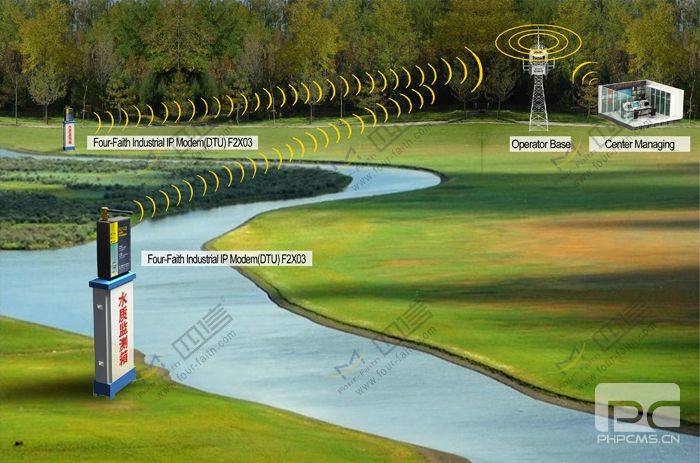 River Monitoring system is applied in the medium and small rivers water courses, reservoirs, pumping stations, sluices, dams, pitch, row area, irrigation and other water conservancy key department. It can complete real-time master around the water rainfall regimen and the operation situation of water conservancy facilities, know about the water regimen, rainfall regimen, the pumping stations around the switch machine, and the open and close statue of gate station and bund pitch of seepage pressure, seepage situation and so on.
Four-Faith wireless terminal is used in the system to transfer the water information data to know about the running statue of the device to reduce the managing cost of the water monitoring.
Why clients choose Four-Faith.
1. High sensitivity of signal receive
Be of high sensitivity in receiving signal,even in the mountain regions where the signal is week,it can gain the strongest signal to ensure the stable transmission.
2. Multiple center transmission
Support multiple center transmission at the same time.
3. Lightning protection moistureproof:
Four-Faith's low Consumption wireless communication terminal , has made the corresponding optimization in lightning and moistureproof protection , effectively avoid fatal damage to equipment by lightning weather.
4. Reliable communication
It support auto detect and recovery to ensure the device always online.
Successful case

Yunnan River Monitoring Project Hubei River Monitoring Project Liao Ning Monitoring Project Guizhou Monitoring Project
Customer's feedback
Guizhou client: with the cooperation of Four-Faith, we have finished the construction of monitoring system of the medium and small rivers. It can improve the level of hydrological information collection, transmission and flood warning and forecasting of the medium and small rivers. It can realize automatic monitoring and early warning of rainwater situation. It can promote the capacity of flood control and supply powerful technical support.
TAGS: River Monitoring Application River Monitoring system wireless terminal wireless communication terminal River Monitoring Project [Previous Page]
Previous Page:Four-Faith RTU for Reservoir Application
next page:Reservoir Remote Monitoring Application