Four-Faith RTU for Reservoir Application
Date:2012-10-26 16:33:00
Water is the human survival resource. Reservoir as an important asset, has a pivotal role in the strategy of water resources.
Most reservoirs, especially small and medium-sized, are located in remote area, alone regular inspection, on the one hand, require a lot of manpower and capital investment, on the other hand the timeliness, difficult to grasp the security status of the reservoir. Therefore, science, security, automatic management at this stage is a very urgent requirements in line with national conditions and reservoir implement. The Four-Faith introduced the small and medium-sized reservoirs remote monitoring and control system based on Internet of Things, effectively increasing the efficiency of reservoir management.
System Design Overview: the reservoir wireless monitoring system focused on the amount of rainfall, water level monitoring, acquisition and processing, and supports on-site picture photoing, video transmission, to acknowledge on-site status via data, pictures, videos. It can use all-digital network platform management, send all information of front-end digital video images and control signals to data center and Water authority using wireless communication terminal via GPRS network, to realize distributed monitoring, centralized control and management functions.
The system includes front-end Four-Faith F2164 RTU, digital camera, communication front software, reservoir monitoring database, GIS map service software, water level gauge, rain gauge, and a computer.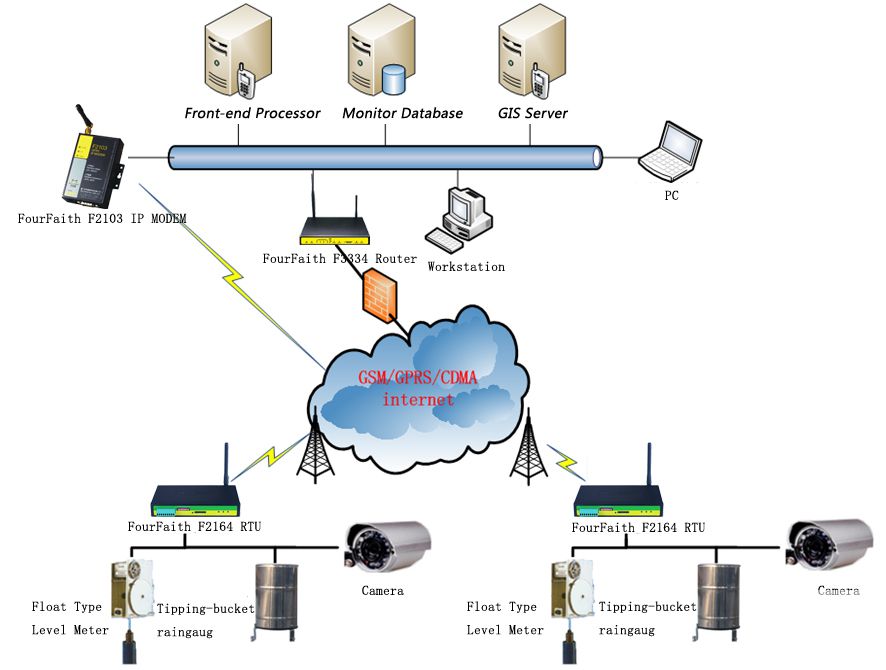 Four-Faith Communication 3G wireless Internet of Things RTU F2X64 system: F2164 connects to water level gauge and rainfall meter, automatic collection of data (for example, on-site monitoring of video, photos, Hydrology monitoring the amount), through the GPRS / GSM / CDMA and other mobile communication network, and reports in two ways of whole point or overrun to wireless transmission platform software, and imports into the database, the platform can together pictures, Hydrology monitoring to view and timely understanding of the real situation of the scene. At the same time, the platform software can be remotely managed the device through the mobile communication, including online management, automatic calibration, automatic parameter proofreading, upgrade program, log query, historical data query, strokes measured and battery voltage alarm.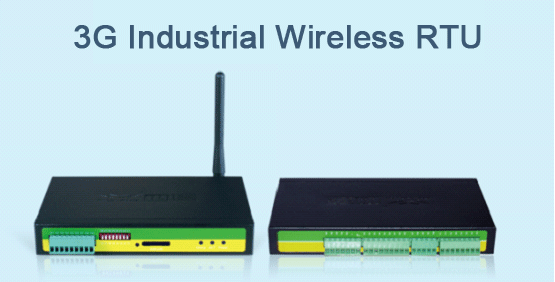 F2X64 Series Wireless Remote Terminal Unit (RTU, RTU) is an integrated high-performance measurement and control device with analog signal acquisition, input and output switch, counting and wireless data communication features; a variety of sensors can directly access, standard analog output signal of the transmitter signal, instrumentation, level signal, dry contact pulse signal, is the best choice for the implementation of wireless monitoring and control.

Four-Faith RTU adopts high-performance industrial grade 32 bytes processors and industrial grade wireless module for embedded real-time operating system software support platform, RS232 and RS485 interface, analog signal acquisition can be achieved, the magnitude of the conversion and digital signal acquisition, the data storage cycle and reporting cycle can be adjusted according to the requirements of the user's environment.
TAGS: Reservoir Application RTU for Reservoir Application [Previous Page]
Previous Page:Hydrology Monitoring Application
next page:River Monitoring Application