4G/3G WIFI router for bus operation scheduling system in Central America
Date:2014-01-23 16:45:00
With 4G licenses issued, the era of wireless network operators will be fully upgraded. 4G/3G video surveillance business are using high-bandwidth wireless access, support for uploading live images from anywhere, to receive remote images in any position, and integration of fixed network video surveillance system anytime, anywhere, ubiquitous video surveillance applications, the wide range of services in emergency command, bus monitoring, home surveillance, public areas such as multimedia services, video surveillance has greatly expanded the application environment and operation method, to more user-friendly, more convenient, more personal business experience.
Four-Faith communication is committed to wireless communication, the products are widely used in video surveillance system. This case is an example of cooperation with a bus company in Central American.
In august 2012, the client from Central American purchased more than 300 units router for their bus operation scheduling system application after full test of Four-Faith F3434 UMTS router wireless technology and wifi function.
The system consists of bus attendance system, bus running status controller, Four-Faith F3434 wifi +3G router, main AP of bus terminus, and database and center software.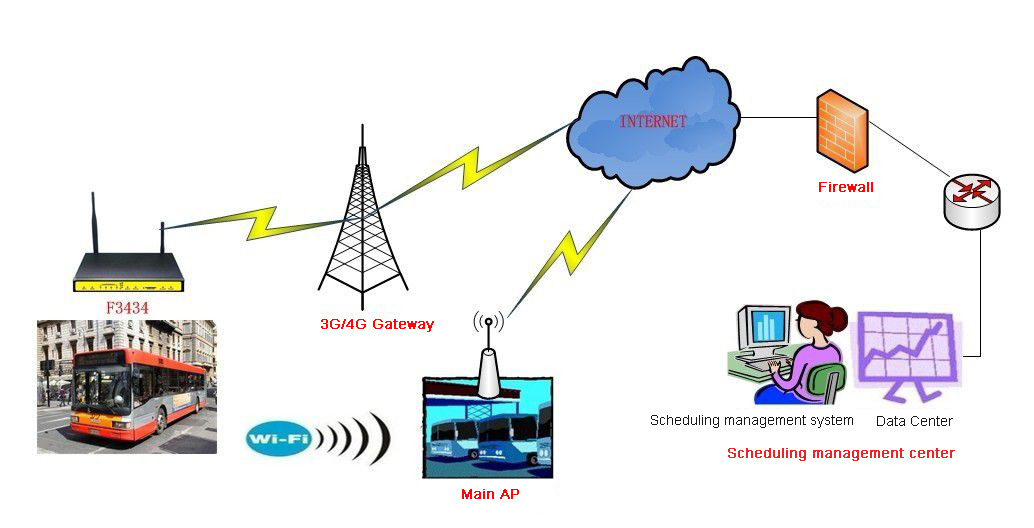 bus wifi router
Using WiFi wireless access technology, when the buses entering bus terminus, Four-Faith F3434 router installed on the buses switch WIFI AP to WIFI Client, it will automatically set up at the terminus of the associated AP, establish a LAN connection to a data collection center. Four-Faith F3434 3G router will store data on the bus trip to the machine and automatically upload to the data collection centers, and download some relevant information to the bus, this process does not require data collection to transfer data, no need personnel involved. Four-Faith F3434 3G routers can access bus fare collection system and scheduling management system via WiFi AP shared, and communicate with data acquisition center. Bus company will flexible choose AP set up location and qty according to Bus Terminus actual situation and adjust coverage. Using WiFi wireless access technology to make bus fare collection system and buses running status data collection more intelligent, maintenance more easier. To transfer the data to management center or management center to queries that require bus information if needed when the bus is running via 3G network for data transfer.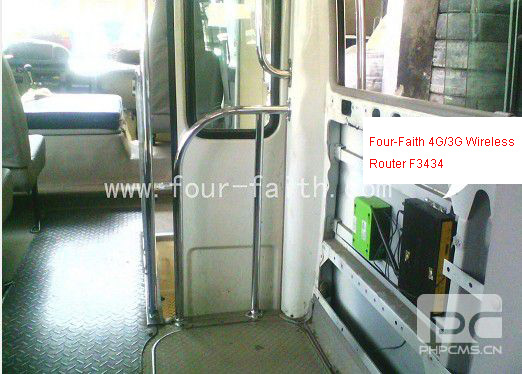 TAGS: WIFI router for bus WIFI Bus application scheduling system application [Previous Page]
Previous Page:first_page
next page:WIFI Bus Application