WIFI Bus Application
Date:2014-05-22 17:21:00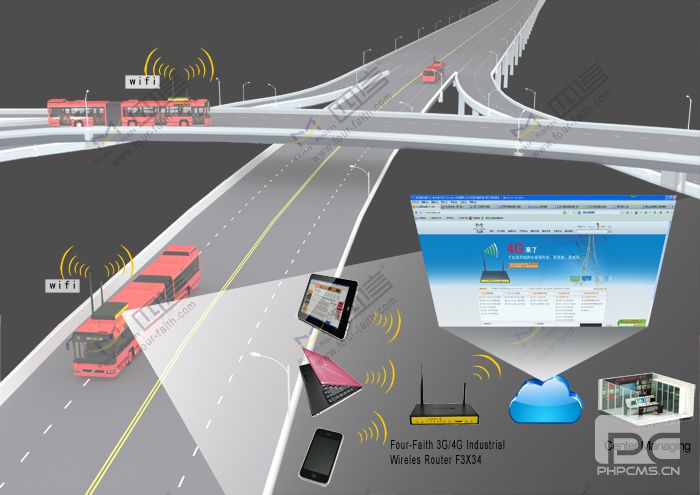 With 3G+WiFi construction of three operators, Bus WIFI is born. Placing Four-Faith 3G/4G router on the bus will have WIFI signal. Four-Faith 3G/4G router has 1 or 4 Ethernet port with WIFI.As working, the router connect wireless network through 3G/4G network access point from the operators. The beneficial group are passengers, advertiser, buses company. Passengers will read advertisement after connecting WIFI and then skip to the page of register, surf the internet.
Why clients choose Four-Faith?
1. Shockproof: shockproof design according to the buses moving
2. Wide temperature: -35~+75ºC, high or low temperature resistant
3. WIFI: WIFI AP,AP Client, Repeater, WDS
4. Local-storage: high-capacity storage space
5. Easy recharging: DC5~35V,vehicle power is available
6. Easy deploy: small size, convenient for installing on the bus
Successful cases

Wuhan WiFi bus application Chengdu WiFi bus application
Customer evaluation
Wuhan customer: after one month testing,F3X34( Industrial wifi router ) shockproof and reliable communication can reach our requirements, and now install with large quantities.
TAGS: WIFI Bus Application 3G WIFI router wifi on bus bus wifi router [Previous Page]
Previous Page:4G/3G WIFI router for bus operation scheduling system in Central America
next page:Vehicle WIFI 0perating System