Four-Faith of ZigBee module for Daqing Oil Well wireless monitoring application
Date:2014-08-20 15:01:00
Topological diagram as follows: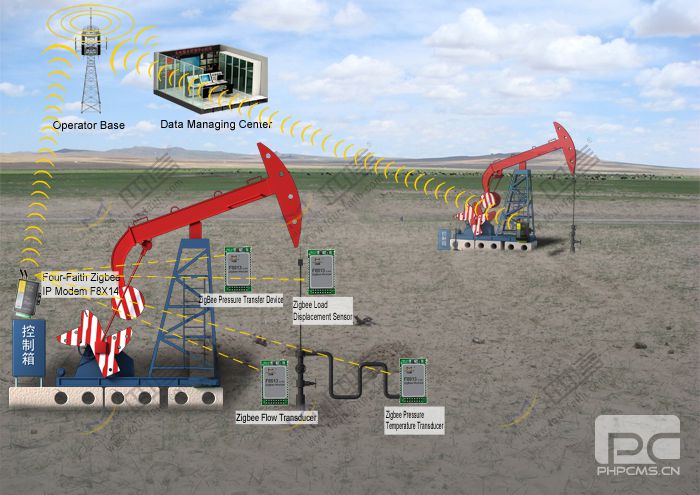 The oil industry is the earlier use of Internet of things industry, in the concept of things presented before, the oil industry is widely used in DCS, SCADA, PLC control system, to achieve perception, transmission and processing of information, at present our country Internet of things are mainly use in Petroleum and petrochemical industries, logistics, product and asset tracking management, oil well monitoring, wells and offshore oil platform monitoring, oilfield instrumentation wireless meter reading, oil pipeline monitoring and emergency management.
For the oil industry, especially the instrument manufacturer, the present time is the best opportunity to reform by means of the Internet of things, using network technology, can realize the whole process of the industry's "pan in the perception of" with low investment and cost, obtain the traditional due to cost reasons fail to important industrial process monitoring parameters, and on the basis of optimization control is implemented, to improve product quality and the goal of saving energy.
The Four-Faith in close cooperation with well instrument maker, recently completed wells in Daqing Oilfield wireless monitoring project, the Four-Faith F8913 ZigBee module is applied to all kinds of instruments successfully, developed the wireless RTU, ZigBee wireless thermometer, ZigBee wireless pressure sensor.
Well wireless monitoring project application in Daqing Oilfield, the various sensors to the operational conditions of the wells through the establishment of communication Four-Faith ZigBee communication module, the RTU unified data collection, through the Four-Faith GPRS to realize data acquisition, and then through the Four-Faith GPRS gateway to realize remote docking with the monitoring center, the data center or use the unit of data processing, real-time monitoring of oil wells, enhance management efficiency.
TAGS: PLC control system oil platform monitoring wireless meter reading Oilfield wireless monitoring [Previous Page]
Previous Page:Oil field and oil well remote monitoring application( based on ZigBee)
next page:Fire detection application based on ZigBee wireless network