Efficient Coordination, Energy Conservation & Environmental Protection, Four-Faith 5G Industrial Computer Helps Factory Digital Transformation
Date:2022-04-22 09:59:13
Background:
The smart factory is a new stage in the development of modern factory informationization. It makes use of Internet of things technology and equipment monitoring technology to strengthen information management and service. 5G is an important support carrier for smart factories. It can "get through" various production factors and carry intelligent technology to realize efficient collaboration between different production workshops, thus improving production efficiency and meeting the needs of smart factories such as intelligent perception, ubiquitous connection, real-time analysis, and precise control.
The comprehensive improvement of 5G network performance is bound to give more possibilities to industrial manufacturing. At the same time, the integration of green intelligent means and intelligent systems and other emerging technologies will build efficient, energy-saving, green and environmentally friendly humanized factories for the intelligent manufacturing industry in the new era and improve the happiness index of workshop employees.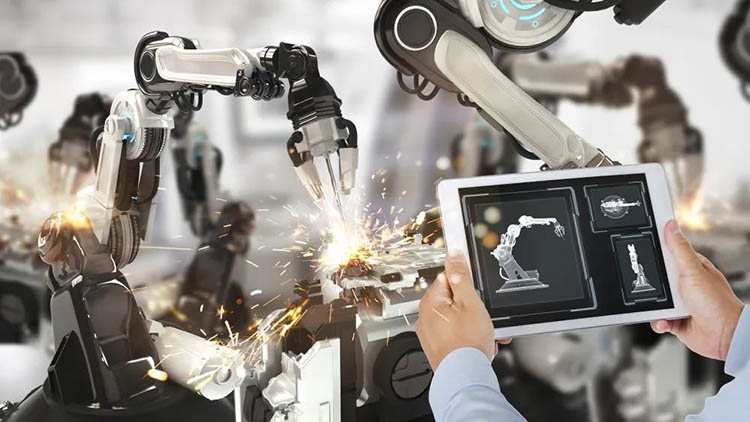 1. Various Production System, Overall Management is Difficult
The workshop covers a wide area and production data is scattered on different management platforms. Managers need to make overall planning and analysis of global data in turn. The decentralized management mode cannot support managers to make efficient decisions.
2. Inspection Work is Complicated & Operation, Maintenance Pressure is High
The factory has the obvious characteristics of large scale, multiple production equipment, and scattered monitoring equipment. Daily inspection needs manpower and consumes a lot of time and energy. The operation and maintenance cost are too high, and the operation and maintenance personnel cannot find and deal with problems in time.
3. Disconnect with External Network, Data Sharing is Difficult
At present, the factory only realizes the workshop network, and the workshop equipment data cannot be collected and managed centrally. The vision of "intelligent manufacturing" lacks real-time control data.
To solve the pain points of intelligent manufacturing enterprises, Four-Faith builds 5G+ smart factory solutions based on 5G network architecture, which effectively solve the security of factory production data, improve data collection efficiency and data processing delay, and realize real-time data collection and analysis.
The solution of the Four-Faith 5G+ Smart Factory is to build a comprehensive data exchange platform for the workshop production site and collect data on equipment such as data machines by carrying application programs on Four-Faith 5G industrial computer F4932-R2H-5G and networking with on-site CNC machine tools and other production equipment through network cables. F4932-R2H-5G uploads data to the cloud through a 5G network. The cloud platform converts analyze and stores all kinds of data. Enterprise users access real-time data through the PLATFORM API interface and display it on a large screen. In the enterprise background, PC terminal can be real-time monitoring and remote control of on-site production equipment. The background can also receive alarm push from the cloud and obtain relevant data report information.
Main Control Device Description
Four-Faith 5G industrial computer F4932-R2H-5G adopts the Processor of ARM architecture combined with the Debian operating system, bringing a new solution to the equipment manufacturers who emphasize the effect of video and image processing. F4932-R2H-5G integrates The Core Cortex-A72+A53 architecture of Rockchip RK3399 and supports the Debian operating system, bringing a solution with lower power consumption and heat consumption for device manufacturers that previously relied on X86 computing platforms, especially media advertising device manufacturers. F4932-R2H-5G is an ARM industrial computer with a 5G transmission function. It supports 5G dial-up Internet access, USB infrared touch screen, USB camera, HDMI, 1 Ethernet port, Wi-Fi, 3 channels RS232/RS485, external expansion interface of TF card, and OTG interface.
Efficient Coordination, Energy Conservation & Environmental Protection, Four-Faith 5G
Industrial Computer
Helps Factory Digital Transformation Advantages:
Adopts the cloud model to provide a lightweight and practical cloud service for production management business, eliminating the need for enterprises to purchase servers and storage resources and reducing enterprise investment.
Equipment data automatic collection, information system self-maintenance, self-operation, without human intervention.
Monitor equipment and production data in real-time to discover production problems and improve management efficiency.
Queries real-time and historical reporting, product, and equipment information, and automatically generate equipment and product reports for download.
Four-Faith 5G industrial computer F4932-R2H-5G adopts a professional power supply design, which provides the functions of under-voltage, over-voltage, over-current, reverse connection, short circuit, surge protection. Metal shell, good heat dissipation, impact resistance. It adopts a complete anti-drop mechanism to ensure that data terminals are always online. It supports a 5G network with high speed, low delay, and large capacity.
TAGS: 5G Industrial Computer Factory Digital Transformation Energy Conservation and Environmental Protection [Previous Page]
Previous Page:From "Digital Factory" to "IoT Factory", Data Acquisition and Monitoring Solution of 5G+ Smart Factory
next page:Four-Faith 5G Smart Tower Crane Wireless Monitoring Solution, Make Construction Safe and Visible