Facing the era of Industry 4.0, the application of 5G industry is also expanding, with the rise of many 5G private networks, and the effect of "one industry bringing all industries" is remarkable. As of September 2022, the number of virtual private networks in China's 5G industry has exceeded 10,000, and 5G has been widely used in more than 200 smart mines, more than 1,700 smart factories and more than 250 smart grid projects across the country. Typical application scenarios with commercial value have covered more than 40% of the national economy. At the same time, with the continuous advancement of industrial automation and intelligence, the requirements of vertical industries for the reliability, flexibility, stability, and visualization of private network communication are also increasing.
To effectively meet the quality assurance requirements of the 5G private network, Four-Faith has completed the integration and landing application of 5G industrial router quality probe capability in the 5G private network together with China Mobile Research Institute and has implemented landing pilot projects in Shandong, Guangdong, and other places.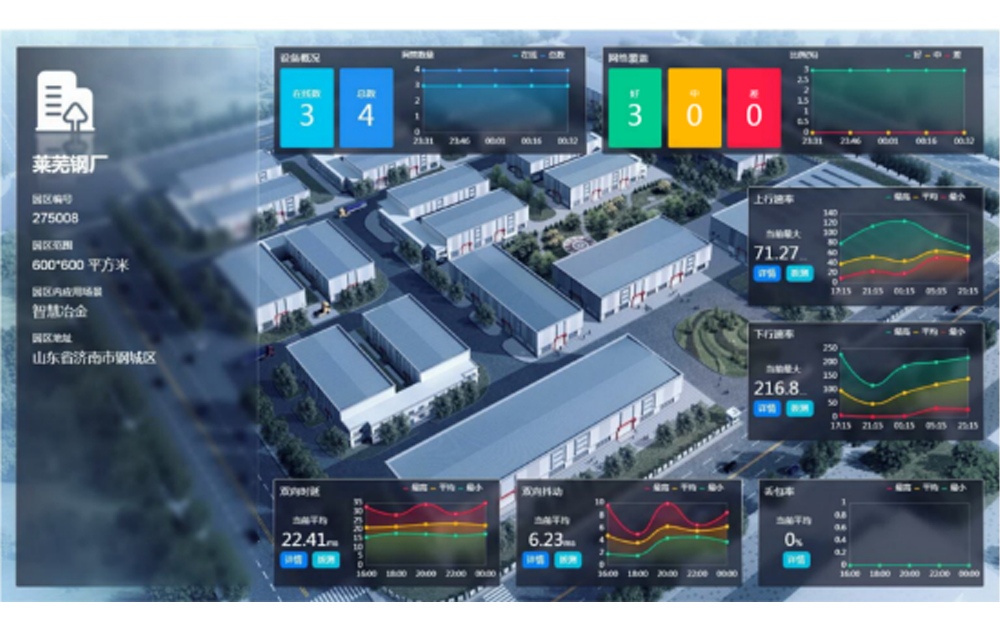 The Innovation of the "Four-Faith 5G Industrial Router" Enables the Construction of a 5G Private Network
Equipped with the quality probe capability of China Mobile's 5G private network, "Four-Faith 5G Industrial Router" has three major innovative technological advantages.
1.Bilateral probes are compatible, and key indicators and events are reported in real time.
5G private network quality terminal probes can be divided into gateway side probes and module side probes. Gateway side probe is mainly responsible for based data acquisition terminal, terminal operation and performance data and all kinds of events, including:
Terminal Basic Data: the terminal itself basic data, cellular module basic data, Wi-Fi module basic data, Ethernet module basic data and probe program model, version number, configuration, and other static information, uniformly reported at startup.
Terminal Operation and Performance Data: terminal operation data, cellular module status information, cellular module cell data, cellular neighborhood data, cellular signal quality, cellular communication throughput data, cellular communication signaling layer data, WiFi module operation data, and Ethernet module operation data.
All Kinds of Events: events from terminals, cellular modules, WiFi modules, Ethernet modules, SIM, and unattached devices are actively reported to the probe platform in the form of triggering.
Module side probes are mainly responsible for collecting all kinds of data and events related to the cell, including cell module status information, cell module cell data, cell neighborhood data, cell signal quality, cell communication throughput data, signaling layer data of cellular communication and cell module events, and actively report to the probe platform by triggering.
Through page configuration, Four-Faith 5G industrial router supports both gateway side probes and module side probes to meet the compatibility of bilateral probes and accurately realize real-time collection and reporting of key indicators and events.
2.Agile platform operation and maintenance, realizing "visible, manageable, and controllable" network
5G private network quality Terminal probe SDK can detect network quality, service quality, and on-stream, and has functions such as data collection, log collection, local data cache, and probe management.
The probe application program based on the probe SDK has a north-south two-way interface. The northbound interface connects to the probe monitoring and analysis platform, reports collected data, events, logs, and other data to the platform, and receives probe configuration and management instructions and service test tasks sent by the platform. The southbound interface connects to the underlying network and operating system of 5G network terminal devices to collect basic information, performance data, and network data of terminal devices and unattached devices.
Through the north-south two-way interface, the probe application completes the smooth docking, operation, and maintenance of the underlying system of the 5G terminal and the probe monitoring and analysis platform, realizing the network is "visible, manageable, and controllable."
3. The measured performance is stable, and the probe is online
To further verify the suitability of the gateway and probe, the four-letter gateway F-NR120 was taken as the prototype, and the Four-Faith Joint Mobile Research Institute carried out field measurement of the gateway's operation time and service quality (ping dial test), and the measured performance was stable.
The F-NR120 provides 5G network service for the blood collection vehicle of Shenzhen Mobile smart medical project. The period is from 11:00 to 17:30 on January 3, 2023. The probe collects data and pings dial test throughout the process. When the signal improves, the delay is greatly reduced. During the whole test process, the gateway runs stably and reliably, the probe is online throughout the whole process, and no disconnection occurs. The overall test condition is good.
"Four-Faith 5G Industrial Router" supports high-quality 5G private network services for government and enterprise services.
The 5G private network quality terminal probe based on Four-Faith 5G industrial router not only proves its stable operation performance through actual measurement but also verifies its integration with multiple vertical industry business scenarios. Currently, it has been applied in steel manufacturing, smart medical, and other industries.
Shandong LA/GANG landing pilot project
In December 2021, Four-Faith and China Mobile Shandong Branch successfully applied a 5G industrial router in the actual case of a 5G fully connected factory and integrated the 5G private network quality probe of China Mobile Research Institute, and the project was applied in Shandong LA/GANG.
The lightweight network management deployment mode of the park is adopted to send the data back to the provincial government and enterprise business operation and maintenance support system and realize the connection between the Four-Faith 5G industrial CPE F-NR200 probe data and the Shandong 5G private network operation and maintenance platform. Building a stable and efficient 5G network, high-definition video transmission, PLC remote control signaling delivery and 3D scanner data transmission can be realized in the steel mill yard area, greatly improving the operation and maintenance efficiency of enterprises.
Shenzhen Mobile ambulance/helicopter landing pilot project, Guangdong Province
For the real-time self-monitoring and operation and maintenance of the network in "extreme environments" or ultra-high-speed mobile scenarios, Four-Faith cooperated with the Guangdong Branch of China Mobile and Mobile Research Institute to provide the answer. The two successfully created an actual combat case of aviation medical rescue in the Greater Bay Area in Shenzhen, which is also the first time in the world to realize real-time monitoring of airborne 5G network quality in low airspace, ensuring that high-quality 5G network meets the needs of emergency medical treatment.
5G private network quality probes and 5G industrial routers are deployed on high-speed mobile carriers (cars, helicopters, etc.) to build a service quality assurance management system in high-speed mobile scenarios.
Through the equipped 5G industrial router, the 5G transmission of on-site patient video and monitor information data can be realized, which is connected to the remote first aid system of the hospital. Doctors can know the patient's situation in real-time through the large screen in the hospital and guide on-site rescue in real-time.
Doctors monitor patients remotely
During this period, the integrated probe application program collects data throughout the whole process to record the information on 5G cell, network quality, and the operation of the gateway, which provides the data basis for subsequent risk analysis of network quality, cell switching, and gateway stability.
Emergency link network monitoring (location dimension)
Emergency link network monitoring (time dimension)
"Four-Faith 5G Industrial Router" helps enterprises realize digital transformation
As the world's leading Internet of Things communication equipment and solution service provider, Four-Faith has been actively exploring 5G innovative technologies and application solutions with other vertical industry partners for a long time, going deep into business scenarios, and helping thousands of industries realize digital transformation. After rich practice in many industries, Four-Faith has developed by combining innovative technologies We will build a number of 5G industrial routers and industrial CPE, such as F-NR100, F-NR120, F-NR130 and F-NR200, to help governments and enterprises achieve rapid end-to-end deployment.
With the in-depth expansion of "5G+ industrial Internet" new technologies, new scenarios and new modes to all fields and links of production, 5G private networks are gradually transforming from service production to integration into production, and end-to-end business quality assurance is also facing unprecedented challenges. The joint practice of Four-Faith and Mobile fully verifies the important role of integrated 5G private network quality probe in end-to-end business quality monitoring, operation, and maintenance. The private network quality detection capability of 5G industrial router will effectively help the 5G industry private network to achieve monitoring, autonomy and operation and maintenance, and help the construction of more fully connected factories with high-quality services of 5G private network.
Because of the success of this cooperation, Four-Faith and Mobile will continue to maintain close cooperation in the future, accelerate the implementation of 5G innovative applications, jointly promote the industrialization and large-scale development of 5G, and do their part to build manufacturing power and network power.