As the construction of global 5G infrastructure continues to improve, huge changes will be brought about in thousands of industries. Application scenarios such as industrial Internet, telemedicine, Internet of vehicles, and consumer hardware will all achieve leapfrog upgrade with 5G. At the same time, 5G FWA has entered a period of rapid development as a "killer application" to bridge the challenge of digital divide in underdeveloped areas of optical fiber, helping to open up the critical network of the "last kilometer" of households and enterprises.
In addition, 5G FWA has become a "hot spot" for more and more operators to deploy, which is the field with the highest demand certainty and growth besides mobile phones.
FWA Concept
Fixed Wireless access (FWA) refers to the access mode that partially or completely adopts wireless transmission from service nodes to user terminals. The quality of service of fixed wireless access is referred to that of wired system, and it should have similar blocking probability and delay characteristics as that of wired system.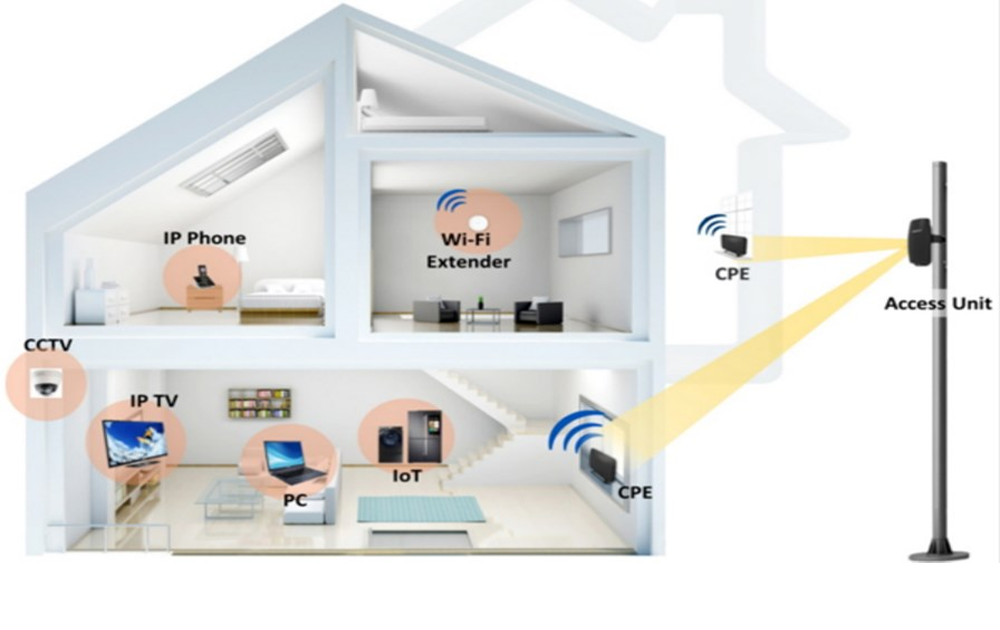 FWA uses EM (electromagnetic wave) instead of cable as the medium of signal transmission, avoids the problems such as trenching and wiring in traditional deployment, and provides two-dimensional coverage, that is, users in the coverage area centered on the station can enjoy high-speed access service after the station is established. The 5G-based FWA can even provide 3D coverage, that is, users in high-rise buildings covered by stations can enjoy high-speed data access services.
Why is the 5G FWA market exploding?
In the world, even in the economically developed European and American countries, the coverage of optical fiber only reaches 30%, more access is telephone lines and cables, communication quality is not very good, and overseas labor costs are extremely high, wired broadband is destined to be unable to carry out a large area of deployment. With the rapid rise of the Internet of things, smart home and daily social entertainment demand, people's demand for the network is increasing. Coupled with the popularity of 5G networks, FWA has become the best cost-effective solution for last-mile access to the Internet.
Especially during the epidemic, a stable and high-speed network has become an urgent need for people to work and study at home. Many operators and equipment manufacturers have regarded the FWA market as the biggest profit point and customer acquisition point of 5G. Verizon, AT&T, and other head operators have announced that their first foray into the field of 5G is FWA.
The November 2022 issue of the Ericsson Mobility Report predicts that the number of FWA connections worldwide will exceed 100 million by the end of 2022; Global FWA is expected to grow at an annual rate of 19% between 2022-2028, with over 300 million FWA connections worldwide by 2028. Out of these 300 + million connections, the number of 5G FWA connections is expected to grow to around 235 million by 2028, almost 80% of the total number of FWA connections.
There is no doubt that 5G FWA is a new opportunity for overseas markets to replace the last kilometer of fiber access.
5G FWA Advantages
5G high-speed network, you can enjoy higher speed under the same package
Move at any time, set up anywhere, not bound by the cable, fast access to the network
There is no need to negotiate construction and construction permits with the government, owners, or properties, which can avoid the monopoly of broadband providers in some areas
No need for household construction, no need to bring optical fiber or network cable to each house, greatly saving the operator's labor costs
The frequency band used in 5G FWA network is unique to the operator. Compared with smart devices connected to the LAN, devices connected with FWA can be directly uploaded to the cloud, which is more suitable for remote management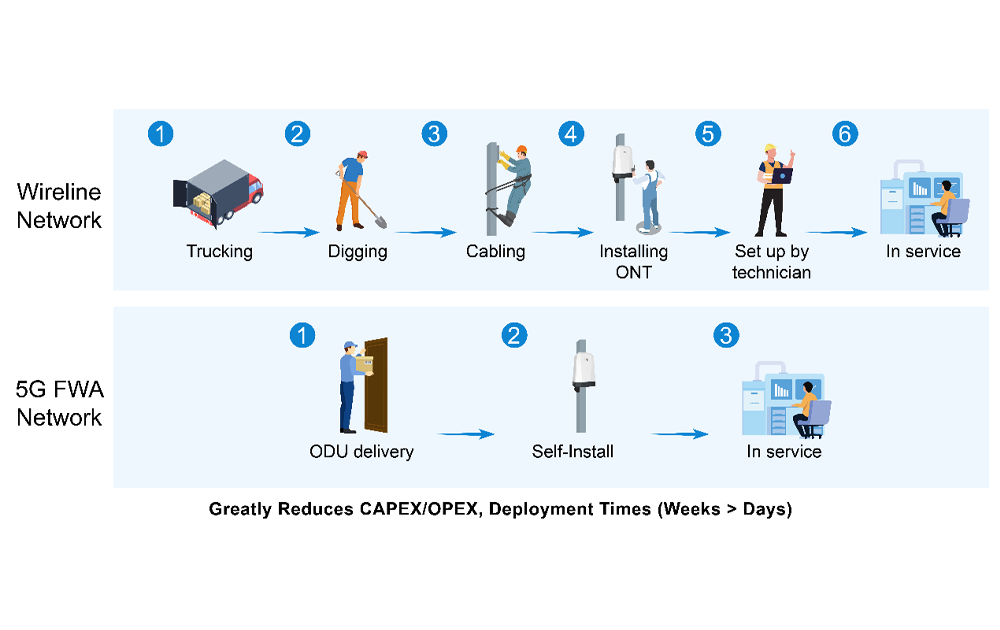 5G FWA Deployment Scenario
FWA can be deployed in the 5G Capacity and Coverage spectrum layer between the 1GHz and 6GHz layers, as well as in the 28GHz mmWave and even higher frequency Super Data Layer. At frequencies below 6GHz, although the data throughput is lower than mmWave, the coverage is large enough and FWA can be provided over a non-stand-alone infrastructure. Deployments below 6GHz can provide download speeds up to 100 times faster than current broadband, making them attractive to consumers and businesses that do not have access to fiber. From an operator's perspective, the sub-6ghz deployment of FWA services allows them to target remote area subscribers without having to build smaller network units. In addition, radio waves at this frequency are more able to penetrate buildings, thus enabling indoor users to assemble Cpes themselves, which is an important factor for operators to consider the economy of service delivery.
At mmWave frequencies at the super data layer, 5G FWA offers a level of performance comparable to fiber. By combining Advanced Antenna Systems (AAS) with high quantitative MIMO and beamforming technology, narrow beam service can be achieved, which is suitable for higher density users without interference. Although deploying 5G FWA at this level requires investments to increase network density, these are offset by the availability to serve more customers. On the other hand, mmWave penetrates common building materials poorly, which means that the CPE needs an external antenna to mitigate signal attenuation. Although this complicates the installation process, it can still be installed on its own in many cases. Even if the customer cannot install it himself, in urban areas, installation managed by the operator is neither complex nor expensive, and in any case is cheaper and faster than fixed-line installation.
Four-Faith Continues Launch 5G FWA Terminal
According to various reports and data in the market, 5G and FWA are complementary to each other, FWA can make 5G use more, and 5G can make FWA better. In the face of both opportunities and challenges, four Trust vigorously develops FWA business based on the advantages of its independent research and development of 5G terminals.
Four-Faith 5G CPE, Surfing at Anytime and Anywhere
Four-Faith 5G CPE F-NR300 products equipped with dual-band WiFi6 chip, with four signal amplifiers to improve WiFi6 coverage, with Beamforming technology, directional improvement of WiFi quality, 2.4GHz and 5GHz WiFi dual frequency integration, automatic optimization of the faster frequency band, to provide users with a better network environment; Built-in quad-core CPU, 2.0GHz frequency, 5G theoretical peak download rate up to 4.1Gbps*; It supports 5G/4G full network communication, which can make full use of network resources even in areas with limited spectrum. It is compatible with SA (independent networking) and NSA (non-independent networking) standards and can be flexibly adapted under the deployment of different operator networks.
At present, Four-Faith 5G CPE products can be widely applied to scenes such as live streaming, enterprise offices, family Internet, short-term rental and sharing, stores, and rural farms.
Four-Faith 5G ODU, 5G FWA Key Network Terminal
As a commercial-grade outdoor router, Four-Faith 5G ODU is mainly for the overseas FWA market, providing convenient, high-speed, stable, and economic network services for local commercial users and residents.
The product uses a combination of plastic and metal shell, the metal part provides good heat dissipation function, and the plastic part is for the built-in omnidirectional, directional and millimeter wave antennas to better penetrate and obtain signals and convert 5G signals into wired Internet more efficiently and timely, and provide to indoor units or wired routers through 2.5G network ports.
With many advantages such as "high-speed 5G network, global frequency band support, high-gain antenna configuration, and high waterproof and dustproof level", the Four-Faith 5G ODU product is about to be launched, which is bound to become the key terminal to open the "last mile" network of families and enterprises.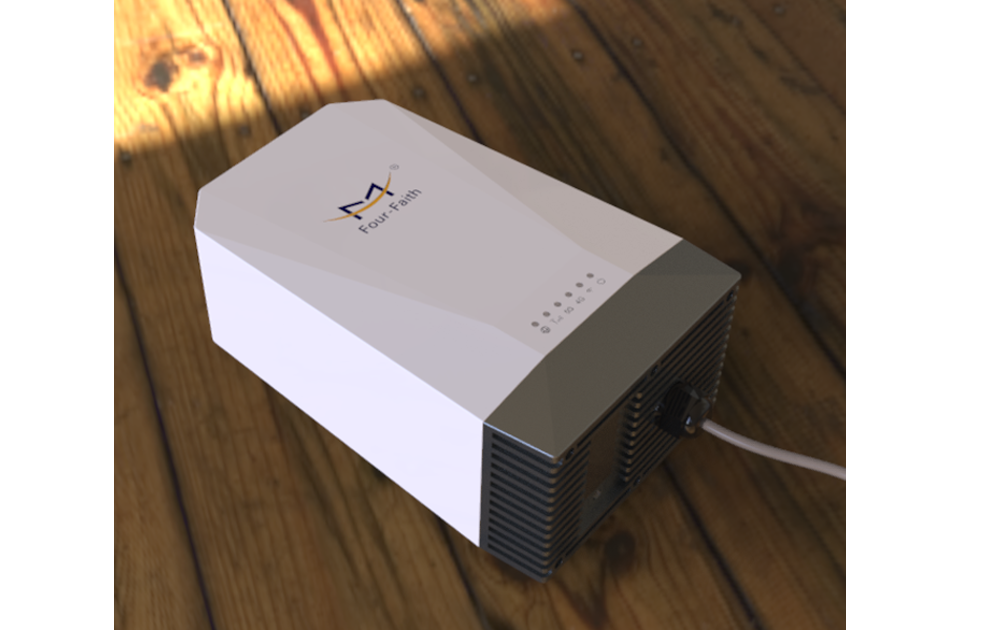 Focus on Cutting-edge Technology to Promote the Transformation of Digital Intelligence
In the 5G era, the ultra-large bandwidth of 5G FWA will bring users an experience comparable to gigabit fiber broadband, which has become the mainstream business of 5G network, accelerating the commercial realization of 5G network and helping operators to open a larger market space.
In the face of the blowout trend of 5G FWA, Four Trust will continue to give full play to the advantages of independent research and development of enterprises, inject hardcore momentum into the rapid expansion of 5G FWA and other markets, focus on the development trend of frontier technology, work with industry partners, and jointly promote the transformation and application of digital intelligence in more industries.