The digital transformation using the Internet of Things technology has become an important stage in the development of various industries, and the corresponding data services have also stepped into the era of scenarized and refinement. As a professional equipment and Internet solutions provider, four letters according to customer needs, based on many years of experience in deep IoT terminal, self-developed online "sensing cloud platform", support access to all kinds of sensor devices status information collection, monitoring object and environment, and through various means of network connection state information and Internet connectivity, to realize intelligent perception, recognition, and management of goods and environment, to meet customers' different application needs.
Demand Analysis
1. Device Networking is Difficult
The method of uploading data from traditional sensing devices to the cloud platform is complicated, the process is tedious, and the networking is difficult.
2. Excessive R&D Costs
Enterprises need to start from scratch to develop application platforms for docking sensing data, which requires a large investment of human resources, a long development cycle, and a high R&D cost.
3. Difficulty in Data Collection
There are many kinds of sensing devices in the project, and different protocols are required to collect various sensing data, which makes data collection difficult.
4. Failure to Achieve Unified Management
In traditional projects, various sensing devices are often scattered, and the status of the devices cannot be obtained in time. When abnormalities occur, alarms cannot be received, and intelligent and unified management is difficult.
Four-Faith Sensor Cloud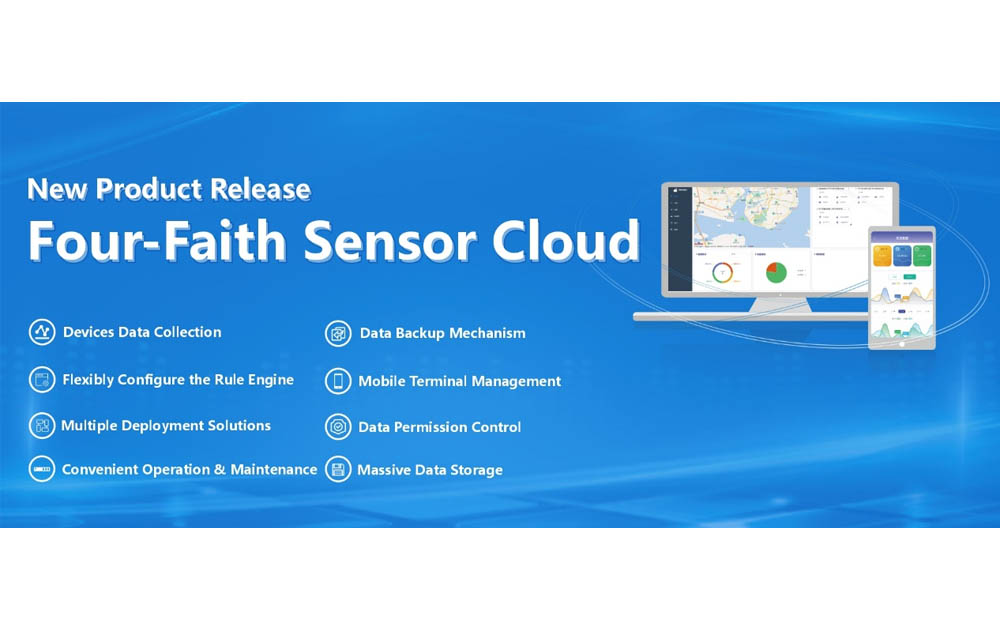 The Four-Faith sensor cloud adopts B/S architecture with modular and configurable functions. It supports access to a variety of sensing devices, enabling data to be quickly uploaded to the sensor cloud. Web and APP services are provided to facilitate customers to use the sensor cloud to pay real-time attention to site conditions in different scenarios. Built-in device management, data analysis, object model, rule engine, and other general functions, quickly build remote data connection, remote networking, and remote monitoring services. The equipment data is open to the public in the form of an interface, which is convenient for customers to build the SaaS service platform for industrial applications.
Comprehensive Website Functions
Overview
Modular Displays alarm statistics, device online status, real-time alarm information, and sensor device collection values.
Devices
You can manage devices in groups. The management list displays the latest reported data and alarm information. Click Details to view device reports, data, and parameters. The report uses the data visualization interface to display the device data directly.
Map
The map can automatically aggregate the number of devices displayed, the display interface is more concise. Click to check the latest data of the device. At the same time, to meet the habits of foreign users, support switching Google map locations.
Model Management
The model management is an interaction model that communicates with the device, enabling the platform to parse the device's data. Customers can customize the model management configuration to adapt to different scenarios and different devices. When Four-Faith sensor devices are added, the model management is automatically matched, and no configuration is required.
Rule Engine
The object model rule engine page displays device alarm information by time and alarm level. You can configure alarm rules and associated devices as required. The alarm information can be sent to the responsible person by SMS or email.
Management
Supports remote upgrade and configuration of one or a batch of devices. When configuring device parameters, you can save the configuration so that you can quickly deliver the configuration to the device. Multilevel account permissions can be assigned freely on the permission management page, and each module can set permissions independently.
Convenient APP Terminal Service
The APP terminal displays the devices managed by the user, and you can quickly add devices by scanning the two-dimensional code of the device. Device alarms have clear types and can be handled.
Strong Ability of Opening and Customization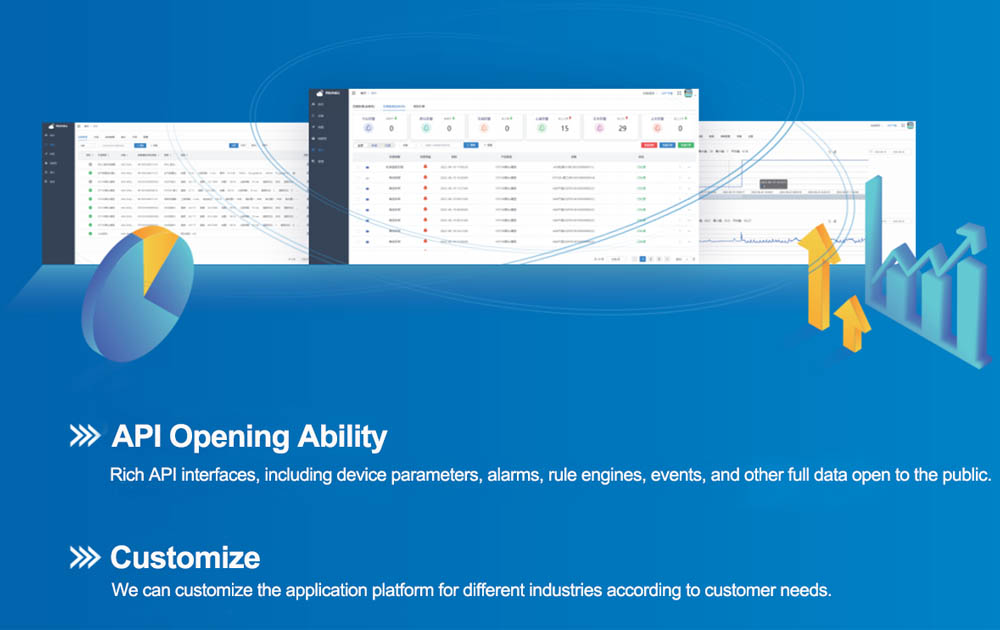 Focus on Customer Value
Rapid Networking
The Four-Faith sensor device can quickly scan the code to add device information to the platform, which is convenient to use, saves tedious networking configuration time, and completes sensor data uploading in one step.
Data on the Cloud
The "cloud" brings greater flexibility and mobility, enabling data to be accessed anywhere, anytime, regardless of space constraints.
Cost Saving
To provide enterprises with perfect, reliable, and easy-to-use platform products, enterprises do not have to pay too much attention to the basic technical problems, connection mode, data collection, data analysis, and other problems, and can put more energy into their business research and development and market expansion, to achieve the purpose of reducing costs and increasing efficiency.
Safeguarding of Assets
The front-end sensor data is monitored 24 hours a day. Once the data exceeds the specified threshold, an alarm is immediately generated. Multiple mobile phone numbers or email addresses can be set at the same time so that the platform can timely send short messages or emails to reduce customer asset losses.
Relevant Product Recommendation
LoRa Temperature and Humidity Sensor Terminal FST100
LoRa Sensor Terminal FST200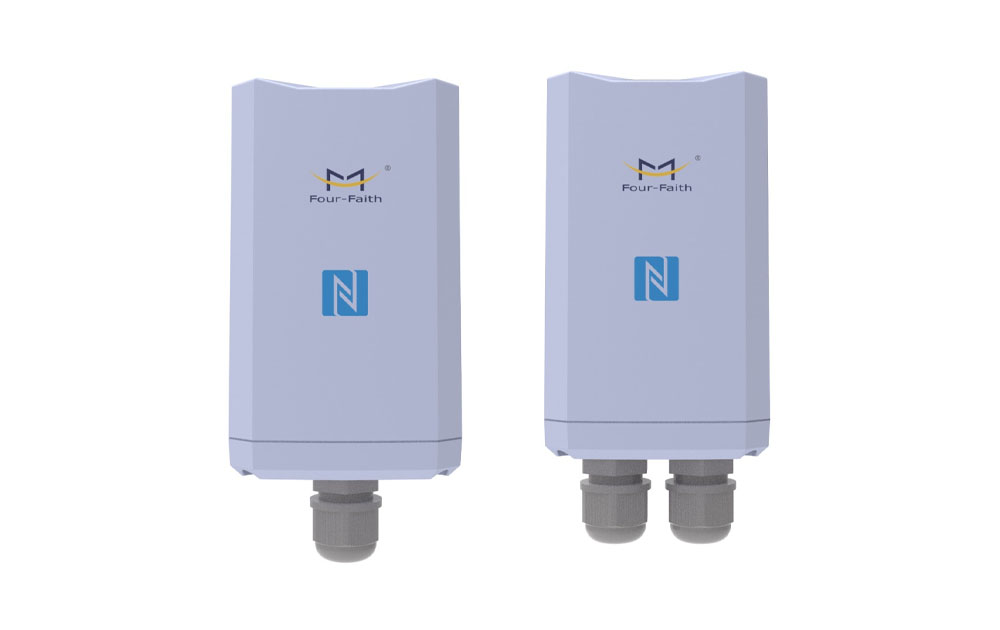 LoRa Gateway F8926-L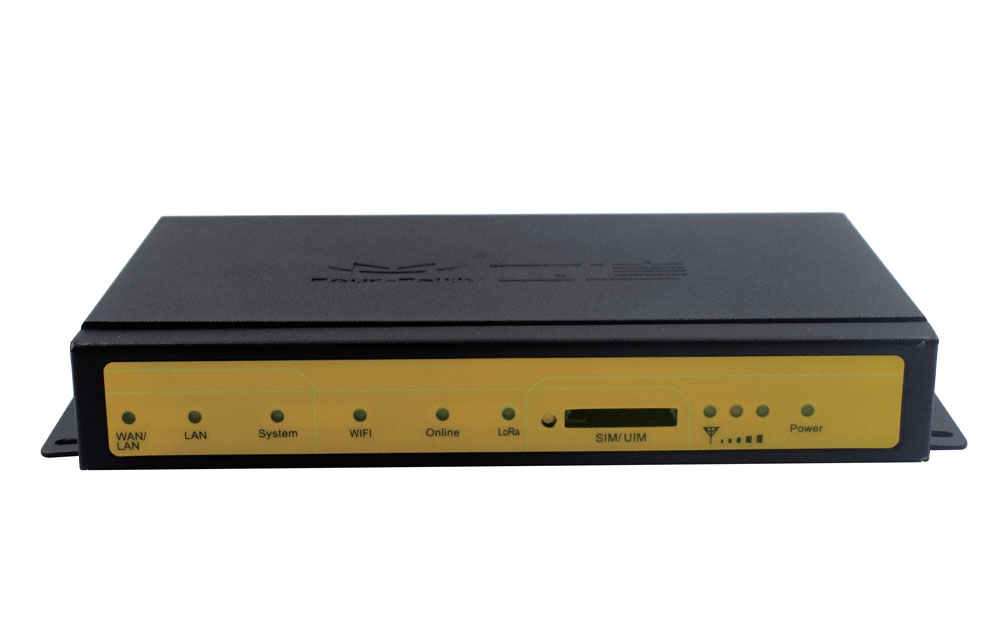 Applications
Smart Factory
Smart Storage
Smart Port
Smart Building
Smart Water Management
Smart Agriculture