Dust monitoring system solution
Date:2011-10-19 10:44:00
Dust do enormous harm to the health of human beings. In order to protect the health of people, we need to monitor the air quality. But how to monitor the dust concentration more effective?
System Requirements
Monitor all the distributed sites through wireless network.
Monitor and display in real-time data from every site on the central SCADA system.
Stable cellular communications network
High expandability
Four-Faith Solution
Dust concentration acquisition terminal
Install the dust concentration acquisition terminal in every site. Then it will monitor the size and density of PM through the detector outside. The terminal will analysis the data then send the data to the data center real-time.
Wireless transmission equipment
Wireless communication terminal is installed on the collection station. We choose Four-faith's F2103 which have RS-232/485 interfaces, metal design. it have many advantages: small, low power consumption, simple configuration, plug and play . Support the standby data path. Support many kind of trigger mode which can make our 4G modem real-time online and on-demand online work, such as SMS trigger mode. support APN network access and other functions not only safe, reliable data protection but also allows customers to save data flow.
Monitoring Center
Monitoring center mainly contain the central server and system software group, which is responsible for the acquisition of every sites,then analysis, storage and various control the data collect form the monitoring sites and publish a variety of early warning information.
People can also get the data in any time or place by remote workstation.
Diagram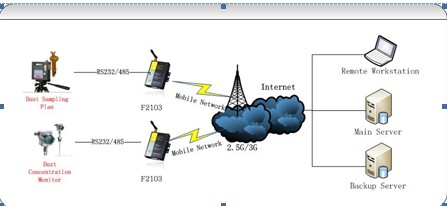 System function
Monitor and analysis the data collect from every site real-time.
Timing or artificial monitor the dust concentration and working statue of every site.
Database management including inquire old data etc.
Output the data to displayer、printer and plotter which can clearly show the histogram or the graph of dust size and concentration.
System will alarm if the value is More than a preset one, and system can also alarm through making a call to preset number.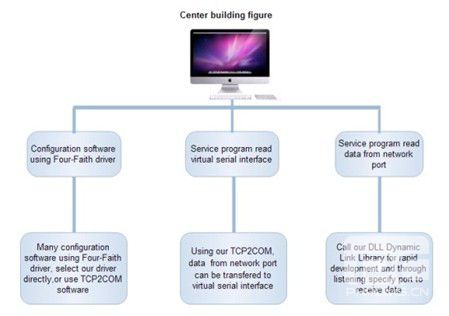 Data Center Software Platform

The first thing is about the configuration software, the current configuration software manufacturers have integrated many of our drivers, and can be directly configured to use.
Followed by reading the serial port for the program was originally to provide a virtual serial port software (TCP2COM).

Finally, for those who want to develop their own unique data center software to customers, we will provide a dynamic link library, and our company's data center software, open source not only for themselves but also assist clients throughout the data center software and functional development. Through dynamic link library customers may quickly develop a flexible, stable, fully functional interactive device management and data center software.
Why Four-Faith ?
The F2103 offers an effective, reliability and low power consumption solution for data transmission.
All-in-one cellular solution.
Real-time data acquisition with active report technology.
Economic solution and easy to implement.
TAGS: Dust monitoring system solution [Previous Page]
Previous Page:Remote Wireless Noise Monitoring System Based on WCDMA/HSPA For Xiamen City
next page:Four-Faith Street Lamp Control System