Remote Wireless Noise Monitoring System Based on WCDMA/HSPA For Xiamen City
Date:2011-01-07 10:34:00
1. Preface

With rapid development of economy, the noise pollution has become a top headache for both citizens and concern government departments, as noise comes from transportation vehicle, construction sites, casino, daily life, etc. has increased year by year, and impacted on the people's life, which is harmful to health or welfare. In order to create quiet and peaceful environment for citizens, a project named "Wireless City" has been launched out by Xiamen City Environmental Protection Dept.

Xiamen is the first city in mainland of China that installs the Remote Wireless Noise Monitoring System based on WCDMA/HSPA network, to monitor the noise in whole city. All noise data will be sent to the environmental protection dept. data center in real time from the remote sites where system is installed, with this system, it is easy and convenient for the environmental protection dept. to monitor the noise comes from construction sites and casino, etc., and the quality of life of citizens has been improved.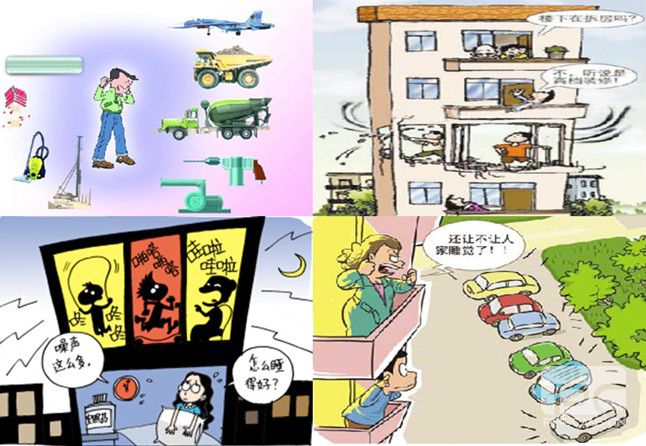 With this innovative noise monitoring system, the government dept. can monitor the human-created noise in real time and remotely, which is labor-saving and effective, as it is easy to install this system anywhere, all noise date will be collected and stored, which is also the convincing evidence when complaint happens.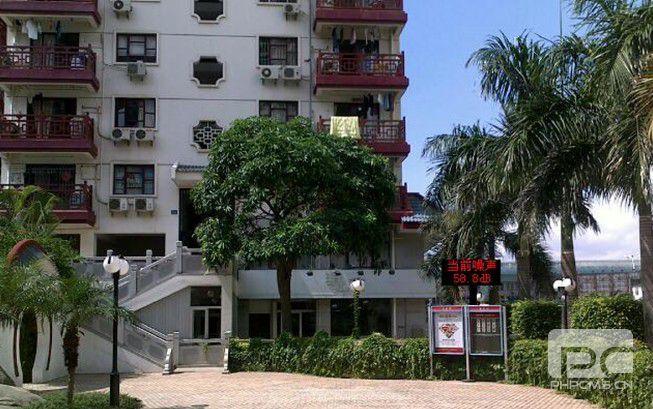 2. System analysis

2.1 System requirements

Noise online monitoring system consists of three main parts, on-site noise data acquisition, data communication device and platform, data center.

2.1.1 On-site noise data acquisition
All real time noise data will be collected and stored into the smart control terminals, which can send alert to center automatically based on real site condition, to prevent worse pollution.
2.1.2 Wireless data transmission device
Due to complicate environment, separate sites of all noise data acquisition sites, it would be lobar-costing if choosing wired network. so Four-Faith 3G Router F3423 is chosen as the data transmission medium, which is compact design, lower power consumption, easy for config, plug and play, to realize the 7/24 online and monitoring in real time.
2.1.3 Data center
All noise data from remote sites will be collected, stored, displayed, processed and analysed at data center, which is convenient for user to get the all data, and monitor all remote sites.
2.2 System Diagram

The noise data acquisition terminals is connected with 3G Router F3423 via RJ45, and with transparent TCP transmission tunnel of WCDMA/HSPA network, the terminals send the data to data center 7/24.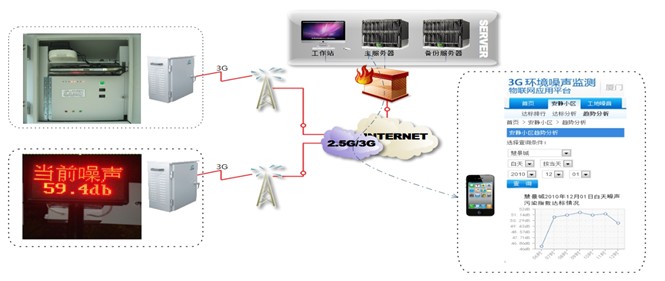 7/24 automatic monitoring, steady and reliable, labor-saving.
Scheduled data acquisition is available (such as per hour or per day), and user can set up the time by themselves.
Data volume setup is available during data transmission, user can set up the data volume in different time.
Alert condition configurable.
Noise data and audio data can be collected synchronously.
Remote configuration capability
The user can analyse the problem if something wrong with the system, which won't effect the noise monitoring.
Real time data, statistics curve, statistics histogram, etc. can be checked via WEB based server.
User can check all data from WAP based server via cell phone

3. System solution

All noise data will be collected and stored into smart control terminals, and sent to data center via Four-Faith 3G Router, also displayed on LED message board. Data center is for receiving, storing,displaying data and message management, which is convenient for user to check the real time and former data.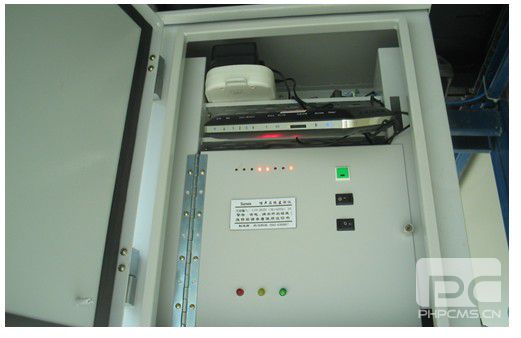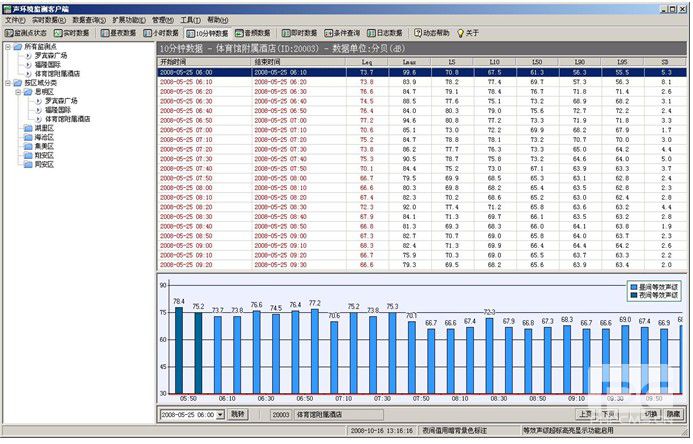 4. System Features

As the coverage of WCDMA/HSPA is Xiamen is good enough, so system can be installed anywhere, and there is not problem with installation.
Four-Faith 3G Router F3423 adopts high-powered industrial 32-bits CPU and embedded real time operating system, which offers user high speed, steady and reliable network connectivity.Intelligent anti drop off line, keep online, auto recover to ensure the router always online.
Designed base on industrial-grade, metal housing with IP30.
Maintenance and management personnel can access the system with and ID and password wherever internet is available.
Router can be easily configured via web config page or command config.
Wireless technology enables low transmit power, low electromagnetic pollution to the environment, low electromagnetic interference to automation equipment, which can be used in many industry.
Checking data anywhere via cell phone based on WAP.


5. Summarize

Both citizen and government can benefit from this innovative noise monitoring system based on WCDMA/HSPA network.
TAGS: Noise Monitoring System Remote Noise Monitoring [Previous Page]
Previous Page:Remote Monitoring of the Waste Water Treatment Based on the GPRS Network
next page:Dust monitoring system solution