A 5G industrial router is a device that can convert received 5G signals into WiFi, allowing non-5G devices to experience the high speed of 5G. So where is the specific industrial router used? Let's introduces the scenarios of industrial routers and the application of 5G in industrial manufacturing.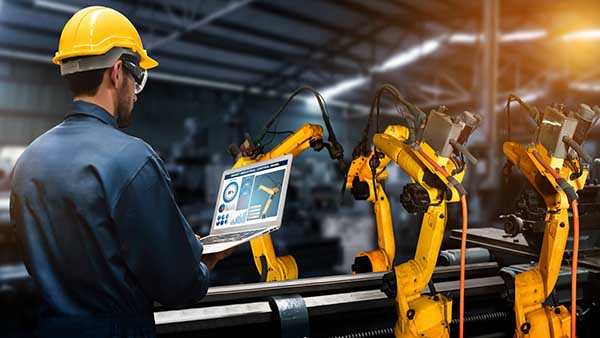 Scenarios of Industrial Routers
1. Self-service Terminal Networking
Industrial wireless router networking facilitates can achieve wireless networking and remote management of self-service terminals. Operators can deploy self-service devices, such as self-service vending machines, ticket machines, and payment terminals covered by the wireless network anywhere, such as shopping malls, blocks, and communities, to greatly increase business transactions.
2. Smart Grid Remote Video Surveillance System
Currently, the remote video surveillance system is widely used in transmission line remote video monitoring systems for intelligent monitoring. System of transmission lines, transmission line tower at all levels and transmission to remote real-time video monitoring device of substation real-time video image information can be collected by industrial wireless router and link to the management side, achieve the real-time monitoring of transmission line state to promote the lean production management level.
3. Intelligent Express Terminal Networking
An intelligent express terminal is a device based on the Internet of things that can identify, temporarily store, monitor, and manage items (express). The terminal system of the intelligent express cabinet adopts a 4G industrial wireless router and monitoring server host to establish a transparent data channel to realize the wireless networking of the intelligent express terminal. Timely analysis and processing of express terminal information, express information, and user information, greatly improves the work efficiency of the express salesman.
The Application of 5G in Industrial Manufacturing
5G will deeply integrate ICT (information and communication technology) with traditional industries, make networks more open and provide comprehensive capabilities for application innovation in vertical industries.
In the future, intellectualization of traditional industries will be the general trend. Traditional industries have the scenario-determining ability and perfect knowledge value systems. So 5G will promote the in-depth matching of ICT technology and its needs. According to statistics, it is estimated that in 2035, among the output supported by 5G for various industries, the output supported by manufacturing will exceed 300 billion yuan.
Typical industrial application scenarios of 5G include ultra-low & latency high reliability (uRLLC), large bandwidth (eMBB) and large-scale connection (mMTC). In terms of ultra-low delay and reliability, 5G wireless technology can achieve 1ms delay and more than 99.999% reliability. In terms of large bandwidth, 5G will support downlink rates up to 20Gb/s and uplink rates up to 10Gb/s. In terms of large-scale connectivity, 5G can connect 1 million devices per square kilometer.
This article introduces the scenarios of industrial routers and the application of 5G in industrial manufacturing. Industrial routers are widely used in many industries and scenarios due to their superior performance. And 5G can make industrial routers have more powerful performance, which is conducive to the improvement and development of industrial manufacturing.