Public transport WIFI operation system introduction
Date:2014-08-20 17:34:00
Nowadays, the internet has infiltration in our lives everywhere. Internet access to mobile phone opens the mobile internet era, making cell phone from a communication tool change to an electronic product of multiple functions. At the same time, we are also entering an era of car-life. Car as commonly tool of modern life, connecting with internet is the trending. All kinds of information communication technologies and applications of car is mature day by day, operators one by one begin to connect with government traffic administrative department and data sharing to build up smart transportation together. Public transport as the most important basic facilities in city economy and public life, its leading position is not doubt, various policy supports for the development of public transport "Run" in the front.
All the time, public transportation WIFI network is the topic everyone concerned about and closely related to daily life. It is reported that office worker spend about 50 minutes on the way average every day, in these trivial time, people become more and more rely on smart phone and pc. How to provide high quality internet service for this part of internet population? The ideal solution is: making each public transport car as the flowing WIFI hotspots, as long as the passengers on the bus, they can stay online forever.
Four-Faith communication has always been paying attention on the development of intelligent transportation informatization process over the years, since 2009, when the nation came out the policy, advocating of "Pushing smart city construction", four-faith depended on acute market sense of smell, began to set out to research the application of bus communication products and mobile phones. Innovation and development of public transport WIFI operation system has successfully assisted many provinces and cities WIFI coverage.
Public transport WIFI operation system mainly used in mobile vehicle environment, fixed point public operation place. Including the city bus, ferry, subway and train…
Public transport WIFI operation system main features:
1. Free WIFI: bus passengers can watch news, play social contact, listen to music and shopping mall etc., can support around 60 people online at the same time;
2. Passenger data analysis: through the platform can accurately grasp the user's online activities, including passenger registration information, on line and off line time, clicks, click time, online time, flow cost etc., big data platform for deep excavation and scientific management;
3. LBS push: targeted advertising along the way businesses, spread business information, improve the efficiency of marketing;
4. Equipment remote management: convenient ads edit, update, content update, without technical personnel to the site of the project, you can remote control of equipment throughout the various regions;
5. Local platform: TF/SD card or SATA hardware storage high-capacity news, video, music, information etc., local platform is the main carrier of marketing operation, successful business model on PC internet can smooth transfer to the mobile internet platform, create more value.
Product Introduction:
Coach WIFI operation system group is made up of hardware terminals and operation platform. The integration of advanced communication technology and mobile internet technology, with the way of transferring wire, 3G/4G to WIFI to realize rapidly deployment and signal coverage.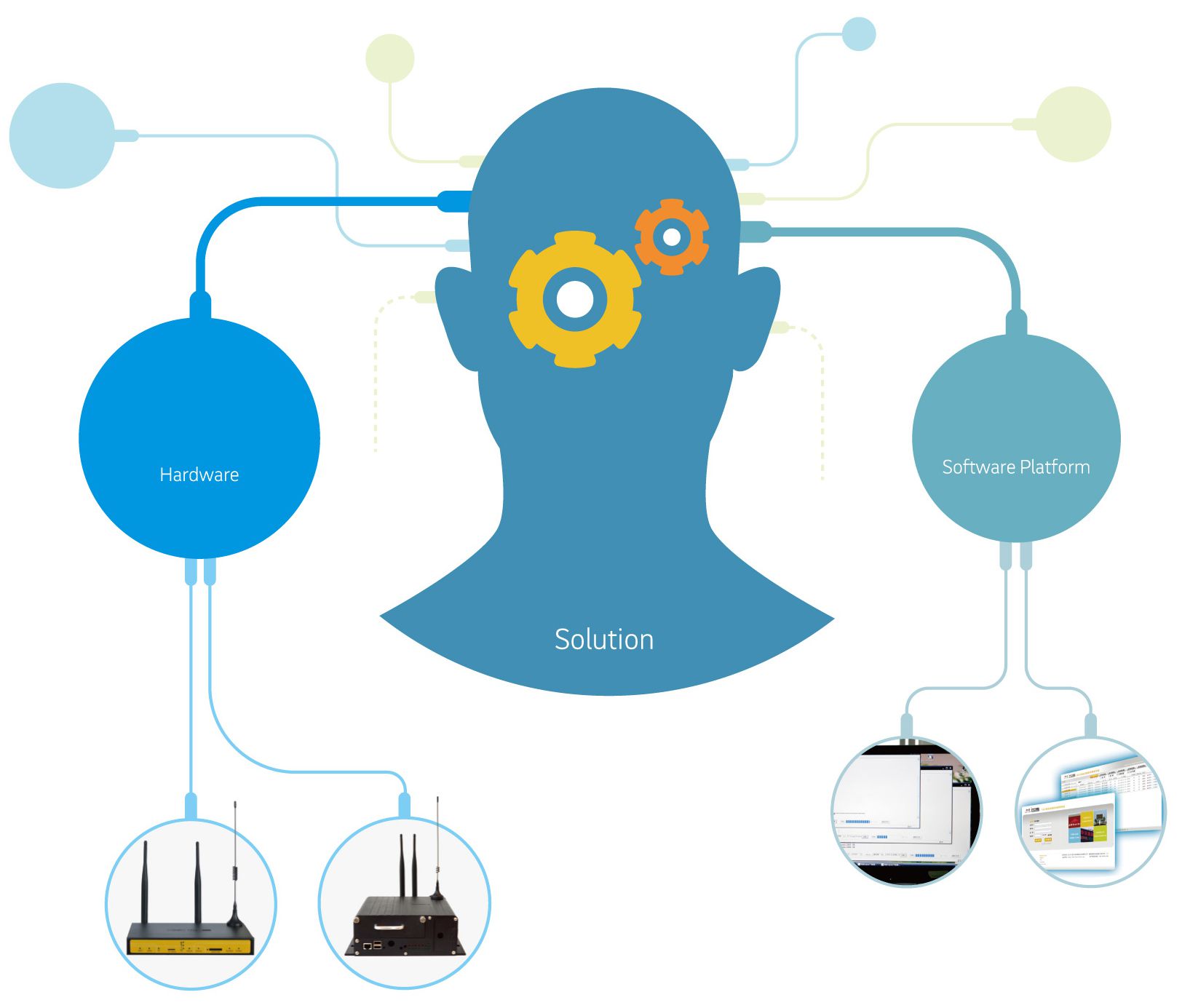 Hardware Terminal:
F3734S WIFI Advertisement Router: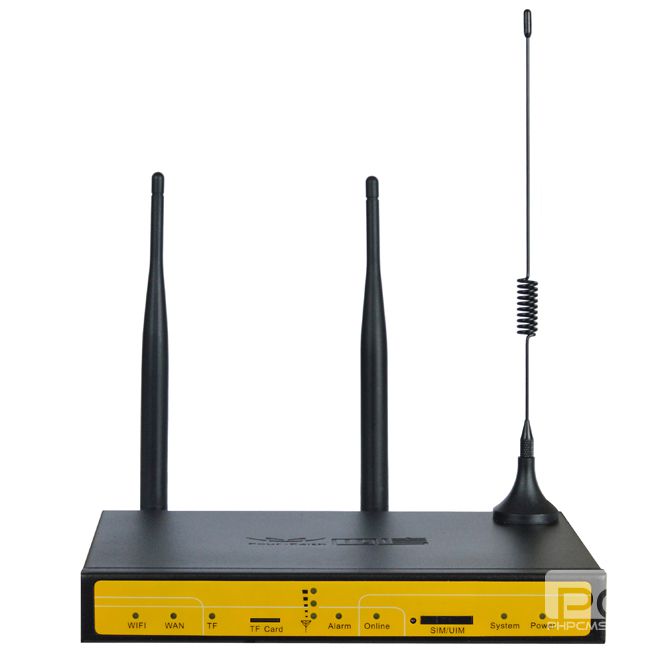 complete machine

interface
Network Topology: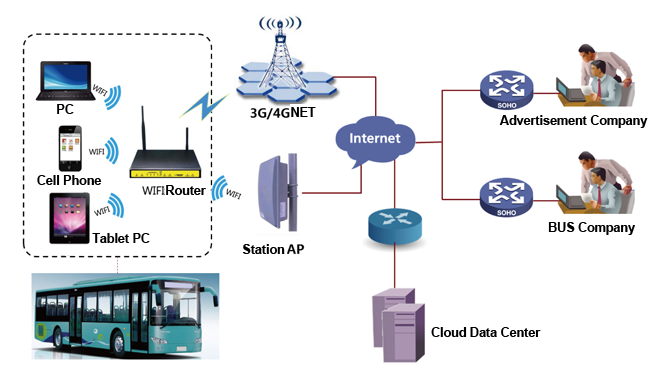 System theory introduction:
After passengers linked on WIFI, they will see advertising information at first; and then jump to login and registration page for the first time using the bus WIFI, passengers need to register (message authentication code) first with their mobile phone number to log in, after a successful login they can surf the internet; for that passenger is already registered need through the phone number and password to log in and surf the internet.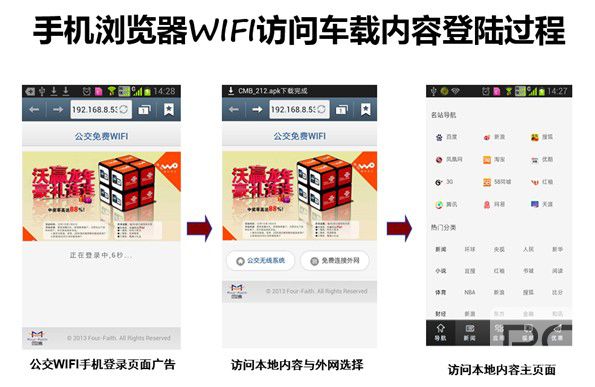 Four-Faith WIFI wireless terminal, can conveniently transfer operation 3G/4G network signal into WIFI signal coverage on the vehicle, realize dense crowds concentrate online, used to carry out mobile access service, providing news, shopping, social contact, games and other mobile application download and localization life service for passengers in local platform, mass flow create enormous commercial value. Provide video monitoring interface for bus companies, realize intelligent dispatching services, gradually build collaborative operation based on mobile communication and mobile internet business.
Backstage through operation of big data guide passenger expectation, consumer behavior management, file management, etc., it would greatly help the advertising companies and business point-to-point precise marketing, making the largest application of precious value of passenger resources.
The actual installation drawing: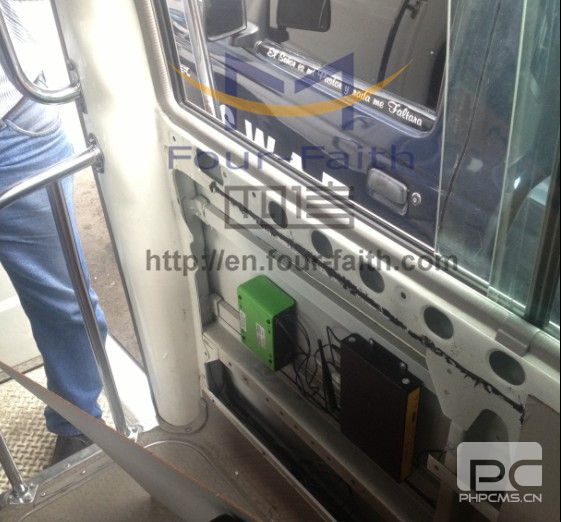 Australia Public Transport WIFI Operation System Application
TAGS: transport WIFI operation system Coach WIFI operation system WIFI Operation System Application [Previous Page]
Previous Page:Vehicle WIFI 0perating System
next page:Bus Wifi Router F3424 Rugged 3G/4G Router Application