In recent years, with the vigorous development of 5G technology, the closer integration of information technology and enterprise development has become a major trend of future enterprise development. As a representative of "new infrastructure", the integration of 5G and industrial networks will undoubtedly become an important application scenario of future 5G networks.
However, in traditional factory manufacturing, most of the equipment works in the network layer 2 (L2) and layer 3 (L3) network environment, that is, all the equipment is in the same local area network, and the equipment is generally connected to the network by wired mode, which has high cost and difficulty in wiring construction, and the use of 4G technology transformation faces the problem of network delay. Therefore, the 5G network has become a widespread application demand in the current industrial scene, and the use of 5G combined with 5G LAN technology can more quickly solve the current problems faced by enterprises.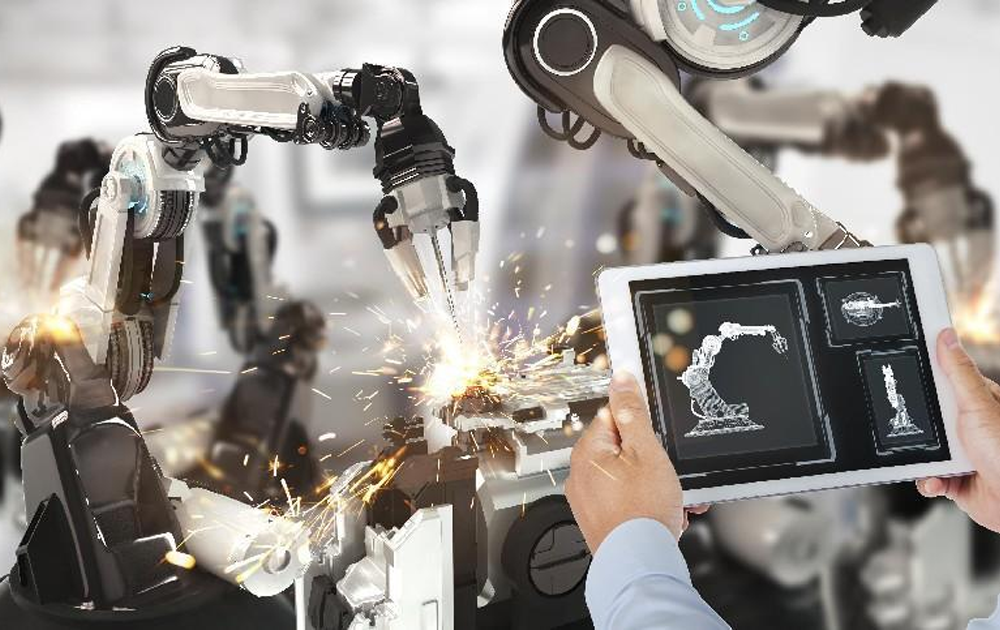 Concept of 5G LAN Promotes the In-depth Integration of IT/OT
As early as 2020, the "5G Vertical Industry Application Case" released by GSMA mentioned that assisting enterprises to build a wireless private network, can help enterprises reduce costs, improve efficiency, improve quality, and increase revenue. In the current industry and industrial networks, devices face problems such as cable mobility limitations, high cost of fiber laying, poor Wi-Fi coverage security, and insufficient mobility. However, in the traditional wireless private network business, industry users can only obtain IP access links, not the commonly used Ethernet links, and the link configuration ability is poor, and the application mode is fixed. These problems hinder the scale and flexibility of the enterprise wireless private network.
Based on such industry background, 3GPP defined 5G LAN technology in R-16 phase. Based on 5G LAN technology, layer 3 VPN services (IP VRF forwarding) and layer 2 LAN services (Ethernet LAN) are provided to customers, while supporting user mobility, subnet segmentation, and subnet-based management capabilities. Not only that, 5G LAN technology plays an important role in promoting the deep integration of IT/OT in the industrial Internet and helping the construction of fully connected factories.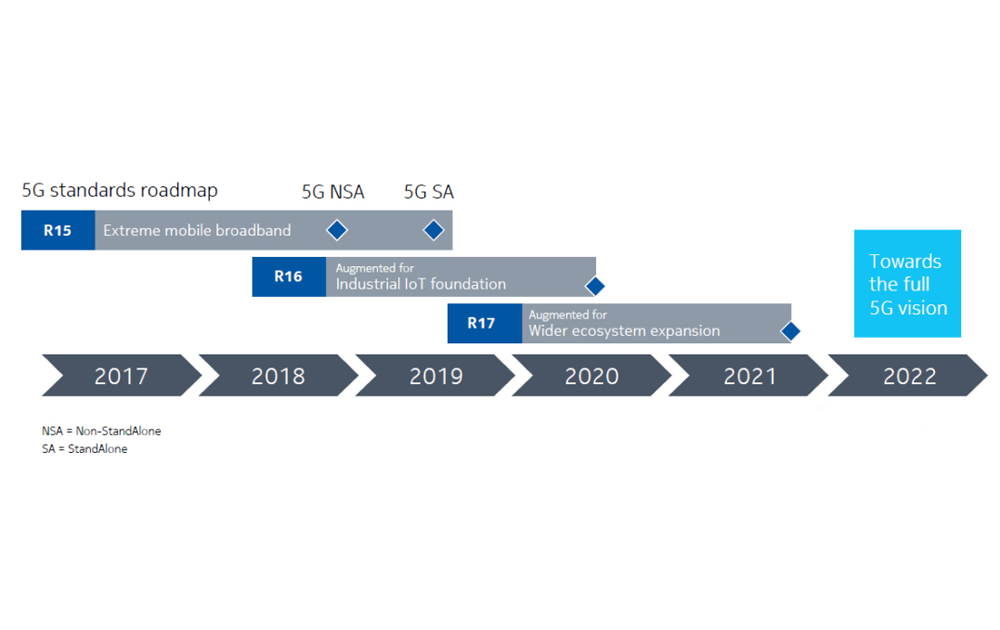 Construction of industrial Internet, Four-Faith 5G Industrial Router Being the Main Force
Industrial routers play a vital role in industrial application scenarios and are an important network foundation for the normal operation and work of the industrial Internet. It can be directly connected to industrial machinery and equipment for data acquisition, and through real-time mass data transmission, so that managers can easily grasp the production and operation situation in different times and regions. 5G LAN not only has the advantages of the original cellular network LAN resource sharing, fast network deployment, security protection and other advantages, but also further adds new application functions such as layer 2 communication and broadcast/multicast, which improves the penetration rate of LAN in industrial Internet scenarios.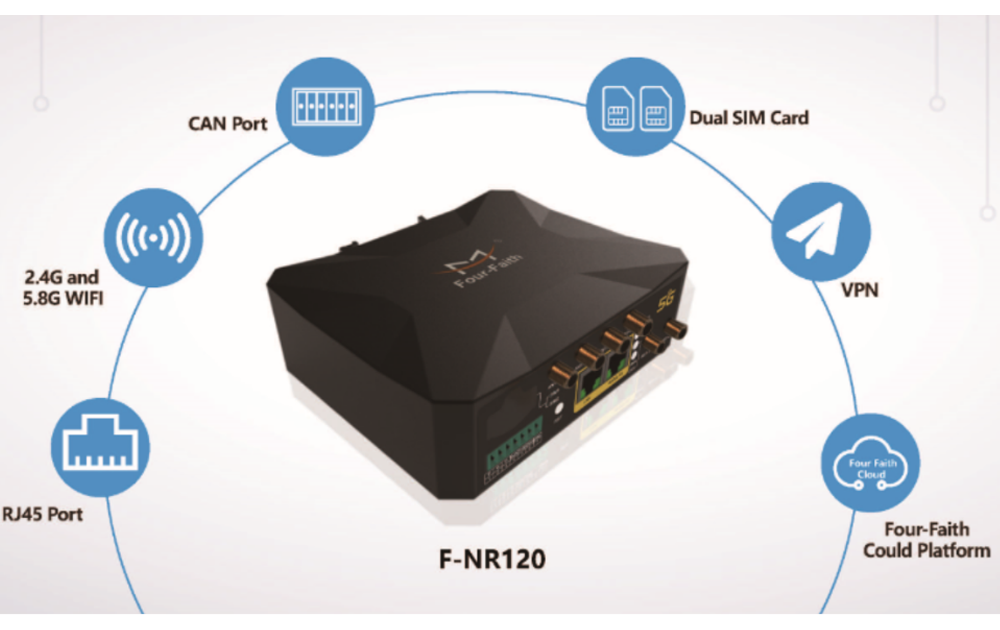 Four-Faith 5G series industrial routers all support 5G LAN technology, which can provide L3 layer IP services and L2 layer LAN services at the same time to achieve effective isolation of business and management. And through the characteristics of 5G LAN, it provides high-speed and stable network access for remote devices, making the data interaction between terminal devices and the platform more efficient, which can meet the needs of users with high speed, large link, ultra-low delay, and secure transmission.
Moreover, 5GLAN technology has obvious advantages such as plug and play, cross-domain networking, and network certainty, and has a very broad application prospect in the field of campus network construction and industrial PLC. The Four-Faith 5G industrial router equipped with 5G LAN technology can not only save the cost of industrial Internet network construction, but also reduce the difficulty of 5G transformation of production lines and maintenance of industrial Internet, realize flexible adaptation, and greatly improve production efficiency.
Four-Faith 5G LAN Smart Factory Solution
To create a customized and manageable private network, Four-Faith launched a 5G LAN solution based on 5G industrial routers. The solution is mainly applied in the intelligent manufacturing production line. It connects the factory equipment through a 5G industrial router, provides a high-performance, high-speed, highly reliable, and low-delay 5G network for the equipment connection, transmits the on-site data of the factory to the back-end operation and maintenance management platform in real-time, builds an all-round information system connecting people and machines inside and outside the factory, and realizes the comprehensive maintenance and upgrade of the factory. Production resources are distributed according to demand and personalized production.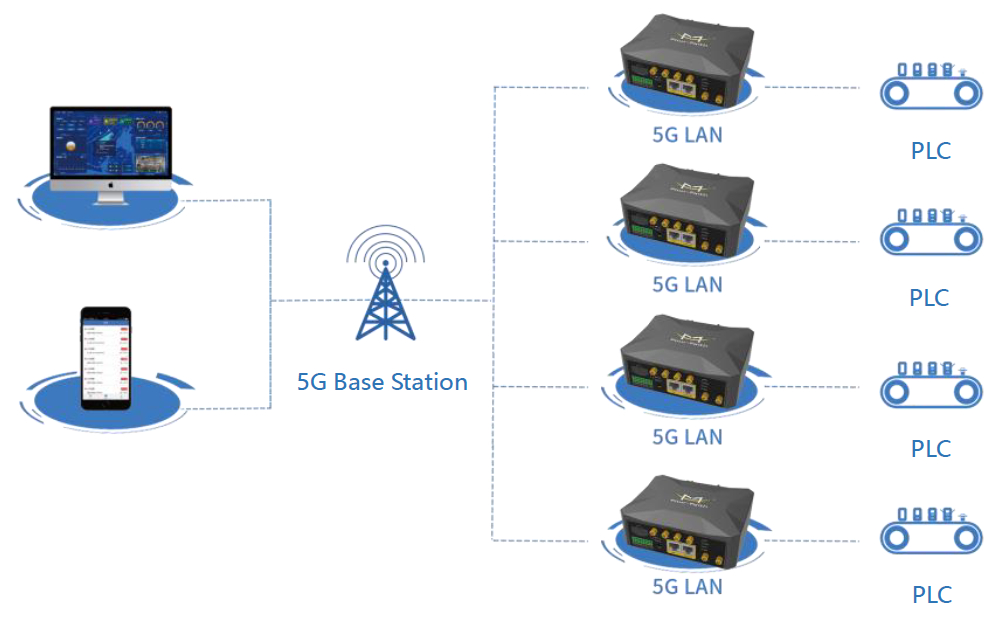 Meanwhile, for the private network environment of the factory, the 5G LAN function can be used to realize the mutual communication of all terminal devices, and the cloud platform can be deployed on the customer server to realize the centralized management, monitoring, and maintenance of terminal devices in the factory.
The Four-Faith 5G industrial router supports 5G wireless network deployment, which can realize functions such as remote control and core production data acquisition. At present, it has cooperated with well-known base station manufacturers and operators at home and abroad to deploy and build 5G private networks, and dozens of smart factory projects have been implemented across the country.
Solution Advantages
Datamation
The scheme uses 5G LAN technology to realize efficient information interconnection between equipment, operators can collect dynamic production data such as production equipment, materials, and finished products, grasp the production operation situation in time, realize seamless docking between the production environment and information system, improve on-site perception and monitoring capabilities, and meet the needs of 24-hour factory monitoring.
Integration
The enterprise information integration platform is built to realize the seamless connection of upstream and downstream data, support enterprise operation and management upward, and highly integrate with real-time data of the production process downward to form a complete and reliable production chain. The plan is available and controllable, the plan execution is transparent, the production cycle is controllable, and the utilization rate of equipment resources is improved.
Visualization
Real-time control of equipment production process to ensure stable and controllable product quality; At the same time, it can realize large data screens, timely warning of abnormal problems, administrators find problems at the first time, adjust production plans in time, and improve enterprise management decisions.
Focus on User Needs to Empower the industry's digital transformation
Currently, the commercialization process of 5G LAN technology continues to advance, attracting more and more IoT manufacturers with its advantages of low cost, easy deployment, and low delay. In the future, Four-Faith will continue to deepen the cutting-edge technologies of the Internet of Things industry such as R16, focus on the needs of industrial users, and work together with partners to continuously launch Internet of Things terminal products with better performance and higher cost performance, enabling the digital transformation process of the Internet of things.