News Review
On July 1, 2018, the first batch of gold cooperative partnership program was officially launched, 42 enterprises registered for that include urban management, security&safety supervisioncontrol, public utilities, travelling, environmental protection, cultural tourism, health and pension care, urban simulation exhibition equipment manufacturers, software developersand solution providers. After more than one month deep communicating and docking, as of August 15, there comes into being seven gold partners and 11 silver partners.
Faith-Faith stands out with absolute advantage among many enterprises and won the certificatedmember of AliCloud IoT Smart City GoldenPartner. This is AliCloud affirmation for Four-Faith's achievements on smart city field and also the perfect opportunity for Four-Faith to show itself in peers.
AliCloud IoT Smart City
AliCloud is a cloud computing brand under Alibaba Group. As a global outstanding provider of cloud computing technology and service, AliCloud is committed to providing the most secure and reliable computing and data processing capabilities to enterprises, governments and other organizations, making computing serve for universal technology and public service.
As the leader of smart city solutions in China, AilCloud IoT will undertake dozens of smart city projects in 2018. It will comprehensively build an ecosystem around the urban scene based on the "platform + market + standard" strategyand share the industrial dividend with its partners.The reserved core areas include intelligent urban management, security&safety supervisioncontrol, urban public utilities, intelligent environmental protection, intelligent cultural tourism, health&pension care, urban simulation exhibition, etc.
According to the location of urban areas, AliCloud IoT smart city business provides smart city overall solutions such as innovative urban digital mirroring, smart event handling, defining new city name card, improving the efficiency of urban emergency treatment and gathering joint partners through opening capacity to customer.
Four-Faith
Four-Faith has got many honorary titles likeFujian Province famous brand, Fujian Leading Little Giant Enterprise of Science&Technology, Xiamen Quality Brands, Xiamen Key High-Tech Enterprise, IoT leader in Internet of things industry, Internet Communication Technology Solutions Provider. It is an industrial solution provider of smart power, smart city, intelligent water conservancy, intelligent disaster handlingand son on.
Four-Faith focus wireless communication modules and terminal products such as LoRa, NB-iot, ZigBee, 2.5g, 3G, LTEas well as R&D, production, sales and service of IoT measurement, remote control terminals. We provide competitive products, technologies, solutions and services to industry users, system integrators and operators. Four-Faith concentrates on IoT and around industry customers, offer open cooperation conceptsand commit to the vision of making everything smarter.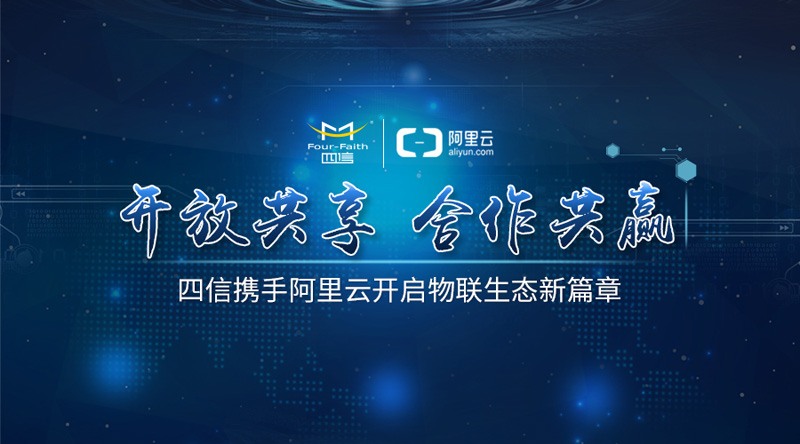 Open Sharing and Win-Win Cooperation
Adhering to the concept of opensharing and win-win cooperation, this time Four-Faith will work together with AliCloud. Four-Faith will continue to endeavor to make contribution to the development of smart city by utilizing the Internet of things technology, and jointly build the smart city ecosystem with Alicloud IoT.