4G/3G router applied in automatically pollution monitoring project in Hunan
Date:2013-10-15 14:31:00
According to SEPA on accelerating "three systems" work arrangements of the pollution reduction targets, monitoring and evaluation, an environmental protection factory make the construction of the "automatic monitoring system for key pollution sources" to monitor waste water, waste gas and urban sewage treatment plant of hundreds of key polluting enterprises in Hunan province. By installing state-controlled pollution automatic online monitoring devices in the enterprises, the device will collect the pollution data and transfer the data to the environmental monitoring center, monitoring center then alarm for excessive data.

Since most of these pollution resources companies are in the suburb area, away from the telecommunications access points, the companies will need to pay a lot for line cost of 20,000 yuan per kilometer if laying cable access. Take the case of urban living garbage disposal site for example, the place is about 5km from telecommunications access room, to have fiber access, they need to pay 10 million one-time line construction costs. But as much traffic pollution data acquisition, Telecom 3G signal coverage in the region, and allows off network after resuming, they can use Telecom's CDMA EVDO/1X for transmission, adopt the solution of 3G wireless VPDN access.

First to install and configure a L2TP network server(L2TP Network Server, hereinafter referred to as LNS) in the environmental monitoring center, and access to the internal network. Measured in the telecommunications L2TP access concentrator configuration (L2TP Access Concentrator, hereinafter referred to as LAC). Users using Four-Faith 4G/3G wireless router F3X34 for L2TP protocol dialing, establish a VPN tunnel between the user and the environmental monitoring center to data transmission. Their network topology as shown below.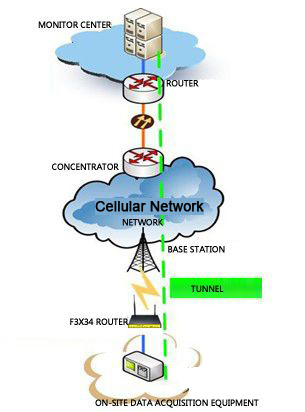 This 3G wireless VPDN access can be widely used in somewhere need remote access to the enterprises, such as enterprise remote offices, mobile acceptance business, remote data acquisition, etc., can greatly improve the efficiency of enterprises and level of information. In this case the user using Four-Faith 4G/3G wireless router F3X34 as wireless VPDN access, not only for the enterprise to save a huge amount of network costs, convenient, flexible, rapid deployment approach also praised by the Environmental Protection Agency, the next step is to provide a technical basis to improve monitoring range of the Environmental Protection Agency.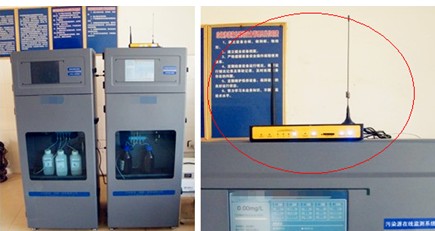 TAGS: automatically pollution monitoring 4G 3G wireless router [Previous Page]
Previous Page:483pcs of Gsm Modem successfully applied in Dongguan PM2.5 monitoring
next page:Four-Faith 4G/3G wireless router: booster of Environmental Monitoring Project