Energy Consumption Monitoring
Date:2014-04-22 14:50:00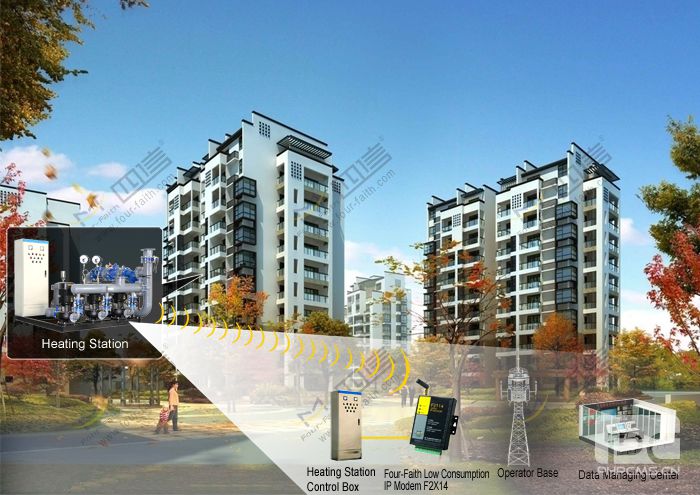 Energy monitoring is to monitor the energy data such as water, electricity, gas and heat and then auto report to the related department. It is convenient for the related department to manage and control
All kinds of smart meters such as single-phase meter, three-phase meter, multi-function meter, water meter, gas meter, heat meter are installed in the state organ office buildings and large public buildings. Four-Faith wireless transmission terminal F2114 will connect with the intelligent meter and establish the connection, realize the double way transmission between the meter and data center.
Why clients choose Four-Faith?
1. Always online
Support online detect and auto recovery to ensure that the device are always online.
2. Support multiple data centers
Support 5 data centers at the same time
3. Remote monitoring
Can realize remote monitoring by wireless device, greatly reduce the maintenance cost.
4. Save the flow cost
Supply multiple trigger mode including SMS, ring and data.
5. EMC Electromagnetism compatibility
Four-Faith F2x14 adapt high grade EMC electromagnetism design, and can avoid the interference of EMC, meet the related standard o fand.
Successful cases

Shenzhen Water Supply Monitoring Xiamen Gas Monitoring Ha'erbin Heat Supply Monitoring Qingdao Pow Supply Monitoring Project
Customer's feedback
Ha'erbin: In traditional energy consumption, we are afraid of the factory building which has huge engineering, high cost and is destructive. Now the energy system adapts the ideal option Four-Faith F2114,which is low-cost, and short lead time.
TAGS: Energy Consumption Monitoring Heat Supply Monitoring​ Pow Supply Monitoring Project​ Water Supply Monitoring Gas Monitoring [Previous Page]
Previous Page:PM2.5 Particles Wireless Monitoring Applications
next page:Sewage Monitoring System