LoRa Module Application for Remote Meter Reading Solution
Date:2016-08-25 14:16:45
The traditional manual meter reading way, big workload, big error and distributed in different installation location, need to spend a lot of time and labor costs. In real time, accuracy and application extension cannot be met, with the development of new technology, the remote meter reading has become an important part of the smart grid system.

Meter reading system by wireless concentrator and wireless meter (embedded LoRa module), the concentrator through the 3G/4G wireless network access to the Internet, to transmit electric meter data to the data center. The other can support the meter reading personnel to use hand-held terminal inspection meter reading, for convenient maintenance and management.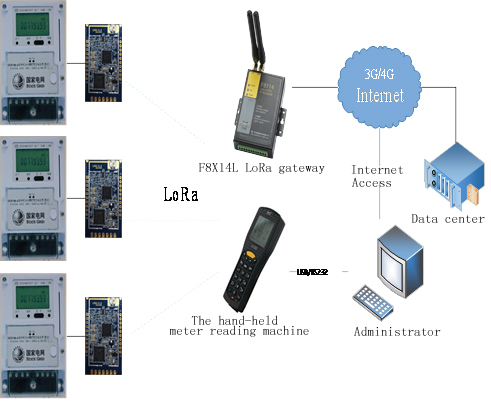 Compared with the traditional electric meter, the adoption of LoRa smart meters can accurate and fast record the real time data, improve the working efficiency, ensure the quality of service. During the period of peak demand, electric power information system for regional power use to conduct a comprehensive monitoring, balance scheduling, thereby effectively guaranteeing production enterprises and residents living demand.
TAGS: Remote Meter Reading Solution Meter Reading Solution [Previous Page]
Previous Page:Electric transmission line condition monitoring solution
next page:Industrial Router for Remote Meter Reading Application in Shanghai