Four-Faith Let the Smart Digital City Run Smartly
Date:2018-01-19 16:54:54
In contemporary society, urban lighting has become a business card and window to show the charm of the smart digital city, because urban lighting is not only a science but a culture, an art. Urban street lighting is a beautiful landscape of the smart digital city. With the continuous development of smart digital city, urban street lights encountered many unexpected problems, such as: management issues, cost issues, electricity problems, the problem of cable theft and so on . Lighting automatic monitoring and management system will help realize the wisdom of control, not only can be flexible on / off lights, keep abreast of operating parameters, timely detection of faults, but also change the traditional artificial "Patrol Light" system to "on duty" system, greatly improving lighting System management efficiency. At the same time the system can automatically store and count the data collected, and it can query and print at any time, greatly improving the management level. It can also reduce energy consumption and increase Equipment life,and access to good economic benefits.
Among the many problems of urban street lighting facing, energy saving is an urgent problem need to be solved. It not only involves reducing the funding of urban street lighting, but also involves the issue of electricity and energy, especially in the context of power shortage, through intelligent lighting control device, a reasonable adjustment of lighting time, not only can save lighting systems more than 20% Electricity, but also greatly extend the service life of lighting. LoRa technology is an emerging long-distance, low-rate wireless networking technology.It has been widely used in wireless network monitoring industry, and achieved good results.
Smart Digital City
LoRa
Street Light Solution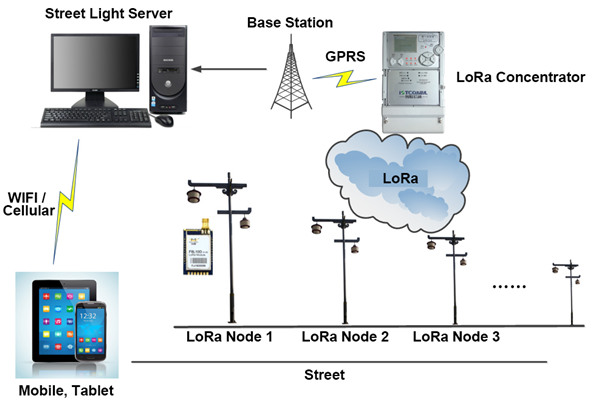 The entire system consists of a single lamp controller embedded in the F8L10D LoRa module, a centralized controller embedded in the F8L10D LoRa module, a streetlight server, and a management client.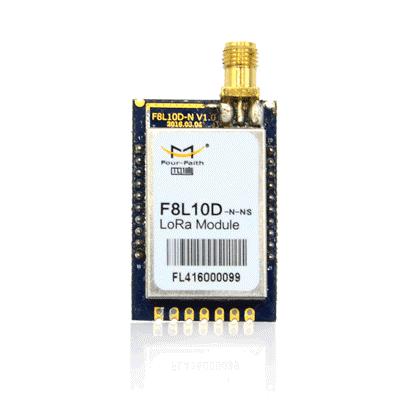 Responsible for switching lights, collecting AC voltage and current, calculating active power、 power factor and other parameters for centralized controller inquiries.
Centralized Controller:

It communicates wirelessly with the following single-lamp controller through the LoRa module, establishes a TCP connection with the server through the LoRa gateway, stores the timing policy issued by the street lamp server locally, and responds to query commands issued by the server.It can also intelligently control the light off according to the collected value of light sensor.
Smart Digital City
Street Light Server:

As a data center for street lamp system management, a database server and a web server can be deployed for users to control and query using a browser or a client.
Smart Digital City
Management Client:

Management terminal can be computers, mobile phones, ipad, etc., It can control the lights' situation, check the lights parameters and other functions.
LoRa Module Specification:
LoRa module interface: 3.3V TTL serial port
Frequency: 410-441MHZ
Network capacity: 500
Communication distance: 3km
RF Data Rate: 0.3-5.5kbps
Receiving sensitivity: -140dBm
Smart Digital City Street Light Solution Benefits
1. Intelligent, Sophisticated management
2
.
Remote monitoring and timely feedback
3
.
Wisdom monitoring, Repair failure
4
.
Reduce maintenance costs, Energy saving
5
.
Reliable design, Stability data transmission
6
.
Easy management, Adapt to extreme working environment

With the construction of smart digital city, the wisdom construction of urban landscape lighting project will be widely used in urban planning, construction and management, and will be more intelligent in application and technology. Four-Faith make full use of Internet of Things technology, the using of intelligent and intelligent wireless communications technology to provide more specialized products and technologies for smart digital city construction and wisdom landscape lights, provide service for wisdom city.
TAGS: Smart Digital City [Previous Page]
Previous Page:Four-Faith LoRa with 70kV Substation
next page:Smart City with LoRa Case Study