Intelligent Manhole Cover Monitoring Solution Based on LoRaWAN
Date:2023-03-20 14:26:06
1.Project Background:

With the accelerated process of urbanization, the construction of municipal public facilities is developing rapidly. Municipal, power, communication and other departments have many municipal equipment and assets that need to be managed, and manhole covers are one of them. Due to the lack of effective real-time monitoring and management methods for a large number of outdoor manholes covers, it has provided an opportunity for criminals to engage in illegal activities such as moving and stealing manhole covers. At the same time, damaged or lost manhole covers cannot be repaired in time due to the lack of information, which not only affects the normal operation of relevant equipment and causes direct or indirect economic losses, but also poses a great safety hazard to vehicles and pedestrians on the road.
Although the management demand for manhole covers is very clear, due to the large number of manholes covers in the city, even if the management department arranges maintenance personnel to strengthen patrols, they cannot obtain the status of manhole covers in real-time and ensure their safety. To better protect public facilities, protect important resources underground, and urgently adopt new technologies and models to strengthen the management of manhole covers, it is imperative to digitize the management of manhole covers, realize effective supervision of social resources, ensure the personal safety of the people. The products of Xiamen Four-Faith Communication Technology Co., Ltd. can solve the above problems well in the monitoring of smart manhole covers.
2. Topology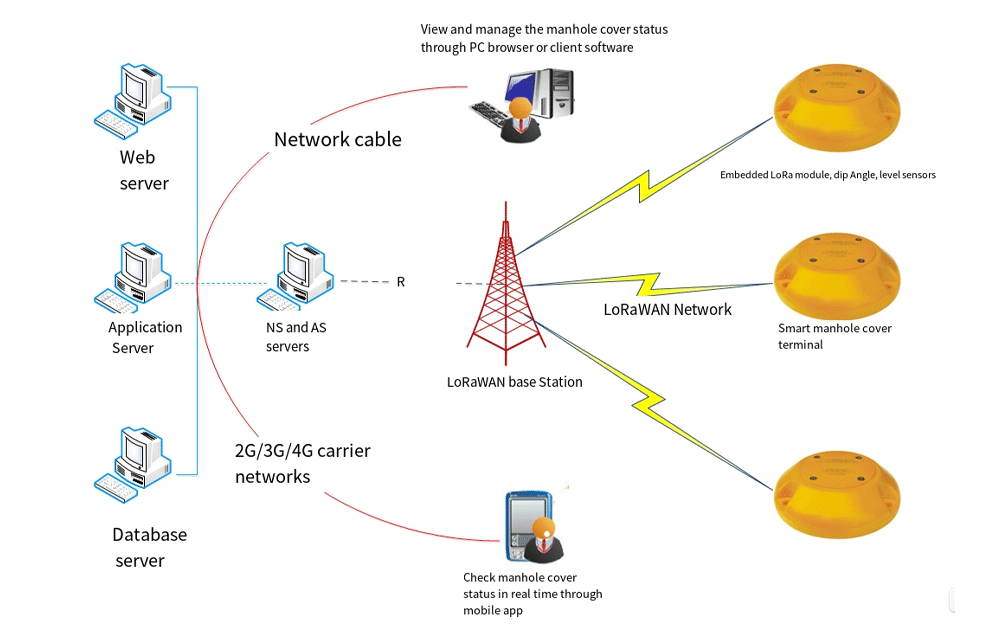 3.Solution Introduction:

The intelligent manhole monitoring system consists of LoRaWAN intelligent manhole terminals, LoRaWAN base stations, NS servers, CS platforms, and mobile apps. The intelligent manhole terminal, with an IP67 waterproof rating, is equipped with a Xiamen Four-Faith LoRaWAN module, an inclination sensor, a liquid level sensor, and a battery. To conserve power, the terminal normally collects the status of the liquid level sensor, inclination sensor, and battery level every 12 hours as a heartbeat packet, which is then transmitted to the server via the LoRaWAN base station. The battery is designed to last for 5 years.
In the event of abnormal situations, such as when the manhole cover is opened, the terminal will be immediately awakened and an alert will be sent to the server if the inclination sensor detects significant displacement of the manhole cover or if the water level in the manhole exceeds the set threshold.
Users can log in to the platform through the mobile app or a web browser on a computer to view the status of each manhole in their management area, including the manhole number, location, whether the manhole cover is open, inclination angle, water level, and more. If a problem occurs, repair personnel will be notified via an alert. For example, when the manhole cover is stolen and opened, the intelligent manhole terminal will be immediately awakened and the current status will be reported to the server, which will record the alert information in the background database and notify the personnel in charge through a phone call or text message for timely handling.
4. Communication Technology Advantages:
Compared to 2.4G Zigbee and cellular communication technology, LoRa operates at a longer wavelength in the 433/470M frequency band, with better diffraction and penetration capabilities.
LoRa operates in the unlicensed ISM 433/470M frequency band, without the need to pay data fees to operators.
It uses LoRa patented modulation and demodulation technology, with a sensitivity as low as -140dBm, making it more resistant to interference than other wireless technologies.
No communication cables are needed, making it easy to deploy and reducing construction costs and time.
5. Recommend Products:
5.1 Terminal F8L10T:
Key Features
Wide power input range (5-36V)
Operating temperature -40~+85
WDT watchdog
Coverage of 1KM in urban areas (2KM with PA), 3.5KM line-of-sight coverage (11.5KM with PA)
Data transmission using transparent transmission mode
5.2 Gateway F8926-GW:
Key Features
Industrial-grade wide voltage input, supports DC 5-36V
Wide operating temperature -35+75ºC (-31~+167℉)
Equipped with an industrial-grade anti-dropout mechanism to keep the device online at all times
Built-in software/hardware watchdog to ensure system stability.
Transmission methods: 4G, wired Ethernet.
Supports multiple protocols for upper computer interface, including TCP/UDP/MODBUS/TCP/MQTT/custom TCP, etc.
Previous Page:Four Faith Supports Deployment of New Water Meter Monitoring Service in India Using the LoRaWAN® Standard
next page:Four-Faith Intelligent Public Toilet Comprehensive Management Platform, to Achieve Refined Management of Public Toilets