Four-Faith Air Compressor Remote Monitoring System
Date:2021-09-28 15:37:32
Background
With the rapid development of social economy and science technology, air compressor as a gas power source conversion equipment, is widely used in various fields of industrial production.
To break the inconvenience of traditional manufacturing, hold the chance of industrial internet age, implement equipment internet of things, makes the development of intelligent equipment opportunity. Four-Faith using the internet of things, edge calculating and data analysis techniques, start from the three cores aspects of intelligent operation, energy-efficient and security management, to provide users with the avant-garde solution for remote monitoring system of air compressor, help traditional manufacturing industry has been transformed and upgraded.
Traditional air compressor supervision consumes a lot of manpower and material resources, and product maintenance costs are high, which is not conducive to enterprise profits.
The lack of an intelligent supervision and management platform leads to take a long time for locating the fault & maintenance, and product upgrading are slow.
The professional level of management personnel is different, unable to achieve good equipment operation and failure cannot be timely maintenance.
The industrial air compressor industry is diverse, scattered, management departments cannot achieve centralized management and control.
Four-Faith combined with Internet technology to achieve online remote monitoring of air compressor, so that air compressor manufacturers, maintenance units and users interact on the same platform, fully guarantee the safety of air compressor equipment, also can reducing maintenance costs and improving management efficiency.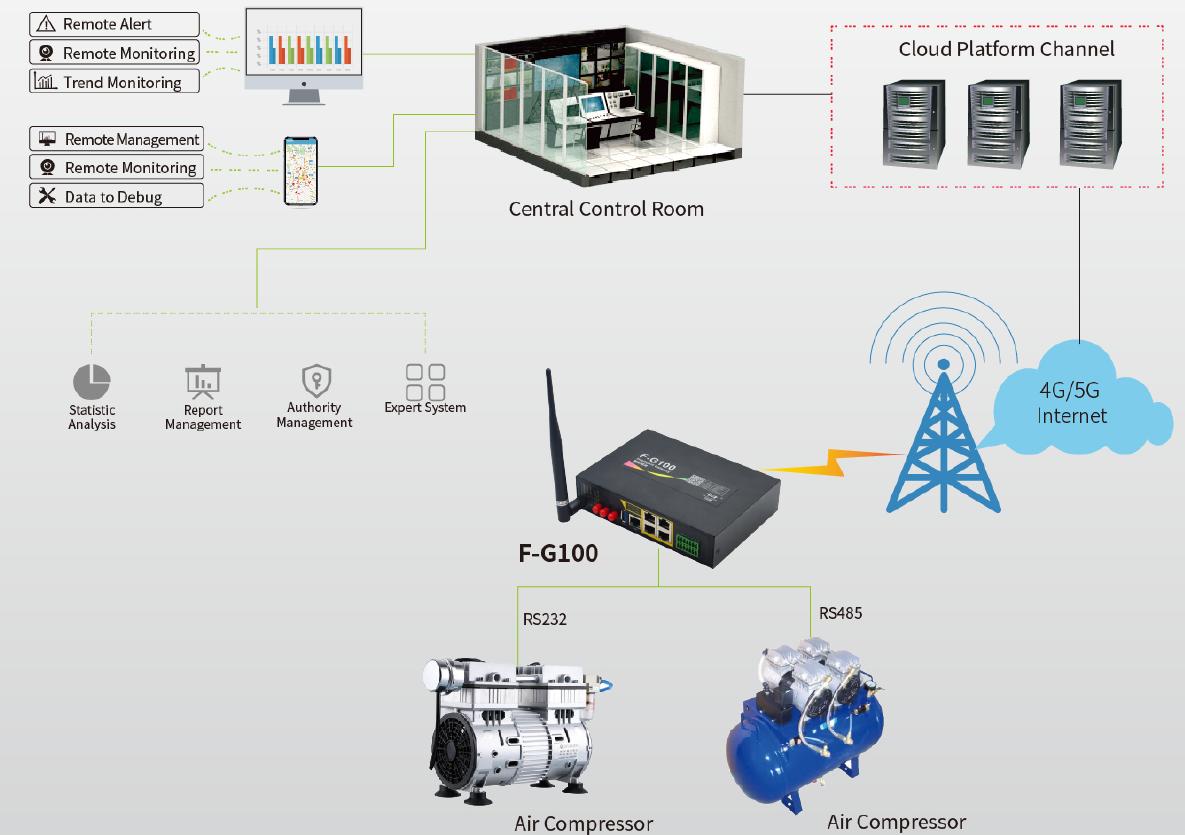 The system consists of an air compressor, Four-Faith F-G100 intelligent gateway, air compressor management platform, and other parts. The intelligent gateway provides network access for the air compressor. After the intelligent gateway connects to the cloud platform, the maintenance personnel can enable transparent transmission (Protocol penetration) or VPN function through the client to establish a maintenance channel with the field air compressor. Maintenance personnel login to the client software, they can achieve remote maintenance, remote online monitoring, and other functional applications. Check the running status of the field air compressor in real-time and download programs remotely when needed.
Air compressor control module's data information and the geographical position transfer to the intelligent gateway through the serial port. Intelligent gateways collect those data (Sensor status, exhaust pressure, exhaust temperature, gas displacement, motor load, motor temperature, operation time, failure, etc.) through the 3G/4G/5G network transmission in special or general agreement format to air compressor management platform for data analysis and processing. Using computer or mobile phone can achieve data status, modify, alarm, statistics, analysis and, etc. At the same time, the platform can also send the acquisition and control instructions, which reach the intelligent gateway through the 3G/4G/5G network, and then send them to the air compressor. After collection, they return to the platform for data analysis and processing to provide intelligent management of enterprises. Each equipment also has a maintenance cycle and related maintenance records to that is convenient for arrangement of maintenance personnel and maintenance equipment.
Intelligent Management Platform
Users can log in to the intelligent gateway platform through a WEB browser to manage devices. The platform supports remote monitoring of the intelligent gateway status (Online or offline). online time recording, traffic record statistics, manage and view basic equipment information (IMEI, SIM card number), check the terminal running information, remotely obtain, view, and modify configuration parameters, upgrade equipment. Supports multi-dimensional user authorization management to restrict device operations. Users can also manage only part of the equipment. In addition, the platform also supports email and SMS alarms to detect device faults, traffic anomalies, and other failure notices.
Through the intelligent gateway platform, it can quickly establish a secure channel with the field industrial terminal equipment. The secure channel can connect multiple Ethernet terminals at multiple sites to the same Internet of Things network so that end-to-end access can be achieved. After login to the client software, maintenance personnel can implement remote maintenance & online monitoring, modify programs, upload & download programs, and learn the running status of onsite devices in real-time.
The protocol for connecting to the intelligent gateway platform must be encapsulated into a library file. If other manufacturers need to connect to the management platform, they need to run the Four-Faith library file in the device. Users can use the SDK interface or HTTP interface to obtain the PLC data collected by the gateway device from the intelligent gateway platform or private cloud server to achieve the development of PC monitoring system functions, display data and do some screen configuration information.
The SDK interface and HTTP interface provide the following functions:
1.The real-time data push function is used to read and write real-time data and store historical data.
2.With real-time data push function, when the data changes, directly push to the computer client without polling loading.
3.User can use the historical data storage function to check and export historical data.
More Convenient for Device Management
Devices are managed in a standardized way by device model, geographical region, user group, and user authority.
Straight Forward Status Monitoring
Display device running status and alarm information in real-time with dynamic graphics or tables.
Maintain Equipment in Time
Authorized device management personnel can do remote parameter configuration, troubleshooting, download upgrade program and other functions on the central control platform or mobile phone or PC client at anytime and anywhere.
The platform has a VPN Server function, which can replace professional VPN service gateway and solve VPN networking services for many devices.
Data interface is supported to forward required data to third-party platforms or databases.
Centralized Cloud Platform Management
Through the Four-Faith device cloud management platform to achieve the centralized & unified monitoring management, remote operation, and maintenance of all terminal devices.
Four-Faith remote monitoring system of air compressor achieve the management of scattered equipment for centralized management and control, make the equipment manufacturers and device manager can collect the front-end equipment status in the real-time, failure early warning, failure location. Improving the service efficiency and reduce the cost of after-sales. Also, provide reference data for product upgrade optimization.
TAGS: Air Compressor Intelligent Gateway [Previous Page]
Previous Page:Four-Faith CNC Machine Remote Monitoring Solution
next page:Based on Four-Faith 5G Industrial Router F-NR130, CNC Machine Remote Operation & Maintenance Solution