The Strongest Brain of Intelligent Express Ark
Date:2017-10-24 13:58:00
The prosperity of e-commerce promote the rapid development of the express logistics services, distribution efficiency, timeliness and service experience is becoming more and more demanding. The emergence of intelligent express tank to improve the logistics enterprise service quality and operating efficiency, however, with the rapid development of business, the reliability of equipment operation, network deployment efficiency and operational management capabilities, and many other problems also bring huge difficulties to enterprise operation.

Based on years of IoT wireless communication technology and intelligent express ark application experience, Four-Faith independent research and development of a new generation of 4G smart industrial computer can provide stable and reliable wireless networking solution for the enterprise, to ensure intelligent express ark reliable operation, rapid deployment, and effectively improve the user management capabilities, to help users realize the business scale development operations.

In the applications of the system of intelligent express ark, need to cover a variety of equipment, including wireless gateway, network cameras, sweep the yard gun, printer, etc. Four-Faith industrial computer has a lot of peripheral interface and strong ability of calculation, to completely solve the "last one hundred meters" problem at the end of the logistics, brought new opportunity for terminal wireless networking and remote management.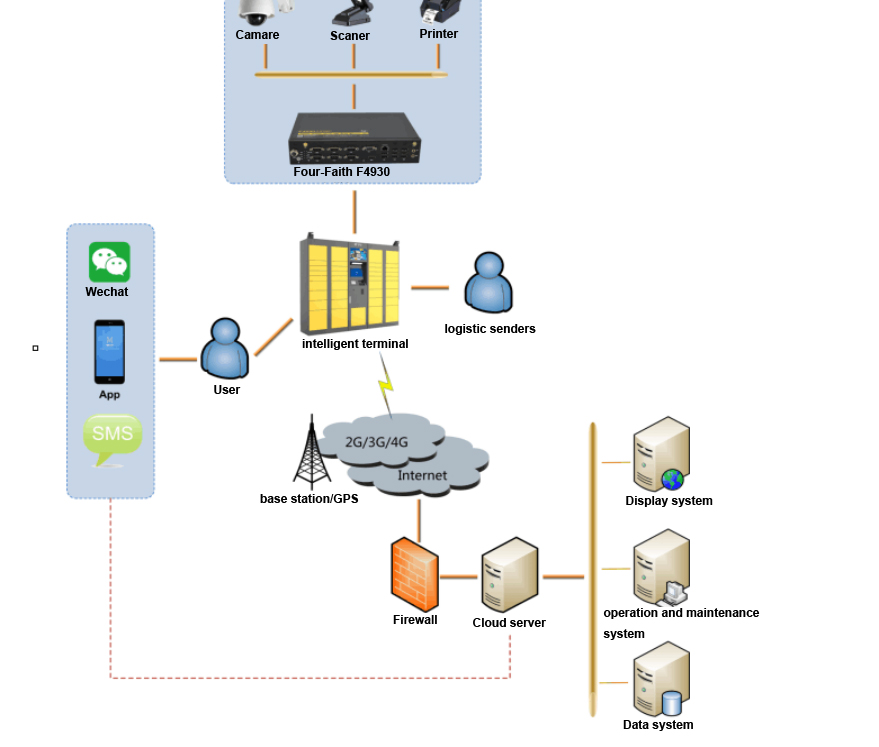 Four-Faith 4G smart industrial computer has many powerful features, sometimes it is like a stage: highly integrated industrial computer + traditional industrial routing + high-speed 4G communication, can help customers easily to meet the challenges of engineering in the present and the future; Sometimes it turns into a pair of eye, it is the window of human-computer interaction; But in most cases, it is super brain role, is the data calculation, transmission, processing, control of efficient unit; As IoT wireless communication dialogue, it is like the nervous system agents in many devices.

Six major advantages

1. Strong routing functions to ensure the safety of business operations

Complete fusion industrial-grade routing functions, using industrial-grade high-speed CNC module, fully compatible with the major telecom operators, with super IoT wireless communication ability.

2. Support Android and Linux system, making convenience for secondary development and application, expand the business space.

Double system environment, bring more new customer experience and solutions for the intelligent delivery ark, self-help vending machine, the intelligent terminal products of mobile Internet era.

3. Flagship hardware configuration, provide strong guarantee for the loading rich application

Freescale architecture (TM - 64 processor quad-core A9 architecture, bring strong computing experience and the ability to load more abundant application.

Full HD 1080p video codec, support for multiple screens show output and different 3D acceleration, bring the comfortable video experience.

Rich peripheral interfaces, meet the current mainstream intelligent terminal equipment.

4. Unified control by remote platform, promote efficiency of management

Powerful cloud platform can centralized monitoring, configuration, upgrade, diagnosis not only of the distribution of the regional industrial computers, but also for the access of peripherals for unified management, greatly reduce the maintenance costs of operators, integrators, equipment providers and other parties, improve the efficiency of management.

5. Adapt to all kinds of unattended industrial application environment, stable work 7 * 24 hours

Intelligent drop mechanism, guarantee system stable operation, communication online forever

No fan of architectural design, lower fever, lower power consumption, less risk of failure

Metal case design, good heat dissipation, resistance to impact, to ensure stable operation under bad environment

High level of EMC anti-interference design for strong electromagnetic interference environment

6. Four-Faith "WIFI operating system" optional, open the big data marketing

Big data is a core value brought by the WIFI, Four-Faith independent research and development of new media operating system + industrial wi-fi hotspots cover function, which can realize local content updates, advertising editor, ads push, customer monitoring management functions, quickly set up WIFI wide marketing pipeline, gathering, precision marketing.
TAGS: IoT Wireless Communication Wireless Networking [Previous Page]
Previous Page:Digital Signage Application
next page:This is Smart Express Cabinet!