Digital Signage Application
Date:2016-12-09 09:25:33
Location / Country : Tailand
Product Solutions: F3946 Dual-Module WIFI Router
High-powered industrial LTE&WCDMA cellular terminal device

Project Introduction

Outdoor digital signage application is now the largest and the most widely distributed advertising media. Along with urban development, the demand for outdoor advertising market continues to improve, digital signage application become one of the most effective ways of advertising to enhance the image of enterprises and public institutions rapidly, improve market recognition, and promote consumption.

The past two years, outdoor digital signage application has become the new darling of the advertisers in the commercial center of the city in Thailand, outdoor digital signage application everywhere, becoming one of the ideal choice for outdoor advertising.

System Requirements

1. Seamless site-to-center communications
2. Maximum security with VPN tunnel
3. RJ45 Ethernet port for encoder connection
4. VPN Server

Four-Faith Solution

Through Four-Faith industrial wireless Router network, the digital signage application are centralized and managed. Total networking screen can reach 10,000 and info including ads, news, weather forecast, bank exchange rate, notification, etc..

These info can be issued simultaneously and efficiently, thus make digital signage application become an important media for info display and communication, covers target population.

Four-Faith's wireless router F3946 support 4 kinds of VPN server/client. Four-Faith router initiate VPN link to VPN server based on cellular network,deploy an extensive site-to-center wireless network that provided a connection for each digital signage application.

Via the VPN,our customers are able to establish the final connection between monitor center and their remote sites with an open, industry-certified, stability, robust networking solution.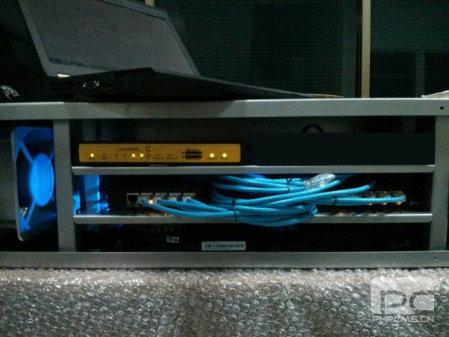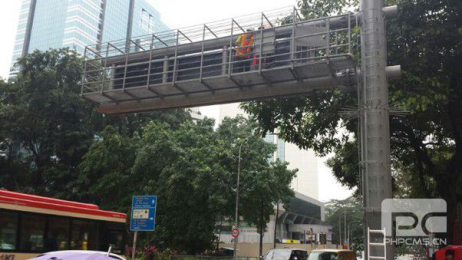 The topology as below :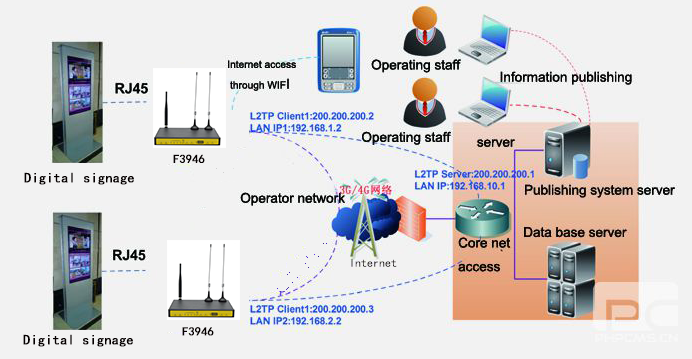 Why Four-Faith

High-Availability Wireless Control

1. Provides data transfer function by public cellular network,
2. Maximum security transmission in real-time.
3. Monitoring and Remote Access.

Four-Faith Benefits

1. Wide Operating Temperature: -35~+75ºC, applicable to most of interview site.
2. With small size 207x135x28 mm.
3. Low consumption: 215~290mA@12VDC while working, 99~130mA@12VDC when standby.

More wireless connections for remote transmission, please visit ATM and Finance
TAGS: Digital Signage Application [Previous Page]
Previous Page:Four-Faith Small Industrial Router used in Power Charging Self-service Machine System