Wireless Networking Application for Self-service Delivery Locker
Date:2014-09-24 15:55:00

Self-service express locker, emerging form of high efficiency posting and delivering services, through the express industry "last 100 meters", with the rapid development of Internet shopping, pilot, batch application widely employed in the whole country, popular in the smart & young community.
With the increasing of pilot and application of express locker, the operational management and the difficulty increasing rapidly. Four-Faith communication through industrial wireless communication technology, provides wireless networking solutions for self-service express locker, sets high speed, stable data transmission channel, enables the regional distributed self-service express communicate with control center, achieves network management.
Including business related remote control on delivery, opening box, cleaning box, query, time correction etc. . Advertising information release, wireless transmission of monitoring video , remote monitoring on equipment, remote management & upgrade of equipment, etc., greatly improve the efficiency of management.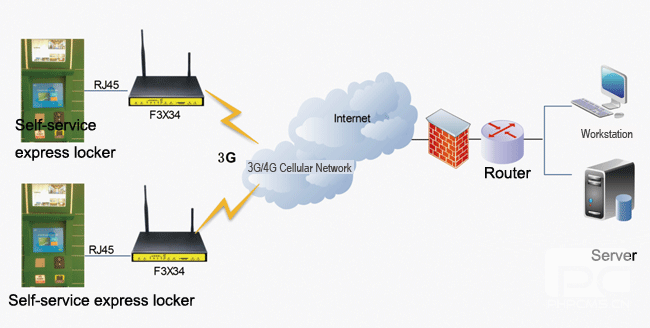 TAGS: Express Locker Industrial Wireless Communication Delivery Locker Wireless Networking [Previous Page]
Previous Page:ATM Camera Monitoring Router Wireless Video Surveillance
next page:Self-Service Payment Terminals Wireless Networking Applications