"The Last 100 Meter for Express" - Intelligent Terminal Cloud System Solution
Date:2016-05-12 16:51:12
With the rapid development of the E- business, since 2003,online shopping has gradually become a main lifestyle in new generation of young people.Especially since 2012, the multiplied package volume brought more serious test to logistics. According To Statistics, the package business volume increase from 2012 in 5.9 billion pieces to 20.7 billion pieces now. It may reach 200 million/day in the next 2 or 3 years.

However,behind the glamorous reflection of a series of problems--A substantial increase in labor costs、overall decline in the terminal service、demographic structure changes and other reasons,It has turned a urgent rigid demand for the rise of new forms of logistics, intelligent terminal Cloud system thus born out.

Intelligent terminal Cloud system (hereinafter referred to as the cloud system) is based on the concept internet of things, and keep the send and save package, the terminal service and the Internet combined, integrated big data analysis and comprehensive cloud management system combining.

The following focuses on the composition and working principle of cloud systems.

System Introduction

Cloud server can unify manage each terminal device in this system(such as the operation information of the terminal ,terminal location,package storage info and etc.),then integrate and analysis the information.The courier just send the express to the designated place,scan and stored it in the package terminal,the system will automatically match the shipment information.The customer will get the pickup code through SMS ,TECENT,APP. It's Convenient for customer to get the package information and pick it up at the free time.Just one step to get the package by input the code.Thereby we solve the final step problem.

1. Consist of cloud system

Cloud system consist of four part:Device monitoring system、big Data Analysis System、Hybrid positioning system and wireless transmission systems.The main function of the device monitoring system is an intelligent terminal for remote status monitoring and management ROMS.The main function of big data analysis system is a model for processing large data terminals and intelligent user information collected for the formation graphical interface display.

Hybrid positioning system main function is intelligent terminal via WIFI, GPS base station and a combination of geographic information of the terminal to accurately display the front-end user.The main function of a wireless transmission system is a transmission terminal direct communication with the server information, including device status information and hybrid location information data transmission information. System topology is as follows: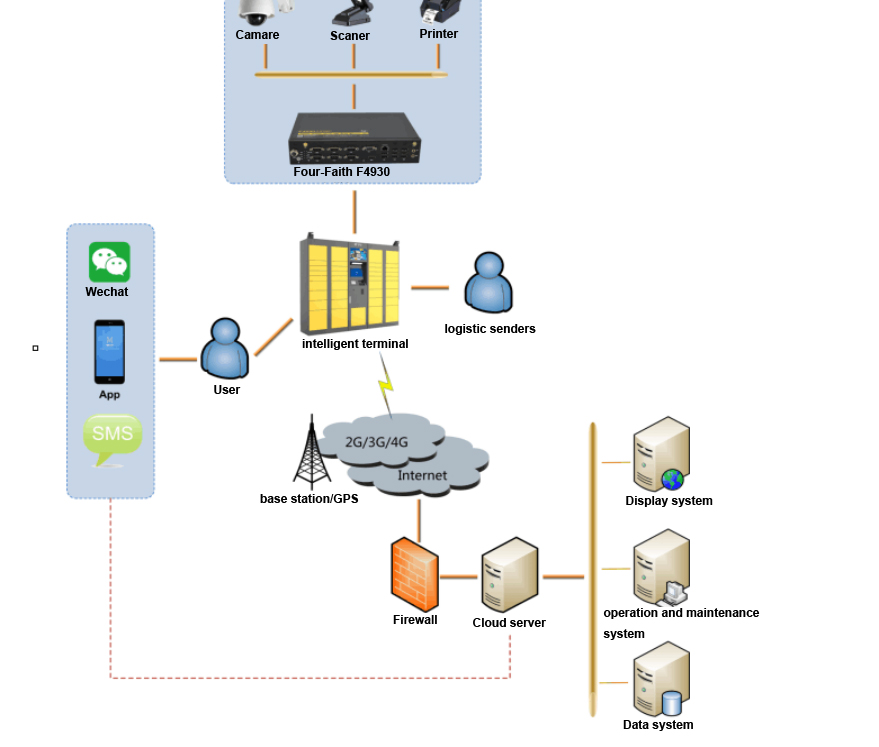 2.1 Device monitoring system

The main function of the device is a complete monitoring system intelligent terminal serial port, USB, Ethernet, video interface, audio interface, and collect relevant external device parameter information, processing, storage and transmission.Major device includes a screen, a touch screen, mouse, scanner, bar code printers, cabinets, control panels and control computer.

Control computer will gather relevant control interface and the external device information through 3G, 4G or wired network transmission to the cloud server. Wherein the control computer is the core equipment monitoring system equipment, has a demanding system stability, network stability, high and low temperature environment, therefore suggested the use of an integrated industrial computer.

Four-Faith F4930 integrated industrial computer equipped with ARM architecture processor combines the Android operating system, rich peripheral interfaces, wide temperature design, wide voltage design, the interface electrostatic protection, optimized power management and wireless network transmission function. It should also have the industrial grade design, intelligent anti-dropped, remote parameter configuration, remote upgrade, high reliability transmission, transmission encryption security, low power consumption. As shown below: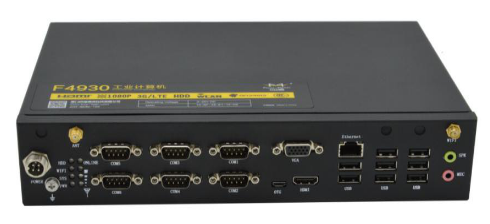 2.2 Big Data Analysis System

The main function of big data analysis system is to collect intelligence information terminal, external device information and user information, based on the form of the data model, intuitive and accurate graphical reports, data reports presented to the administrative user. Administrative users can analyze the results based on the data, for the laying of intelligent terminals provide a favorable data basis.

Data analysis system recommended data clustering technology, based on regional data words unified management.

2.3 Hybrid positioning system

Hybrid positioning using GPS dual-mode base station location and structure, it is the end of the GPS satellite positioning system receiver to send location data and mobile object location data obtained by means of base station location, geographic coordinate data generated through data fusion.

Mainly used for indoor installation and outdoor installation and require mixing location services scene. Positioning accuracy of 30 meters under the Non-GPS scenario, the choice of less than 15 meters with GPS scenario. As shown below: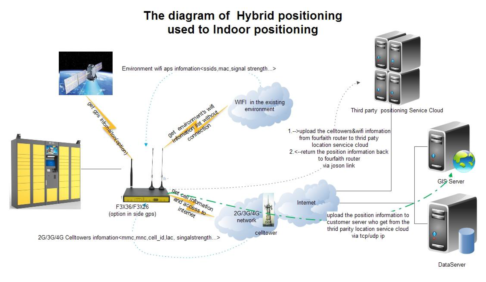 2.4 Wireless transmission systems

The wireless transmission system is a communication system supporting both the device status information and hybrid location information, or the transmission of user data, by the complete system.

Universal means of communication including 3G, 4G, cable networks, Compass. Compass Communications high cost and limited carrying capacity of the transmission of data, recommendations for alternative communication; and the way cable network, cable laying and maintenance inconvenient, and poor portability. Therefore, we recommend using 3G or 4G communication.

3. Conclusion

With the people's living standards improve, diverse lifestyles, smart terminal can not only rapid growth in the logistics industry, can also be derived from a variety of industries, such as O2O, semi-finished products and distribution and so on. Future, highly intelligent networking hardware support, in a rich mobile Internet accompanied by, driven by "lazy" lives, cloud intelligent terminal system has brought to people is more convenient, more efficient new life experience.
TAGS: Cloud System Wireless Transmission System [Previous Page]
Previous Page:Four-Faith F3424 HSDPA Communication Router Application for Kiosk in Malaysia
next page:Do Not Want to "sloth" As the Human Services? Bank of Self-service Terminals Help you to Relieve Anxiety