Four Faith 5G Intelligent Oilfield System Monitoring Solution
Date:2021-07-12 14:05:51
Existing Challenges in Oilfield Management

1. Difficulty in Unified Management
The administrative staff hard to achieve real-time monitoring of oil wells, RTU management information, angular displacement sensors, pressure sensors, load sensors, broadcast lighting information, emergency adjustment, and partial WIFI&LAN coverage through the systematic background. However, different projects have different requirements, so that it's hard to achieve unified management.

2. Huge Renovation Project
At present, most of the oil wells, pressure stations, and other stations have a huge demand for renovation. How to deploy quickly and how to reasonably achieve the purpose of the intelligent renovation is the existing problem.

3. Complicated Operating Environment
The oil field is usually distributed in the area of swamp, desert, basin, and shallow sea with large area and few people. The working environment is relatively special. The on-site duty & maintenance personnel are few, and the distance between the inspection site of the staff is far, which leads to the large inspection work. In addition, the oil field working environment is highly dangerous. Once leakage occurs, it will have a significant impact on the human body and surrounding environment.

4. Inefficiency of Management
Oil well patrolling, oil well data upload, wellhead machinery start and stop and other works need a large number of engineer to complete so that management is difficult and high human cost. How to improve the production management efficiency to solve the limited staff in the field, It is necessary to reduce expert running and on-site technical support, reduce costs and improve efficiency in the modern intelligent oilfield.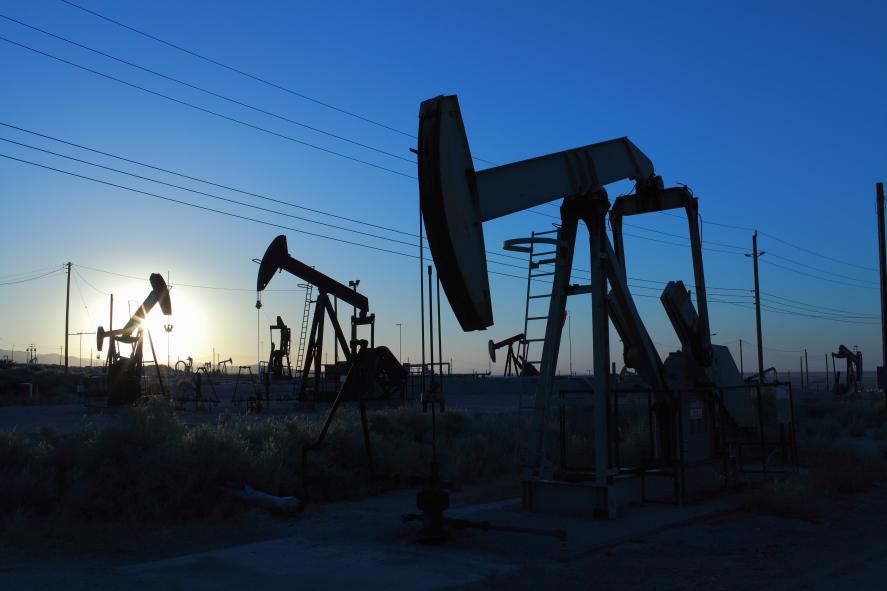 Intelligent Oilfield Construction Goals

As an important part of the oil acquisition system, the stable operation is important. It is an important measure to improve the level of production safety management to establish a comprehensive monitoring system covering all oil fields by using comprehensive data network. With video monitoring as the core to promote visual production management.

For the current oilfield system, the Four Faith using 5G industrial router, 5G industrial CPE, 5G IoT RTU network cameras, and other monitoring terminal equipment to establish the modernized comprehensive monitoring system for oilfield production safety. Manage the front-end operation, business, equipment, etc. Meet requirements for the superior platform of centralized management, hierarchical view, hierarchical supervision requirements, Multi-level networking, and cross-regional monitoring. The front-end system can be monitored and managed centrally in the monitoring center at all levels to escort the safe production.

Intelligent Oilfield Solution Introduction

The combination of Four Faith 5G industrial router and the smart oilfield is to combine automatic control, information collection, transmission and processing technology, remote monitoring & control, wireless information transmission, big data transmission and processing technology to achieve the intelligent oilfield exploitation, improve oilfield exploitation efficiency, reduce cost, and improve personnel operation safety.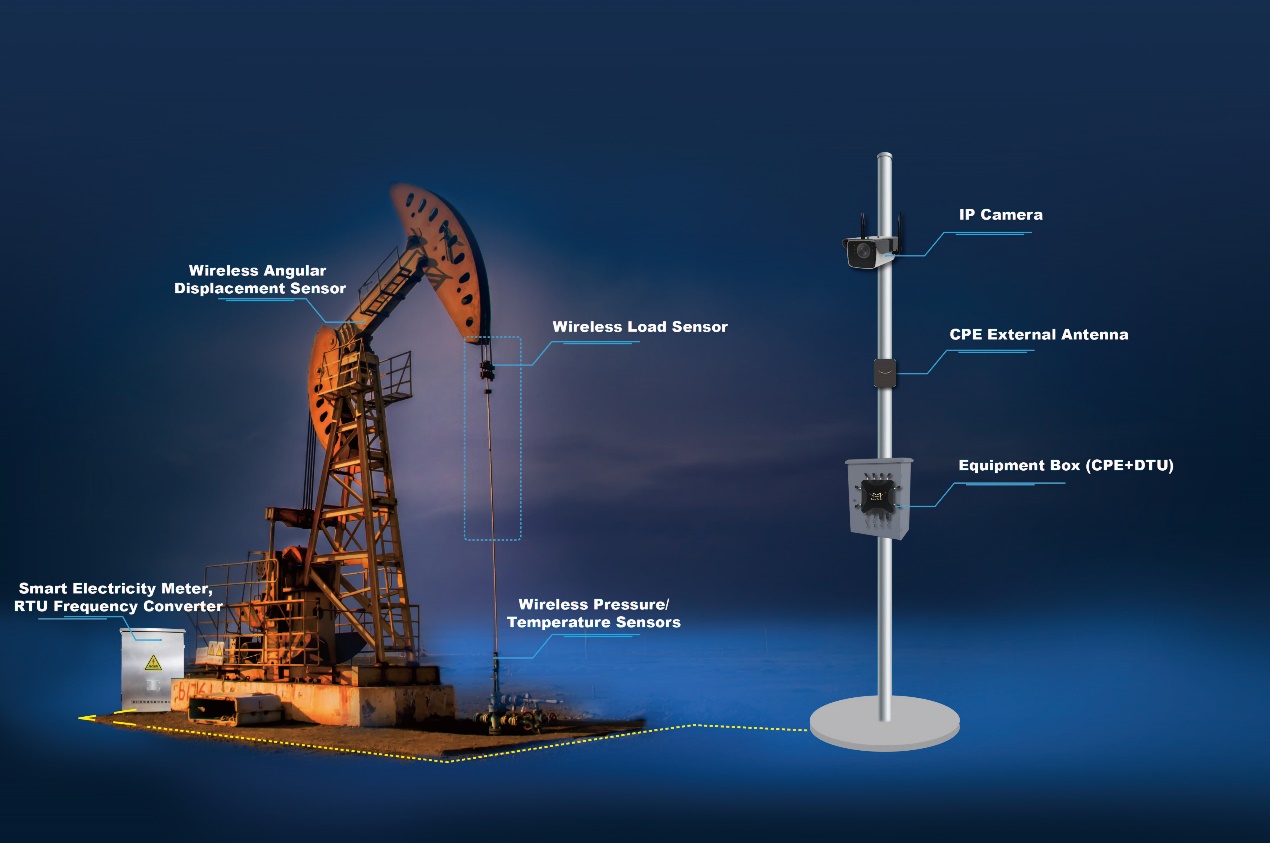 Four Faith 5G intelligent oilfield system is mainly composed of wellhead monitoring terminal, Four Faith 5G industrial router and system management platform. Using the oil wellhead parameters real-time detection, the oil wellhead status parameters will be collected in oil well RTU collector through Four Faith 5G industrial router send data to the production database server, make the production management of each department can grasp well-working status in time. It can shorten the processing time of oil well failure, improve the time of well opening, increase crude oil output, improve work efficiency, and provide a brand-new means for fine management of pumping well which is an ideal production automation product of oil field.

Intelligent Oilfield System Equipment Composition

Sensor Components:
Tension sensor, angular displacement sensor, temperature sensor, pressure sensor, etc.
Oil Wellhead Monitoring Terminal:
Power supply module, acquisition module, Four Faith 5G industrial router.
System Management Platform

Intelligent Oilfield System Features

The system mainly collects the three-phase voltage, current, active power, power factor, daily electricity consumption, cumulative electricity, wellhead backpressure, wellhead temperature, light rod load, and indicator diagram, machine stop and other parameters of the pumping unit. Also carries on the corresponding data processing and storage.

1. Alarm information is given for abnormal conditions such as the shutdown of pumping unit well, parameter out of limit, sucker rod breaking and sucker rod sticking.

2. It has the function of data power-down protection, which can save the set parameters and historical data for a long time. Remote realization of the pumping unit load overrun shutdown control, timing starts control.

3. Remote realization of the monitoring terminal parameter configuration and the setting of the limit value.

4. Automatic recording the working process of pumping unit, startup time & shutdown time, and save the historical information.

5. With static data browsing and editing functions: including pumping unit model, configuration motor model, oil well number, stroke, line name, range, alarm upper and lower limits, oil well condition and other aspects of the data. In addition, this solution can also add new oil wells, delete oil wells, modify the basic data of operating oil well.

6. Have indicator diagram, current diagram (or power diagram), current, voltage, temperature, pressure and other parameters of the real-time trend & historical trend monitoring function. Conveniently understand the long time parameter changes and rapid analysis.

7. Protective design can be carried out according to user needs. For example, through the analysis of the pressure gauge data at each transmission link, the theft phenomenon can be effectively avoided.

Intelligent Oilfield Solution Advantages

Combining 5G and Intelligent oilfield, using big data + AI technology to achieve the fast transmission and intelligent processing of oil field data and oil data sharing. It is helpful to guide the present practical problems and the future of oil field development, expanding the area of oil, petroleum equipment and technology innovation and creativity. To achieve the modernization development of the oil industry.

TAGS: Intelligent Oilfield [Previous Page]
Previous Page:Application of Industrial RTU in the Gas Industry
next page:Four-Faith IoT Information Monitoring System for Urban Gas Pipeline