Four-Faith F2114 GPRS Modem for Remote Maintenance Applications in Wind Farm
Date:2012-12-10 14:52:00
In the dual context of the energy crisis and environmental pollution,new wind power as a clean, renewable energy,Has become a key support and development of the field of Governments.China in recent years in the field of wind power generation increased policy and funding support.Wind turbine structure is complex range of operating parameters, so it is necessary to establish a comprehensive monitoring system platform, real-time monitoring and analysis of the operating environment of the wind farm, the running state of the wind turbine and power quality parameters
Four-Faith proposed wind farms in remote maintenance system based on wireless communication, which can effectively reduce the maintenance costs of the wind farm, and improve work efficiency. Wind farms in remote maintenance system is mainly composed by three parts of the field devices, remote monitoring terminal and monitoring center

1. Device on-site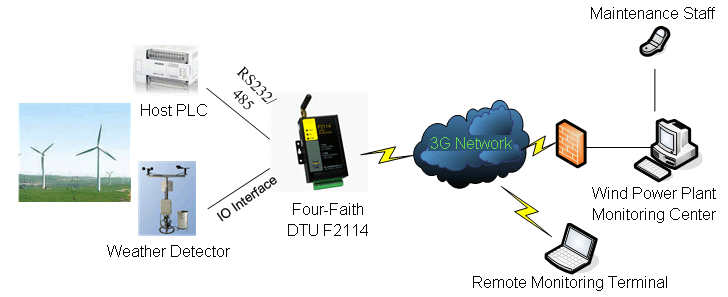 Through Four-Faith F2114 4G MODEM for wind farm equipment offers a variety of types of data and signal interface,Monitoring data, and update the PLC parameters extracted from the fan PLC,Wind measurement tower meteorological data access, as well as through an alternate digital I / O and analog I / O output signal and the access signal,and receive data command and management configuration command from monitoring center,to finish data transmission and control.
2. Monitoring center
Including application servers, engineer station, the database server monitoring maintenance of terminals and alarm monitoring terminal.
F2114 GPRS 4G LTE MODEM wind farm monitoring data transmission,And wind farms data stored in the server database,Wind farm data evaluation analysis service provided by the network to the center of the user terminal and the remote user terminal,Manage the monitoring center equipment and software service model.Maintenance terminal, remote maintenance and real-time monitoring of wind farm equipment by monitoring,24 hours a day, real-time alarm monitoring and alarm signal broadcast
3. Remote monitoring terminal
Divided into remote monitoring terminal, phone alarm terminal and remote fault diagnosis terminal
Wind farm monitoring center through Four-Faith F2114 GPRS IP MODEM wind farm field devices establish a connection,Data monitoring and analysis to be completed by the remote wind farm.Once the faulty phone alarm function can be directly contact with the maintenance staff, easy to discover alarm failure, and processed in a timely manner and maintain.At the same time, F2114 GPRS IP MODEM connected at the same time support the multi-center, can simultaneously send data to a remote monitoring terminal, multi-center synchronous monitoring, improve management efficiency.Wireless mode, no wiring, data transmission security has been greatly improved, almost regardless of the location, and the system is low cost, easy to maintain and promote.

Four-Faith F2114,Provide reliable network access functions to support multiple protocols, data collected pretreatment,Inspection and certification of the national grid metering Center through the strict EMC indicators certification, to support surge protection, overcurrent protection, and to ensure the stability of the equipment running
Why Four-Faith ?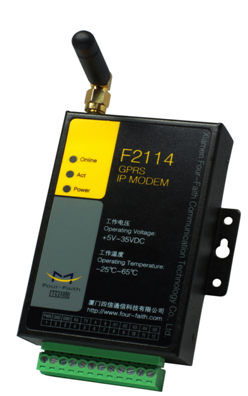 Four-Faith F2114 GPRS IP Modem feature
High-powered industrial cellular module and 32 bits CPU,
Low power consumption design,lower than 1 ma.
Support hardware and software WDT auto recovery mechanism, including online detect, auto redial when offline to make it always online
auto recovery mechanism, including online detect, auto redial when offline to make it always online
Support double data centers, one main and another backup,Synchronous transmission of multi-data center
Support APN/VPDN
Supply 5 I/O channels, compatible 2 pulse wave output channels, 2 analog inputs and one pulse input counters
Support dynamic domain name(DDNS) and IP access to data center
Design with standard TCP/IP protocol stack
Standard and easy to use,charge on then begin to transfer data.
TAGS: Remote Maintenance Applications GPRS Modem Wind Farm Application [Previous Page]
Previous Page:Power Switch Monitoring System
next page:400 Units GPRS Modem Successfully Applied to Reactive Compensation Control