FTU Monitoring Application
Date:2014-12-17 11:06:00

Automatic managing system of power distribution integrates real info, offline info, customer info, power net construction parameter and location info, and then forming a complete automatic managing system.
This system can monitor, protect, control and mange power distribution in the circumstance of normal operation and accidental situation. It is a unified system of real automatic power distribution and power distribution managing system.
The transmission device used in this project is Xiamen Four-Faith F2514(3G IP MODEM ), FTU is from a Nanjing company(IPACS-5612), monitoring software is from Nanrui, the related data from FTU is transmitted to data center through wireless transmission module.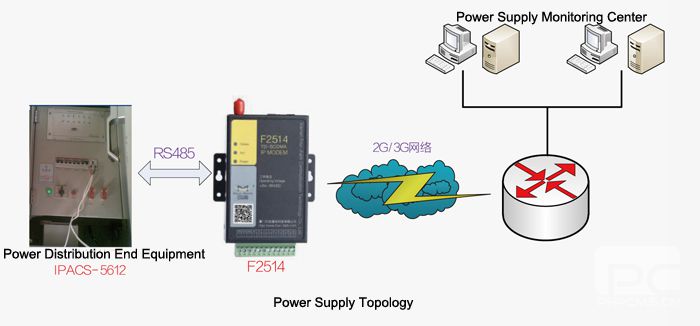 Why Four-Faith?
1、Always online:
Support online detect and auto dial, to guarantee device is always online and no guarder needed.
2、Support multi-center transmission:
Support multi data center transmission at the same time(5 data centers), convenient for administration department to use & control the data.
3、High adaptability:
Metal housing, IP30 protection, high & low temperature resistance, corrosion-proof, and suitable for complicated outdoor sites.
4、Remote control:
Through wireless network to realize remote monitoring and system maintenance, largely lower the maintenance cost.
TAGS: FTU FTU monitoring application FTU monitoring solution power distribution [Previous Page]
Previous Page:Wireless Monitoring on Substations
next page:Feeder remote monitoring application