Wireless Monitoring on Substations
Date:2014-11-19 10:59:00
Substation's comprehensive self-control is an automatic function which use Microcomputer Technology to combine functions and optimize design on secondary devices(measuring meters, signal system, relay protection, automatic device and remote devices), and to realize automatic monitoring, measuring, controlling and microcomputer protection on substations' main equipment and electric lines.
Currently, there are several hundred newly-built power stations are put into daily operating, and they all adopt comprehensive automatic system; meanwhile, every year center number of old stations also adopt comprehensive automatic system when they have technical reformation.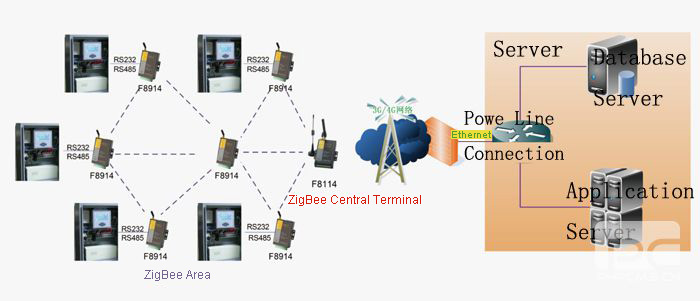 Why Four-Faith?
1. High adaptability:
Industrial module design, resist to high & low temperature, high stability, and suitable for power application
2. Long distance communication:
Four-Faith ZigBee terminals can transmit for 500-2500 meters in open environment.
3. Free communication:
ZigBee communication calls for no fee, thus cut cost for whole project.
4. Simple configuration:
Highly integrated, mature technique, easy installation, convenient employment, easy to expended with new nodes, all modules can self-organizing a network.
5. Low consumption:
High low-level output current to trigger/hibernate; support coordinator, router and terminal mode, consumption is less than 0.4uA in sleeping mode.
6. Customized solution:
Products can be customized based on customer need, thus more suitable for practical application.
TAGS: substations monitoring application [Previous Page]
Previous Page:Remote Monitoring for Transformer
next page:FTU Monitoring Application