Data Transmission System on Public CCTV Surveillance Router
Date:2011-01-06 13:55:00
Preface
Public transport service system(

CCTV surveillance router monitoring

) is an important indicator for an urban civilization. With the gradual expansion of the existing urban scale, the public transportation system in urban transport is playing an increasingly important role.Nowadays People have high requirement for the bus service .Existing public transport management system can not fully meet the demand, like low efficiency for the manual attendance records ,the statistics can not be timely processed;The urban Bus Operation via wireless data transmission system can achieve real-time monitoring and unified management , bus operation data (such as speed, fuel volume, bus video surveillance), automatic notice station and so on.
2.1.1 Bus attendance client system: can send the attendance data and car status to the central management station for analysis and processing ;
2.1.2 Four-Faith F44333G WIFI
Router
: transmission terminal with Four-Faith F4433,supports WIFI (802.11a/b/g) and WCDMA / HSDPA / HSUPA public network, connecting wireless LAN and wireless WAN seamlessly ; WIFI AP and WCDMA / HSDPA / HSUPA networking capabilities provide users with security, high-speed, reliable, all kinds of wireless routing protocol routed network.
2.1.3 The AP from main bus station: large cover range from the Main AP transmit power ;
2.1.4 Database and center software: system software based on large databases, real-time data analysis and processing;
System architecture

When the bus enter into the main station, its wifi AP can automatically connected with AP from the main station. Then the AP from the main station connected to a data collection center via Ethernet .After connection, F4433 uploaded automatically store data on this bus to the data collection center. Besides, it can download the data when enter into the station next time.

There is no need data collection to transfer the data or persons involved. Multiple F4433 Wi-Fi AP can communicate with the data collection centers after connecting with the transit fare collection system and scheduling management system via AP.

Bus company can choose the location and the number of AP flexibility according to the actual situation.Bus company see it on cctv surveillance router The bus fare collection system and running buses are becoming more intelligent, more easily maintenance via Wi-Fi wireless access technology. Please refer to the following system topology: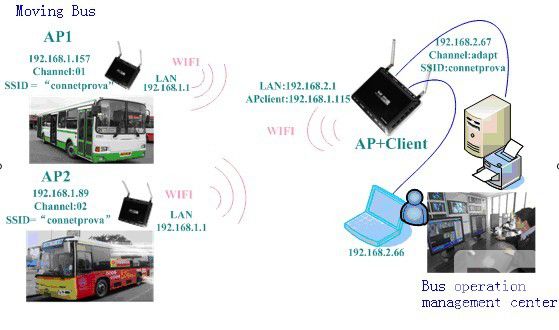 F3X34 WCDMA/HSDPA/HSUPA ROUTER TECHNICAL SPECIFICATION
F3434 WCDMA/HSDPA/HSUPA ROUTER is a kind of cellular terminal device that provides data transfer function by public WCDMA/HSDPA/HSUPA network.

It adopts high-powered industrial 32 bits CPU and embedded real time operating system. It supports RS232 (or RS485/RS422), Ethernet and WIFI port that can conveniently and transparently connect one device to a cellular network, allowing you to connect to your existing serial, Ethernet and WIFI devices with only basic configuration.
It has been widely used on M2M fields, such as intelligent transportation, smart grid, industrial automation, telemetry,finance, POS, water supply, environment protection, post, weather, and so on.

Performance
Support WIFI AP, seamly connection with WIFI and WCDMA/HSDAP.HSUPA;
Embeded high-powered 4 port switch, support MDI/MDIX automatically recognized;
Support standard WAN port and PPPOE protocol that can connect to ADSL directly
Support VPN client(PPTP, L2TP, IPSEC and GRE)(only for VPN version)
Support wireless video monitoring and dynamic picture transfer
Support intellectual mode, enter into communication state automatically when powered
Provide management software for remote management
Support several work modes
Convenient configuration and maintenance interface(WEB or CLI)
Support double link backup between WCDMA/HSDPA/HSUPA and WAN(PPPOE, ADSL) (optional)
Support port mirror function(optional)
Support WIFI AP, WIFI AP client and WDS(optional)
Support multi online trigger ways, including SMS, ring and data. Support link disconnection when timeout
Support APN/VPDN
Support DHCP server and client, DDNS, firewall, NAT, DMZ host, etc.
Support multi protocols, such as TCP/IP, UDP, ICMP, SMTP, HTTP, POP3, OICQ, TELNET, FTP, SNMP, etc.

Conclusion

Four-Faith realized the bus fees data transmission and bus operation scheduling transmission system, using the advantage of wifi and 3G technology, both short and long-distance wireless transmission technology. Because of real-time monitoring and unified control , can send the monitoring data and billing data when driving to the control center .So that managers or decision makers can know the status on bus station and its operations very easily. And it largely improved the efficiency of the scheduling and fees in public transportation system operation .
TAGS: Data Transmission System cctv surveillance router cctv monitoring router cctv transmission system [Previous Page]
Previous Page:first_page