Oil field and oil well remote monitoring application
Date:2014-01-15 14:51:00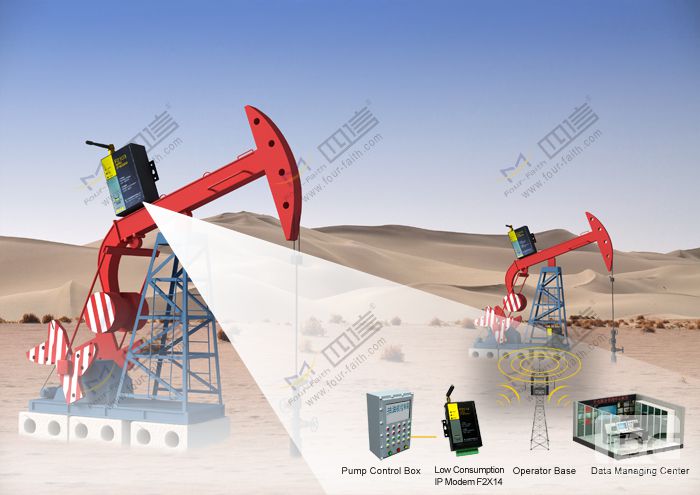 The oil well working status sensor are mainly temperature sensor, pressure sensor, motor current sensor, voltage sensor, pumping unit load and displacement sensor, the transformer primary side current sensor, etc.they will translate the working status to the corresponding voltage or current to the controller. Then Four-Faith 4g modem F2X14 will transfer the data to the managing center. The related personnel can know about the working status of the device and realize the in-time management.
Why clients choose Four-Faith?
1. Strong adaptability to environment
oil field has severe climate, and four-faith router works quite well in such harsh environment.
2. High sensitivity
Four-Faith Router is of high sensitivity in receiving signal, it can gain the strongest signal to ensure the stable transmission wherever the signal is week
3. Low consumption
support multiple trigger ways including SMS, ring, and data, to lower the consumption
4. Strong Expansion
The system recovery point at any time may increase or dismantled along with the progress of the work. Using wireless equipment installation is simple, flexible, And it doesn't have any impact to the existing engineering structures, great embodies the flexibility of remote monitoring network.
Successful Case

Qinghai Oil Field Application Tuha Oil Field Application Liaohe Oil Field Application Shengli Oil Field Application
Customer's feedback
Liaohe Oil Field Application:
At present our oilfield engineering application of the wireless remote monitoring has been very mature, the effect is obvious. It not only improve the efficiency of monitoring but also greatly reduce the security hidden danger of oil field, improve the overall operating efficiency of oil field. Four-faith F2114 GPRS IP MODEM is suitable for this kind of long time working environment, and can work continuously for 24 hours. Four-Faith has always been our partners.
TAGS: remote monitoring application Oil field application wireless remote monitoring [Previous Page]
Previous Page:Natural Gas Heating System Solution
next page:Four-Faith F8914 ZigBee Terminal for Gas Monitoring Application